TOURNAMENT REVIEW
This past Monday the Vancouver Golf Tour played its 11th event of the season on one of Canada's top golf courses, the Shaughnessy Golf & Country Club.  Known most prominently by most golfers for hosting the 2005 and 2011 Canadian Opens, was in pristine conditions for this year's Tradition Golf Classic.  The tournament has had a rich tradition over the 25 years of existence, being the main fundraising focus for the BC Golf House Society (Home of the Golf Hall of Fame of BC and BC Golf Museum).  This year's Tradition Golf Classic had a new spin, in that it was transformed from an Amateur only event into the first ever Charity Pro-am sanctioned with the Vancouver Golf Tour thanks to the efforts of BC Golf House Executive Director Barrie McWha.
This year's event would mix some current (and new) members of the BC Golf House with some of BC's top Professionals playing the Vancouver Golf Tour (many of whom are players on the Canadian Tour).  With conditions absolutely perfect on the day, two VGT Professionals shone above and beyond all 31 others.  Dave Zibrik of the Players' Academy in North Vancouver and Matt Daniel of Quilchena Golf & Country Club both shot great scores of 67 to share first place honours and take home cheques of $1,500 each.  Third place on his own, winning $1,050 was Abbotsford's Nick Taylor, who recently won the All American Tour Championship and gaining a birth into the Nationwide Tour's BMW Cliff's Championship.  Of note, 3 of the players in the field will be heading down to Final Stage of U.S. Open Qualifying on June 4th to gain entry into the 2012 U.S. Open at Olympic Club on June 11-17th.
A sold out field of 33 Pro-am teams competed to see who would be crowned the first Pro-am Team Champion in the year's 25 year history.  And at the end of the day, two teams were tied, and the winning team was decided by RCGA retrogression to break the tie.  This year's winning team consisted of Professional Jared Rempel of Chilliwack Golf & C.C and his amateurs Murray Reed, Jason Boyd, Shane Jung and Charles Isaac.  The winning squad took home a special framed photo of Shaughnessy to commemorate their victory and Rempel earned $250 for captaining the winning team.  Pros played for a total of $9,000 in their purse.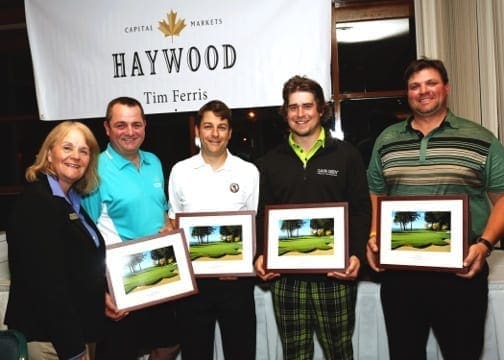 Thanks to the incredible support of Presenting Sponsor Haywood Securities and many supporting and hole sponsors and prize contributors, this year's Tradition Golf Classic was a phenomenal success.  Right from the start all Amateurs were greeted warmly at registration by Shaughnessy's Head Professional Alan Palmer and his Professional staff, and were then fitted for a pair of Adidas Golf Shoes as their tee-gift.  Players were then treated to a beautiful luncheon followed by an amazing day of golf with one of BC's top Pros on one of Canada's finest golf courses (ranked 6th best by the PGA Tour Pros in 2011).  At the end of the day all players were welcomed upstairs to a succulent dinner prepared by Shaughnessy's Chef.
We must tip our hats to Shaughnessy's green's staff, in particular Head Superintendant Rob Barr, who has brought the standards of excellence to new levels at Shaughnessy.  The course was in ideal condition and the course set-up just perfect for the mix of Professionals and Amateurs in the field.  Outstanding work!
The evening's festivities ended up in style, as many of the silent and Live Auction items were bid on with frenzy to see who would snap up some great golf packages.  Most notably was a priceless golf trip to James Island to play the Jack Nicklaus signature (private) golf course, a night's stay and then a round for 4 at the Victoria Golf Club.  It wasn't a surprise it took a $4,000 bid to win the trip!
All-in-all, the 25th Tradition Golf Classic was a huge success" stated VGT Commissioner Fraser Mulholland.  "It was a great opportunity for VGT's players to test their games on one of the PGA Tour's best golf courses (Shaughnessy) and continue developing their skills that may have them end up in the BC Golf Hall of Fame one day.  We are grateful of Haywood Securities for signing on as the Presenting Sponsor of this year's event, supporting the initiatives of both the BC Golf House and the Vancouver Golf Tour.  Thanks to Haywood's sponsorship (and the addition of many supporting sponsors), this year's Tradition Golf Classic Pro-am was a very special day for over 150 golfers and with the amount of funds that were raised over the course of the day, ensures the continued development of BC's historical Golf Museum and BC's best Professionals.
Special thanks must go out to BC Golf House Executive Director Barrie McWha, his tournament committee (Mike Mather, Bob Tate, Jeff Ciecko, Brian King & John Snyder) and the many volunteers for the tireless efforts that went into the orchestration of this year's event.  We are especially grateful for being invited to be a part of this very special event!  We are looking forward to a long and healthy partnership with the BC Golf House Society for many years to come!
TOURNAMENT RESULTS
[easyembed field="scribd-golf-house-classic"]
For a full list of the BC Golf House Tradition Golf Classic results, please CLICK HERE.
[easyembed field="photo-golf-house-classic"]