IGA | VANCOUVER GOLF TOUR
TOURNAMENT IN REVIEW
VGT Pagoda Ridge Classic
April 12, 2017
Twenty-three year old John Mlikotic of Kelowna, BC sealed his first career Pro win at VGT's 3rd Stroke Play event of the year at Pagoda Ridge Golf Course.  It took 3 playoff holes before he outlasted Victoria's Brady Stead after both players carded impressive rounds of 68 (-4) in torrential rains at the impressive Pagoda Ridge layout in Langley.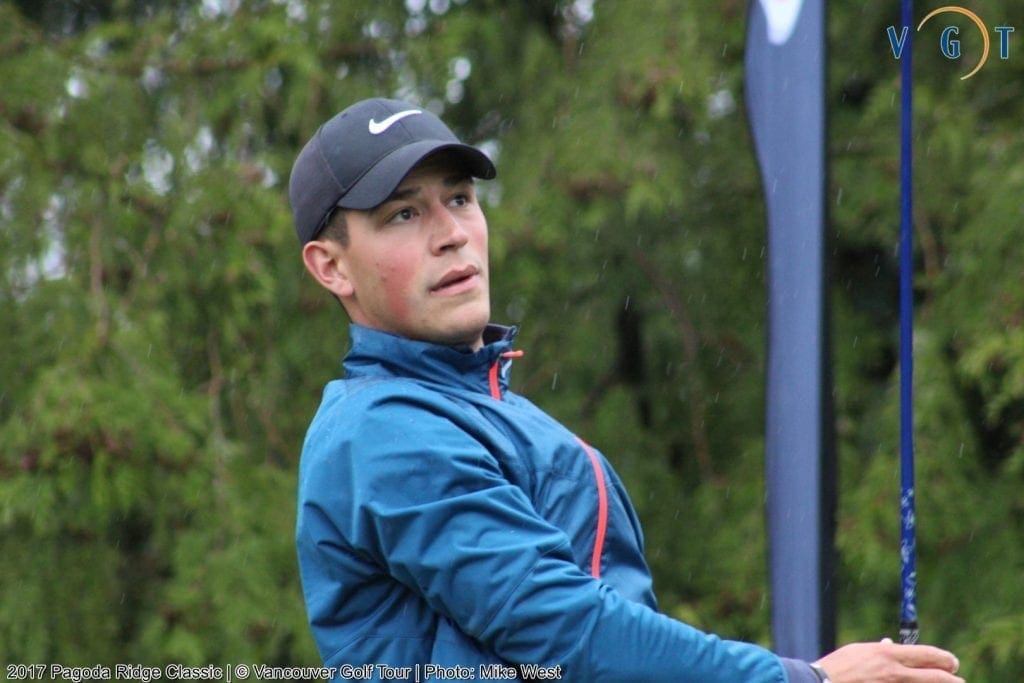 Mlikotic came out steady on the front nine with 8 pars and a birdie on 428 yard 4th hole for an opening 34, then birdied 10 and 11 before a solo bogey on 12.  But he picked up the momentum soon after birdying 13 and 16 for a closing nine of 33 en route to a 4-under par 68.  His score would hold up all day until Royal Colwood's Brady Stead came in on the final Pro group of the day matching his card of 68.  Both players would head into a sudden death playoff to decide who would take home 1st place cheque and ultimately their first Pro career win.
Both players came out conservatively with pars on the short par 4 first, but it wouldn't be long before both players put their games into high gear, birdying the 400 yard 2nd hole.  Ultimately it was the short game of Mlikotic that earned him the win as he would chip in for birdie on the 172 yard 3rd hole in First Pro Win on the VGT!
Mlikotic has been training down south this winter in preparation for the VGT Spring season and is enrolled in PGA Tour Canada's Spring Qualifing School at Crown Isle where he will play for status on the tour for the 2017 season.  His maiden Professional event came last summer when he was given an sponsor's invite to the Golf BC Championship at Gallagher's Canyon, his home course.  He was quoted as saying that it was a remarkable experience getting the opportunity to tee-it-up at the Golf BC Championship on his home track last year and looks forward to another opportunity this year to play in the event.  (See Interview Here)
Mlikotic was asked if he would be given an exemption into the event this year, and he replied that if everything goes well at Mackenzie Tour Q-School that he wouldn't require one this year.  (I like his positive thinking)
Mlikotic has had some Amateur success leading up to turning Professional, winning the 2015 Ogopogo Invitational with a 3-day score of -9.  He was the SFU Clan's top performer in 2012-13 at the GNAC Championship with a 3rd place finish and carded the low final round score of 68 at the NCAA Regional Tournament in 2014 to qualify his team for the NCAA Nationals.  Not bad for a guy who took up golf in grade nine!
Finishing runner-up in a playoff is tough to swallow for many golfers.  But given this was only Brady Stead's second VGT event as a Professional, he wasn't all that unhappy with his result.  Stead just recently turned Professional this spring after a promising year in Amateur golf in 2016 finishing Low Amateur in the Vancouver Open, matching score for score on the weekend with eventual Van Open winner and now PGA Tour winner Adam Hadwin.  He went on to win 3 more Amateur events that summer and gained a great amount of confidence with his Amateur win at the Van Open.
By the looks of it, this won't be the last we'll see of Mlikotic or Stead on the leaderboards this year!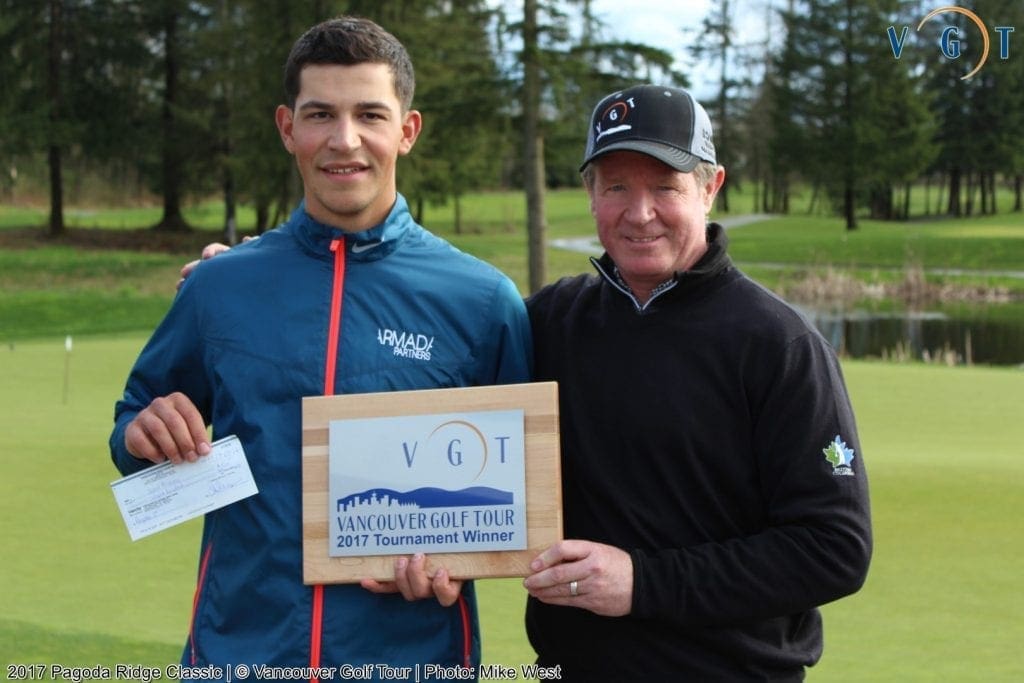 Notable finishes: 
Vancouver Golf Club's Michael Belle (69), Kevin Stinson (70) and Brett Stewart & James Allenby (71) rounded out the top 5 at VGT's 3rd SRIXON/CLEVELAND Order of Merit event of 2017.  Both Belle and Allenby have had a good run of form this spring and will meet together in the finals of the Canada Bread BC MATCH PLAY this Saturday.  Belle and Allenby will be joined by their partners Bret Thompson and Matt Palsenbarg and will go head-to-head on Saturday at Beach Grove Golf Club.  The match will commence at 2:10pm.  Spectators are welcome and admission is free.
In the Apprentice Pro Division it was Seymour Creek's Larry Park who took top honors with a score of 76, three shots clear of SwaneSet's Ethan Min.
SRIXON/CLEVELAND ORDER OF MERIT
PROFESSIONAL
With a 3rd place finish at Pagoda Ridge after his win at Ledgeview last week, Kevin Stinson has closed the gap on Riley Wheeldon on the Srixon/Cleveland Order of Merit (200 pts.).  Along with the 2 year-end bonuses, there is a 3rd bonus that VGT Pros are chasing down.  The top Professional (not already exempt) thru the VGT Player's Championship on May 19th will earn an exemption into the Mackenzie Tour PGA Tour Canada's Freedom 55 Financial Open at Point Grey.

TOP 5 THRU 3 EVENTS
Riley Wheeldon:  2,500 pts.
Kevin Stinson (SRIXON): 2,300 pts.
James Allenby: 1,900 pts.
John Mlikotic: 1,500 pts
Luke Bogdan: 1,387.5 pts.
AMATEUR RESULTS
Alex Lee of Seattle Washington took his 2nd Amateur Title of the year on the VGT with a score of 68 (-4), good for a 5 shot win over Langara's Kevin Griffin and last week's winner Taylor Durham of Marine Drive Golf Club.  Lee over-takes Durham for top spot on the Srixon/Cleveland Order of Merit after two wins and a t4th finish this spring.  Durham sits at 2,500 points after a 1st and t2nd place finish in the 2 events he has played, some 1200 points behind Lee, who makes a 2.5 hour drive up to play the VGT each event. 
In Flight A it was Jinho Jhi who stole the show carding an impressive gross score of 75 for his first win on the VGT.  He jumped up tied for top spot with Steve McIntosh on the Order of Merit with 2,600 points.
Impressively, SPGA's Peter Jones took home his 2nd consecutive win in Flight B after a score of 82 was one shot clear of his next competitor Sean Maurer of Belmont GC.  Jones holds down top spot on the Order of Merit, some 2,000 points clear of Kevin McKee.
Saturday, April 15th – CANADA BREAD BC MATCH PLAY FINALS
NET CHAMPIONSHIP – 2:00pm
Simon Eisler / Sasha Jakovlevich (2) vs. Moez Noorani / Boyet Gilmour (9)
OPEN CHAMPIONSHIP – 2:10pm
Matt Palsenbarg / James Allenby (2) vs. Mike Belle / Brett Johnson (5)
Saturday, April 22nd – VGT Hazelmere Classic (Amateurs only)
12:20pm Start
Register Here: https://vancouvergolftour.com/event/hazelmere-classic/
April 27-28 – VGT MASTERS
Morgan Creek Golf Club
CLICK HERE FOR DETAILS
Special thanks to Pagoda Ridge for their continued support and hospitality in hosting our events! The greens were in amazing shape once again!! Congrats Reed Groshart on making the course so awesome out there for our players!
Full Leaderboard:
https://www.golfleaguegenius.com/pages/866172
---
[fts_facebook id=vancouvergolftour album_id=1266942783395265 posts=8 type=album_photos image_width=370px image_height=210px space_between_photos=1px hide_date_likes_comments=no center_container=no image_stack_animation=no image_position_lr=-10% image_position_top=-30%]
---