IGA | VANCOUVER GOLF TOUR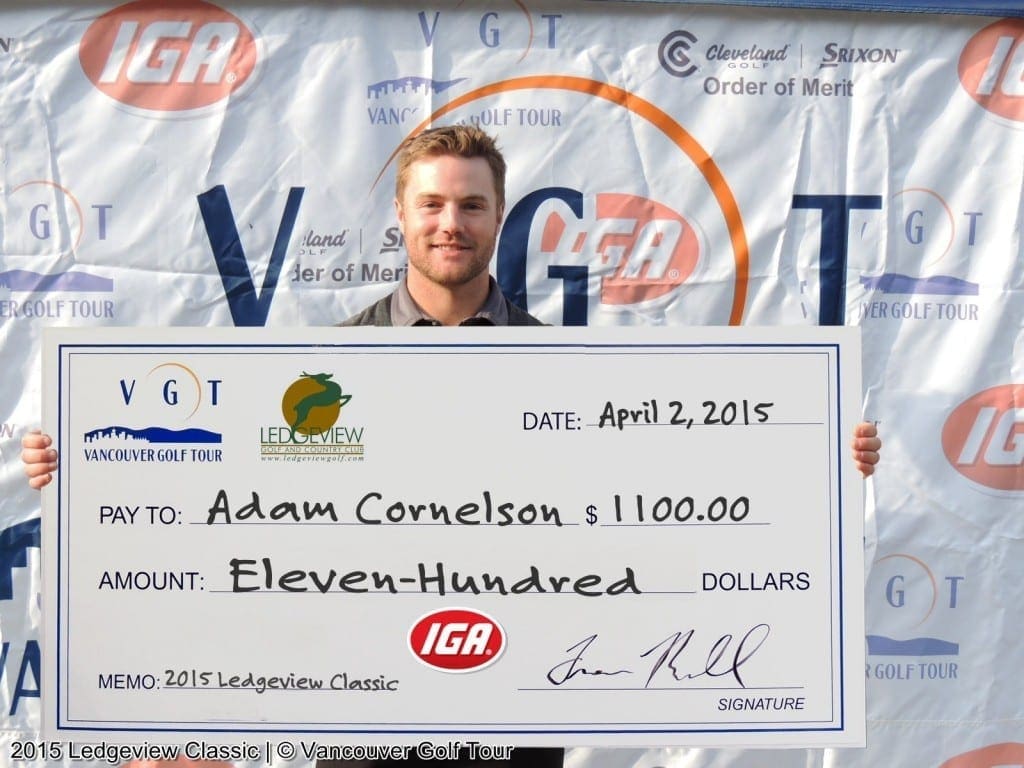 2015 VGT LEDGEVIEW CLASSIC
Thursday, April 2nd
Ledgeview Golf & Country Club
Par 70, 6350 yards
 Thanks to some impressive driving of the ball and hitting lots of greens in regulation, Langley's Adam Cornelson got it dialed in on Ledgeview's slopy greens.  He got out to a great start birdying holes 2, 4, 5 and 9 for a front nine 32.  And another birdie on the 10th hole and he would cruise to a back nine score of 32 for a tidy 65 on the day.  But he was not alone at the end of regulation, as Abbotsford Professional Brett Stewart had some impressive play going on himself.  His round didn't get off to quite the quick start as Cornelson's, scoring 35 on the front, but with familiarity on Ledgeview's greens as his home course he came on very strong on the back nine with birdies on 10, 12, 14 and 17 for a smooth 30 on the back nine to force sudden death with the lefty Cornelson. 
Cornelson would come away with the victory on this day when he rattled his approach shot off the pin on the first playoff hole and drained the 20 footer for the win.  Cornelson picked up $1,100 for his efforts and 1,500 points on the CLEVELAND/SRIXON Order of Merit.  Ledgeview's Stewart collected $800 for his runner-up finish.
In the Apprentice Pro Division, Morgan Creek's Jeff Lindemulder was crowned Champion with his round of 72 good for a 2 shot victory over Redwood's Pro Brian Jung.  Lindemulder too home $600 for his play.
The second playoff of the day came when 3 Amateurs tied at the top for the Championship Amateur Division.  And it was another Langley golfer, Mark Heinrich who claimed the win with a birdie on the first playoff hole over Eric Mitchell of Surrey and Brad LePage of Beach Grove Golf Club.  Heinrich collected 1,500 CLEVELAND /SRIXON Order of Merit points and a $250 VGT Prize Credit for CLEVELAND/SRIXON product.
In Flight A action Dale Holtz took home Low Gross honors with a score of 77 and bouncing North Vancouver's Brian Baker with a better back nine in Golf Canada Retrogression.  Flight B Gross Title was taken by Chilliwack Golf Club's Cameron Wilson with a score of 85.
Overall, Professionals played for $7,250 in prize money, while Amateurs played for over $2,500 in prizing on the day.
Congratulations to all flight winners this year and special thanks to Ledgeview Golf & Country Club for their support of BC Golf development.  This spring event served as a great warm-up for VGT's flagship event of the year, the Vancouver Open that will be held at Pagoda Ridge and Ledgeview Golf & Country Club in August.
For event results, prizing and photos click here
Fraser Mulholland
President & Commissioner
Vancouver Golf Tour