IGA | VANCOUVER GOLF TOUR
For Immediate Release – March 24, 2015
(Vancouver, BC)
2015 BRAD GARSIDE OPEN – TOURNAMENT IN REVIEW
Beach Grove Golf Club
Tsawwassen, BC
6,208, Par 71
Paradis Proves Himself at Brad Garside Open 
It appears that fatherhood is treating the 2015 Brad Garside Open winner Jeremy Paradis just fine.  The 29 year old Kings Links Professional fired an impressive round of 64 (-7) Monday to beat a stellar field of 112 Pros and Amateurs on the always manicured Beach Grove Golf Club layout.  His bogey-free round earned him a nice little payday of $1,200, and his first victory on the VGT for a few years.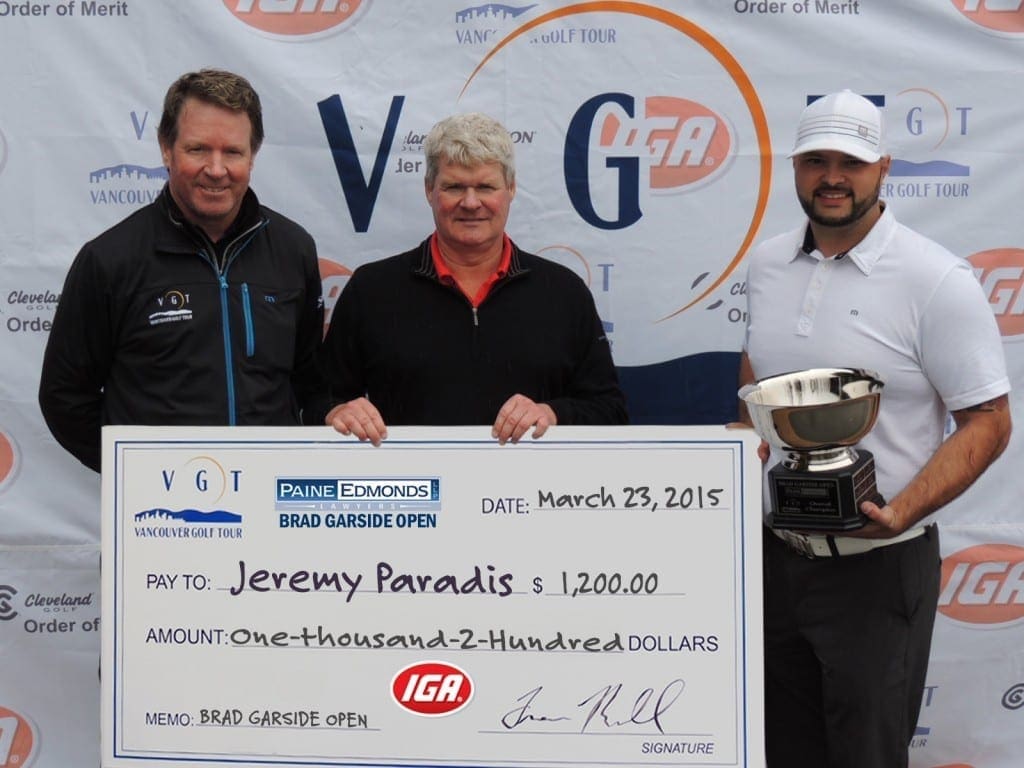 After taking a year and a half break from the game back in 2013, Paradis has re-dedicated himself to the game and is finding more enjoyment both on and off the golf course thanks to some significant life changes.  "I just wasn't in a good place off the golf course back in 2013, and this really put me in a bad state of mind on the course", stated Paradis.  "Thanks to some sound advice from some friends in the fitness industry, I have made some life changing decisions with regards to my diet and fitness program that has been a huge part of me feeling better about myself both on and off the golf course. 
With the birth of our daughter in January, this has given me such a different perspective on life that when I was competing before.  Golf was LIFE for me back a few years ago.  And that is never good" stated Paradis.  "Now, when I come home and see my daughter's smiling face, there's never a bad day on the golf course, no matter the number.  And I definitely have some people to thank in the golf industry who have helped get me to this point with my game.  I have worked for over 10 years with long-time coach Norm Glowa of Sunshine Woods, who has been a huge help with my fundamentals from the start of my golf career.  And lately I have been working with Hazelmere's Phil Jonas, who has given me some great advice on 'playing the game' and getting off the technicalities of the swing while playing".  And I probably wouldn't be here if it wasn't for a phone call from Kings Links Head Pro Neil Bidwell, who recommended I apply to the PGA of Canada and represent Kings Links.  He and the owners Brad and Maria Newell have been so supportive of my career, it's really has made a huge difference to me enjoying my golf again".
When asked if there was anything in particular that prompted his 64 on Monday, Paradis reflected on a number of factors.  "I have had some pretty good success at Beach Grove in previous events, winning their annual Amateur event back over 10 years ago and then winning their Pro-am a few years back.  The golf course is always in fantastic shape, and I really have fun playing there.  The conditions today were really impressive given the amount of rain the last 4-5 days.  It wasn't too hard to be confident over putts when they are rolling so purely".
It probably didn't hurt Paradis' game when he commented that he drained a couple of 40-foot putts coming in on the back 9 when he admitted to playing a bit more conservative coming home.  He is proud of the way he played, in particular up against such a strong field of Professionals including 7-time VGT Order of Merit champion Bryn Parry, Phil Jonas, Oliver Tubb, Kevin Stinson and Brad Clapp.
Paradis topped last year's Garside Open Champion Brad Clapp by 2 shots for the win.  It was Clapp who last year took some confidence away from the Garside Open win onto the VGT Majors Series in May, and finished runner-up at the PC Financial Open at Point Grey on the PGA TOUR Canada schedule.  He would continue fine play throughout the year and finish in the top 30 on the money on PGA TOUR Canada as a rookie.
"There was definitely a bit more incentive to play well early this year" stated Paradis.  "I just heard about the (PC Financial Open) exemption spot going to the (CLEVELAND GOLF/SRIXON) VGT Order of Merit leader as of mid-May, so that probably gave me some extra focus on my play".  I'll plan on Monday qualifying for the Victoria Open and the PC Financial Open, but I will definitely be working on earning the spot into the Point Grey event thru the VGT this spring".
VGT Commissioner Fraser Mulholland couldn't be happier about the Season Opening Brad Garside Open.  "How can you ask for anything more?" stated Mulholland.  "VGT players were given the opportunity to play on one of BC's Premier Private Golf courses in their first Championship event this year.  The golf course was in terrific condition for our players and this is exactly what our top caliber players on the VGT are looking for – to train and develop their skills on well-manicured and championship like conditions.  Greens were rolling around 11 on the stimp and firm enough where players had to think their way around the golf course.  This is great preparation for any major golf tour our players are aspiring to play on".
"Beach Grove Golf Club is to be commended for laying out the red carpet for the Vancouver Golf Tour" stated VGT Commissioner Fraser Mulholland.  "When I first met with Head Professional Brent Derrheim and GM Richard Creally with the notion of hosting a VGT event, they made it very clear that they had 2 goals in mind:  To support local golf, and at the same time showcase their club to some of BC's top Professionals and Amateurs and give them a really great tournament experience.  The fact that our event was sold out over 3 weeks ago (with 112 players), and nothing but positive feedback we have received, Beach Grove Golf Club really needs to be commended for stepping up and providing our players with a premier golf course in PGA-like tournament conditions".
"I am proud to be involved with the VGT, sponsoring the Opening event for the 8th straight year" stated Title Sponsor Brad Garside of Paine Edmonds Lawyers.  "It is really great to see the support Beach Grove Golf Club has offered the VGT in hosting my event this year.  I am proud to be associated with such a great organization as VGT, seeing how hard the whole VGT team works to give local golfers a place to play and develop their skills on their way to play on any Major Tour.  It was a treat to play in the event myself and experience the fabulous layout and conditions Beach Grove has to offer for the first time.  Hats off to Beach Grove, and their membership for providing the players of the VGT a first-class golf facility to start the year".
Local Amateur Brad LePage, who did a stint for a few years as an Assistant Pro at Beach Grove, took low Amateur honors with a very tidy round of 2-under par 69.  He and all three Divisional winners took home some pretty cool Samsung tablets for their play.  Thanks to the support of Beach Grove Golf Club, the event Title Sponsor Brad Garside of Paine Edmonds Lawyers and some of VGT's Major sponsors (CLEVELAND GOLF/SRIXON, TRAVIS MATHEW, 2UNDR, BUSHNELL), over $12,000 in Cash & prizes was awarded to top players in the field.
Full Field Results: https://vancouvergolftour.com/leaderboard
Event Results/Prizing: https://vancouvergolftour.com/schedule/brad-garside-open
Picture gallery of the Brad Garside Open: http://facebook.com/vancouvergolftour
MORE INFORMATION ABOUT BEACH GROVE GOLF CLUB:
Head Professional, Brent Derrheim
Web: http://beachgrovegolf.com
Ph: 604.948.5552
Email: golfshop@beachgrovegolf.com
MORE INFORMATION ABOUT BRAD GARSIDE
Web: http://paine-edmonds.com/004_team_brad_garside.html
Ph: 604.683-1111
Email: bgarside@paine-edmonds.com