[ez_btn color="blue" url="https://www.facebook.com/media/set/?set=a.434279073328311.1073741836.154059001350321&type=1&l=c64dfd6e8e" target="_blank"]Click to View Event Photos[/ez_btn]
VGT Tournament in Review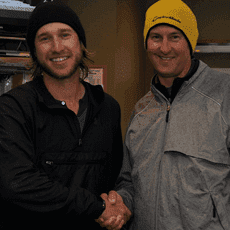 VGT's top Professionals and Amateurs battled rough weather and difficult scoring conditions this past Thursday at the normally picturesque Kings Links by the Sea.  Winds swirled up to 40 km/hr and driving rains came early in the day and persisted till the 98th and final player in the field tapped-in.  At the conclusion of play, North Van's Bryn Parry and West Van's Seann Harlingten outlasted all 40 pros in the field, battling the elements with scores of one-under par 71.  Both would have to wait 90 minutes until two Championship Amateurs finished their rounds after turning at 1-under par 35 before heading to a possible playoff for Overall Champion.  The first of those amateurs, Stu Bell stumbled on the closing nine, shooting a score of 75, which was good for a tie for 2nd in the Amateur Division.  The other Amateur in the hunt was 18 year old Kevin Kwon, reigning Canadian Junior Champion.  Kwon also had it going through 14 holes at -1, but he struggled on the toughest part of the course with bogeys on holes 15-17 to finish at +2 for the day.
With all Championship Amateurs in with higher scores, Parry and Harlingten prepared for a sudden death playoff for the title.  Under VGT regulations for single-day events, after 3 tying the first 3 holes, Parry and Harlingten were declared Co-Champions of the 2013 Nickel Heating Open.  Players were each rewarded with a cheque for $1,250 thanks to the Title Sponsor Steve Savage of Nickel Heating and Ventilation, who for the 5th straight year elevated this premier event to over $10,500 in  Pro and Amateur Prizes!
Kevin Kwon would take home his first Overall Amateur Title on the VGT, winning a Toshiba Laptop valued over $700.  Great to see some of UBC Thunderbirds top players in the field for the 2nd straight VGT event, with Andrew Ledger taking Low T-Bird honors in a tie for 2nd.  He would come into the 18th hole with a 2-shot lead on Kwon (playing together), but a triple-bogey seven and a par by Kwon left him one shot out of a playoff.  Ledger however did claim 2nd place prize, a Cleveland hybrid club and a $100 gift card to London Drugs.
Rounding out the Amateur field and braving the worst of the elements during the final portion of the draw were Flight A and Flight B players.  Those die-hards that endured the pelting rain and wind and claiming victory in their own flights were as follows:
Flight A Gross: Shane Jung (78)
Flight A Net: Wade Hickey (72)
Flight B Gross: Ryan Tang (87)
Flight B Net: David Wilcox (73)
All players in the field were treated to some great hot food and beverages thanks to the wonderful restaurant staff (Glenn and your team, amazing job!).  The golf course was in fantastic shape thanks to Head Superintendent Mike Keiner and his crew.  Greens were rolling purely and the remainder of the golf course was in exceptional condition, especially considering the weather at hand.  The course enhancements made on a number of the bunkers (new sod walls) has really given Kings Links a feel of being in Scotland without the airfare!
Our continued thanks to the VGT volunteers and Team Leaders who battled the elements from set-up to take-down some 12 hours later!  We wouldn't be where we are without your dedication!!
In closing, VGT needs to pay particular thanks to Kings Links Owners and their amazing staff, who have been outstanding supporters of the Vancouver Golf Tour and assisting us with our goals of providing tournament opportunities on great golf courses for our local golfers!  THANKS ALWAYS!!!
For Full Event Scores in Professional and Amateur Divisions, CLICK HERE!
[easyembed field="2013-nickel-heating"]