TOURNAMENT REVIEW
Local Canadian Tour Professional Ryan Williams made the most of a smaller pro field at this year's Squamish Valley Classic, firing a 4-under par 68.  William's carded 5 birdies and a bogey to tie him for low score on the day with fellow Can Tour Pro Oliver Tubb.  Tubb had a run of of 3 straight birdies to start the day and two more birdies and a bogey on the day to shoot 68 and on the day to get into the playoff himself.
After a massive drive on the par 5 first hole, and a long iron from 220 yards out to 15 feet, Williams tapped in for his birdie and the victory when Tubb's birdie attempt from 8 feet slipped by the hole.  Williams cheque for $800 moved him into 2nd place on the money list, but more importantly for him, earned him 1,500 points on the CLEVELAND/SRIXON Order of Merit to shoot him past four time Order of Merit winner Bryn Parry.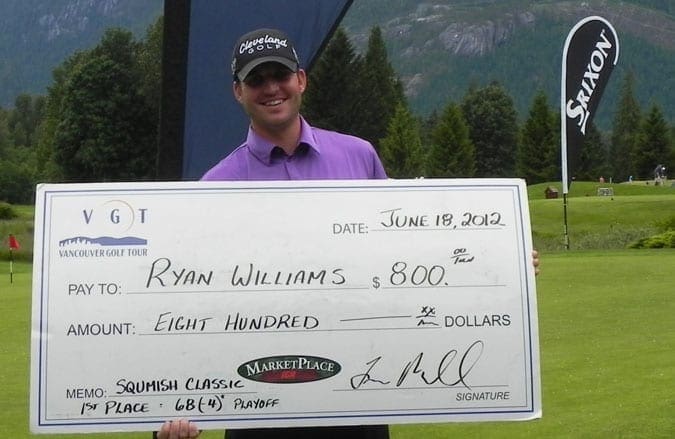 Williams and Tubb have been playing some great golf as of late, making the cut at the Times Colonist Island Savings Open, where Williams finished t18th and Tubb in t31st.  Williams has won a total of 3 VGT events this year including the Golf West Van Shoot-out, a non-order of merit event.  Both players are back on the Canadian Tour this week, site of the ATB Financial Classic at Windermere Golf Course in Edmonton, Alberta.  Williams has continued his form in Edmonton in round one, opening up with a 7-under par 65 to share the lead, while Tubb had a steady day with an opening 72 (E) for a t60th position.
A total of 14 Professionals are entered in the field of this week's ATB Financial Classic.  Pros in the hunt include Langley's Darren Wallace (-5), Kevin Stinson (-3), Nick Taylor (-2) and Devin Carrey (-1).
In Amateur action at the Squamish event it was Vancouver Golf Club's Brendan Dillon who took home the title with a 2-shot victory over Connor O'Dell with a 1-under par 71 to re-assert himself atop the Amateur Order of Merit.  O'Dell kept himself in 2nd place in the Order of Merit, some 2,400 points behind Dillon and 1,000 ahead of 3rd place Hein Marcus.
In Flight A action Shane Jung took Low Gross honors with a score of 75, good for a 3 shot win over Kamloops amateur Dave Burrows.  Jung has been making some great progress after jumping from B Flight only 2 months ago.  He sits in 5th place after only playing in 6 events in Flight A.  Kevin Griffin continued to dominate in Flight A with a 3rd place finish and a 2,000 lead over 2nd place Murray Reed.
Flight B saw Order of Merit Leaders Bently Taylor and Robert Parihar lose some ground as Peter Fung moved up the rung with a fine score of 79 (net 68) to win Flight B and a 2-shot victory over Brian Baker.  Taylor holds a stronghold on the Flight B Order of Merit by 1,000 points over Parihar thru 11 VGT events.
TOURNAMENT RESULTS
[easyembed field="scribd-2012-squamish"]
For complete final scores, please CLICK HERE.
[easyembed field="photo-2012-squamish"]