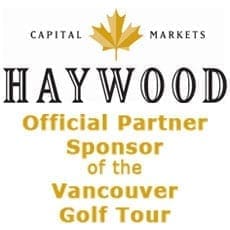 For Immediate Release – Vancouver, BC (May 22, 2012)
Haywood Securities Inc. (www.haywood.com) named newest  Official Partner Sponsor of the Vancouver Golf tour. (VGT)
"Vancouver Golf Tour is proud to welcome Haywood Securities to their team of Premier Sponsors for the 2012 Championship season" states VGT Commissioner Fraser Mulholland.  "We are extremely excited to have Haywood sign-on as an Official Partner of VGT this year.  Haywood has been involved with supporting sport on many levels including the Vancouver Golf Tour for 3 years.  We are grateful for their belief in our vision of creating opportunities in golf for Amateurs and Professionals and paving the way for some of Canada's future Champions".
"Haywood Securities has been passionately involved with supporting sport in Canada for nearly a decade with the goal of becoming a community leader in creating a healthier and more active nation.  Our involvement with the BC Golf House Tradition Pro Am and the Vancouver Golf Tour is particularly exciting as we not only see first-hand individuals who are striving to reach the pinnacle in their careers,  but also witness the wonderful example they are setting for the youth of our country. Golf is such a great game that can be played at all stages of life."
Rob Blanchard, President, Haywood Securities Inc.
Specifically, Haywood has signed on as the Presenting Sponsor of the BC Golf House Tradition Pro-am scheduled for next Monday, May 28th at Shaughnessy Golf & Country Club.  Thanks to Haywood's support, this year's Tradition Classic has turned into one of BC's most sought after Pro-am's on the 2012 BC golf calendar, where over 120 enthusiastic amateur golfers will be paired with one of BC's Premier Golf Professionals from the Vancouver Golf Tour Order of Merit.  Professionals will compete for a $9,000 purse with first place cheque of $1,800 and Amateurs will be privy to an amazing tee-gift and an incredible experience on one of Canada's finest golf courses that has played host to two Canadian Opens in the last 7 years.
Additionally, Haywood's sponsorship along with a cast of supporting sponsors is ensuring the history of the game in BC is in a safe place, as proceeds from the event will directly benefit the BC Golf House and Golf Museum which is located behind the 17th green at University Golf Club.  (www.bcgolfhouse.com)
"The BC Golf House is excited to welcome Haywood Securities on board as the Presenting Sponsor of the Tradition Pro Am Classic to be held at Shaughnessy Golf & Country Club on May 28th.  We are happy to confirm the sponsorship as part of a new relationship between the Golf House and the Vancouver Golf Tour.   I can't stress enough the importance of attracting a company such as Haywood Securities, a Vancouver based business with a history of supporting sport in Canada in a significant way. The Vancouver Golf Tour has really developed into a premier golf development tour and partnering with it has given the BC Golf House event an exciting future".
Barrie McWha, Director of BC Golf House Society
Haywood has extended their sponsorship into a year-long partnership with VGT which will encompass a number of premier events including VGT's major of the year – the Paine Edmonds Vancouver Open on Aug.29-Sept.2nd at Langara, McCleery and Fraserview.
For more information on Haywood Securities:
Tim Ferris, Investment Advisor: tferris@haywood.com
Phone: 604-697-7100
Website: http://haywood.com
For more information on BC Golf House and BC Golf Museum:
Barrie McWha, Executive Director of BC Golf House Society: bmcwha@bcgolfhouse.com
Phone: 604-222-4653
Website: Http://bcgolfhouse.com
For more information on Vancouver Golf Tour:
Fraser Mulholland, Commissioner: fraser@vancouvergolftour.com
Phone: 604-980-4653
Website: https://vancouvergolftour.com