TOURNAMENT REVIEW
Thirty year old Matt Makinson is having quite a year on the VGT this year, so far with a 1st (BC Match Play Team) 2nd (Nickel Heating Open) and a 3rd (Sandpiper) place finish leading up to the VGT Quilchena Open. So when he rattled off 9 birdies and a solo bogey at the event, it surprised no-one in the field, particularly with the golf course playing in immaculate shape from tee-to-green.
Makinson came off a strong year on the VGT in 2010, winning the dubious distinction of the 'Paine Edmonds' most improved player award, before heading off to gain status on the Canadian Tour that fall.  He returned to the VGT in 2011 with flying colours, winning the opening event at Morgan Creek, making believers of all locals that Makinson was ready to shine out on the Canadian Tour.  However, a wrist injury plagued Makinson from the early part of the Can Tour season, keeping him out of the line-up on the VGT and the Canadian Tour much past June.  With his injury, Makinson is able to claim a medical exemption for the 2012 Canadian Tour season, giving him a second chance to play the tour.  And the way he is swinging the club the past 3 months, there is a local camp here believing that he will be a contender on the Canadian Tour on multiple occasions.
Makinson will make his first appearance on the Can Tour at Uplands Golf Club on June 8-11th at the Times Colonist Victoria Open.  But he'll have a couple more 'warm-up' events on the VGT, notably the VGT – Golf West Vancouver Shoot-out on Wednesday, May 16th, and the Golf House Traditions Classic Pro-am presented by Haywood Securities on May 28th at Shaughnessy Golf & Country Club.
Makinson will be joined this Wednesday by 4 time CLEVELAND/SRIXON Order of Merit winner Bryn Parry, who just so happens to be leading the OOM again this year.  Parry finished 2nd solo at Quilchena with a round of 66 and two shots behind Makinson, who picked up $1,000 for his win!
LOCAL CELEBRITIES IN ATTENDANCE
In what was one of VGT's biggest events in 2012, with 108 golfers in the mix, VGT was honoured to have a few local celebrities join in on the Amateur competition.  Noted celebrities included Global BC's Sports personality 'Double Jay' Janower, CKNW's Sports Weekend host Dave Sheldon, and two of BC Lion's finest Geroy Simon and Michael Reilly!  At the end of the day we were privy to a few gratuitous shots with Geroy and Michael, who posed with some fabulous customised BC Lions golf bags courtesy of Brad German of G&G (Official Supplier of VGT).  Thanks again to Geroy and Michael for being great sports, and to G&G for the great donation so we can raise some funds for a great cause at the Vancouver Open Charity Pro-am!!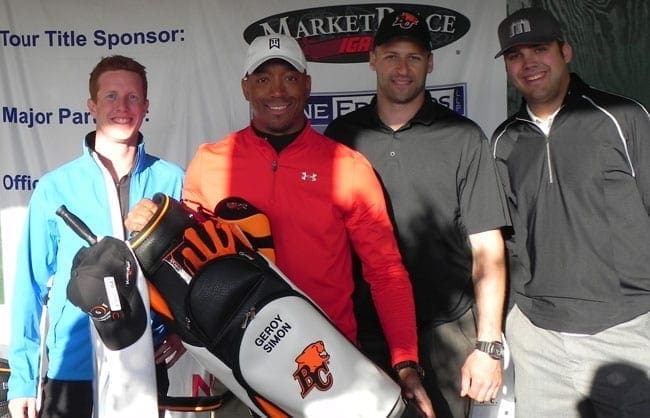 AMATEUR RESULTS
With a total of 76 amateurs in the field, some great scores were shot in each flight..  Here are your Amateur Gross Winners in each flight:
Championship:  Yves Bisson – 74 (+1)
Flight A:            Murray Reed – 78 (+5)  
Flight B:            Alex Duran – 79 (+6)
For Full Event Scores in Professional and Amateur Divisions, CLICK HERE!
On behalf of all of us with the Vancouver Golf Tour, we can't thank Quilchena Golf & Country Club enough for hosting our event last Thursday, and for conditioning the golf course in tour quality conditions for our players.  I have had a tremendous amount of positive feedback from the players about the condition of the golf course and we are very grateful to you, the entire staff and to your membership for giving up your golf course for the afternoon to host our Championship.
Thanks again for the continued support of our tour, its players and helping us with our vision of seeing many more Canadians on the PGA Tour!!!  We will continue to spread the word for golfers to think Quilchena Golf & C.C. when they are making their decision to host an event or join membership in one of BC's most premier golf facilities.
TOURNAMENT RESULTS
[easyembed field="scribd-Qgolf-open"]
[easyembed field="photo-2012-quilchena-open"]