Quick Links: Review |  Results |  Gallery |  Golfbox Scoring

Tournament Review
"Taylor Made Round at Royalwood Look Easy"
April brought lots of rain to the Lower Mainland, but it also brought a lot of confidence to 23-year old Abbotsford Professional Josh Taylor.  Coming off a team victory with partner Kevin Stinson at the Canada Bread BC Match Play and a runner-up finish at last week's VGT Kings Links event spurred Taylor on to win yesterday's VGT Royalwood Classic by a whopping 5-shots over Californian Isaac Weintraub and first year Pro Brett Webster.
Taylor's round of 7-under par 65 came from early birdies on 2, 4, 6 and 7 before a solo bogey on #9 for an impressive front nine score of 33.  He followed up with more great golf on the back nine with birdies on 11 and 16 and an eagle on the par-5 14th.  With winds whipping to 30-40 km\hr and rain coming sideways for at least ½ of his round made, Taylor's round impressed every single player who entered the scoring tent after the round.  No wonder his win came with a 5-shot cushion on his nearest competitors.
httpv://www.youtube.com/watch?v=QMzeYqHVCJQ
Taylor will take a lot of confidence away (and a $1,000 winners' cheque) to the remainder of his tournament calendar, which will consist of a few more VGT events this spring before heading over to Victoria to Monday Qualify for the Times Colonist Island Savings Open.  He will continue to follow the remainder of the Canadian Tour summer schedule via the Monday Qualifying route and set his sights on the 2011 PGA Tour Qualifying School.  If he keeps golfing his ball like he has the past 2 months, he'll be one to watch on the Can Tour leader boards alongside a dozen VGT regulars who will be playing full-time on the Canadian Tour this year!
All local eyes will be on the Can Tour leader boards (http://cantour.com) this week with 10 VGT Professionals tee-ing-it up at the Mexican PGA Championship starting tomorrow in Mazatlan.  One of VGT's alumni Adam Hadwin has to be one of the favourites in the field coming off his latest win on the Can Tour down in Columbia in April.  He'll be in good company with fellow VGT Pros Darren Griff, James Allenby, Matt Daniel, Ryan Williams, Devin Carrey, and VGT newcomers to the Can Tour Matt Makinson, Kevin Stinson ('10 Fall Q-school), Adam Cornelson and Clark MacPherson ('11 Spring Q).  We wish all VGT Pros a very successful campaign this week down in Mexico and we hope you're all getting the satellite feed of the Canucks vs. Nashville series!! GO CANUCKS on all accounts!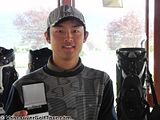 The Amateur field saw almost as lop-sided a victory in the Championship Flight as the Professional field, as 20-year old Richmond Country Club Amateur David Cao carded his first victory on the VGT this year, firing a very solid round of 70 (-2).  Cao's round was good enough for a 5-shot victory over Brodie Williams of Abbotsford and Adam Blackmon of the Merritt Golf Club, earning him 1,500 Order of Merit Points, a Cleveland carry bag and $100 gift card from Marketplace IGA.  Williams won a Cleveland CG15 wedge and a dozen Srixon Z-Star balls for his 2nd place finish via RCGA retrogression over Blackmon.
Tournament Results
[easyembed field="scribd-royalwood-results"]