JM MEDIA ISLAND OPEN MAJOR
May 2-3rd, 2022 | Olympic View Golf Club
"VICTORIA BORN ROWE CROWNED 2022 JM MEDIA ISLAND OPEN CHAMPION"
On behalf of our entire VGT Team, we wish to thank-you for playing in the inaugural JM Media Island Open Major.  Our hats go off to all competitors for battling through some extremely challenging elements over the two days, and in particular to all Divisional Champions for withstanding the challenge of your fellow competitors for the title!
Three cheers to our 2022 OVERALL CHAMPION LAWREN ROWE, who patiently manouvered his way up the leaderboard on day two to come out on top of the field of 87 players, edging Royal Colwood's Max Sear by one shot, and Meadow Garden's Khan Lee by 2 shots.  
Rowe not only pocketed a healthy $3,500 first place cheque, but earned himself the 3rd of 15 VGT Pro exemptions into the illustrious $125,000 SANI MARC / FENERGIC CANADA CUP scheduled for Aug.11-14th in Victoriaville, Quebec.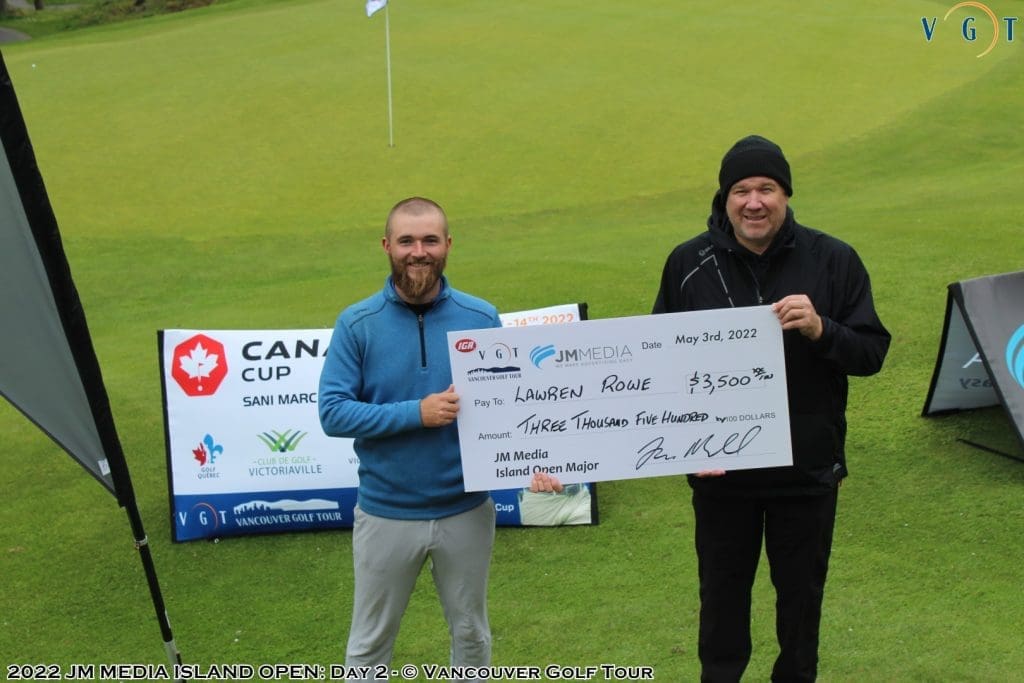 Victoria born and former UVIC standout Rowe has been on a great stretch of golf as of late, recently finishing 2nd place at the PGA TOUR Canada's Washington Q-School, earning Exempt status on tour for at least the first 6 events.  His Isand Open win validates his fine play as of late, and is sure to boost his confidence heading into the next couple of VGT events and the opening PGA TOUR Canada event back on home soil at Upland Golf Club on June 2-5th. 
Runner-up Max Sear earned himself $2,500 for his play this week.  He has been impressing local fans as of late, just recently earning PGA TOUR Canada status last week up in Crown Isle.  But more than that,  it was his magical run through the Monday Q grind that caught everyone's attention back in February this year when he defied all odds and qualified to play in the PGA TOUR's FARMER'S INSURANCE OPEN at Torrey Piines.  Round one leader Khan Lee had a trying final nine after opening up his lead to 4 shots at the half way point in the final round.  He would end up finishing in solo 3rd and earning a cheque for $2,200. 
The Professional field of 36 players played for a total purse of $16,500, while the Amateur field of 51 players were privy to some great tee-gifts and prize table valued at over $6,500!  
Congratulations to all Amateur Divisional Winners (and Island sweep!):
Championship Division: Wyatt Brook (154) Pheasant Glen GC
Division 1: Brett Parhar (162) Olympic View GC
Division 2: Ryan Nixon (172) Olympic View GC
Division 3: David Barlow (191) Olympic View GC
Senior Division: Bill Gilhooly (166) Olympic View GC
A full summary of the Amateur and Professional leaderboards can be found on our golf genius event page here: https://www.golfgenius.com/pages/3062662 
Our VGT Team was hard at work throughout the course of the 36-hole championship to make sure our player's experience was second to none.  But we could not have completed the task were it not for a truly great group of local Olympic View volunteers as well as three of Golf Canada's finest referees in the business (Michael Martyn, Debbie Needham and Glenn Bell).  Thank-you for playing your part in this inaugural Island Open event on the VGT! 
If you haven't seen some of the great action shots and vids on our social media pages, please check us out:
ROUND ONE PHOTO GALLERIES: CLICK HERE
ROUND TWO PHOTO GALLERIES: CLICK HERE
Before we sign off, I wanted to extend our sincere gratitude to the GolfBC ownership group and the entire team at Olympic View Golf Club for rolling out the red carpet to both our VGT Team as well as our tour players.  The service received and your attention to detail on the course conditions was second to none.  Thank-you for supporting our goals of providing an affordable and Professional platform for our local BC talent and providing the rest of our 'mere mortals' in the field a truly great golf tournament experience "where the Pros Play"! 
I hope we can continue to build on the success of this year's inaugural event! 
Sincere regards,
Fraser Mulholland
President & Commissioner
Vancouver Golf Tour