May 11, 2021. For Immediate Release – Vancouver, B.C.
Vancouver Golf Tour (VGT) is proud to welcome McCardle Consulting and Rocky Mountain Tisane as its latest Official Partner for the 2021 season. Through this partnership, Rocky Mountain Tisane will have an on-course presence at VGT's Tournaments and events this season as well as provide their fine and healthy herbal tea drinks for VGT prizing and promotions.
"We are very grateful to have this premium Western Canadian owned and produced healthy herbal tea beverage supporting the Vancouver Golf Tour" stated VGT Commissioner Fraser Mulholland. "Our partnership with McCardle Consulting and Rocky Mountain Tisane will help us build a foundation for the long-term success of both our operations and help make VGT events even more enjoyable for all participants.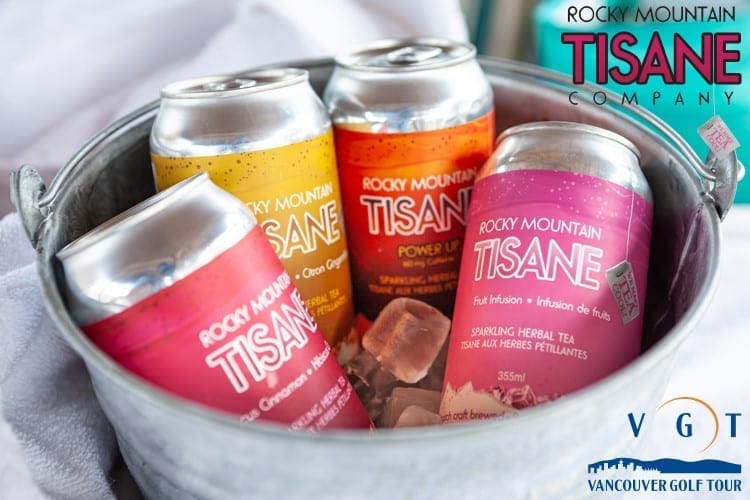 Shane McCardle, Owner at McCardle Consulting added: "We are proud to have Rocky Mountain Tisane healthy herbal tea beverage involved with the VGT through an Official Sponsorship for 2021. It is great to be a part of providing local golfers an opportunity for top-level competition, develop their game, and help bring such a great golf experience to this market."
About Rocky Mountain Tisane Beverage
We are thrilled to share our healthy, thirst-quenching herbal tea experience with the Vancouver Golf Tour and hope every golfer and spectator enjoys our alternative beverage as part of achieving their own wellness goals. Our herbal tea masters select the highest quality, organic ingredients for our blends, which we cold brew to maintain their true colours, aromas, and crisp, clear flavours. We do not need sugar, sweeteners, or artificial flavours. We care about health and the planet. Our process greatly reduces energy consumption (we do not heat), and our deliberate choice of cans has a higher recycling rate and contains more recycled material than plastic bottles or glass. Our beverage is ambient – it does not require refrigeration for shipping or storage.
We want to leave the world a better place than we found it. Rocky Mountain Tisane is a small-batch, non-alcoholic healthy herbal tea beverage that delivers on taste, with zero calories. We are committed to not only producing the highest quality beverage you can find, but to making it in the most sustainable way possible.
McCardle Consulting and Rocky Mountain Tisane Company
Shane McCardle
McCardle Consulting Corporation
580 Garrow Drive, Port Moody, BC V3H 1H5
https://www.rockymountaintisane.com/
Email: shanemccardle@shaw.ca
Ph.778.899.0767
ABOUT VANCOUVER GOLF TOUR
The Vancouver Golf Tour (VGT) was developed in 2006 for BC's local Professionals and Amateurs (Handicap of 0-18) – giving them the opportunity for a high level of competition in a PGA Tour-like environment without the heavy expenses of travel. VGT's goal has always been to provide local players the opportunity to learn how to win while at the same time building their confidence to play on Worldwide Major Tours. For more info, visit vancouvergolftour.com.
Vancouver Golf Tour Media Contact
Fraser Mulholland, President & Commissioner
Email: fraser@vancouvergolftour.com 
Web: vancouvergolftour.com
Twitter: @VancouverGolf
Facebook: /Vancouvergolftour
Instagram: @vancouvergolf
Ph: 604.980.4653