May 4, 2021. For Immediate Release – Vancouver, B.C.
Vancouver Golf Tour (VGT) is proud to welcome HUGHES TRUCKING as its latest TOURNAMENT TITLE SPONSOR for the 2021 season. Through this sponsorship, HUGHES TRUCKING will be the Title Sponsor of VGT's Hughes Trucking Open at Pitt Meadows Golf Club, on Monday, May 31, 2021. 
"We are so grateful having a well-known Cartage and Construction company like HUGHES TRUCKING supporting the Vancouver Golf Tour" stated VGT Commissioner Fraser Mulholland. "HUGHES TRUCKING is helping us build a strong foundation for the long-term success of our operations and providing thousands of golfers a solid platform to achieve success, which directly parallels what HUGHES TRUCKING does every day for their clients".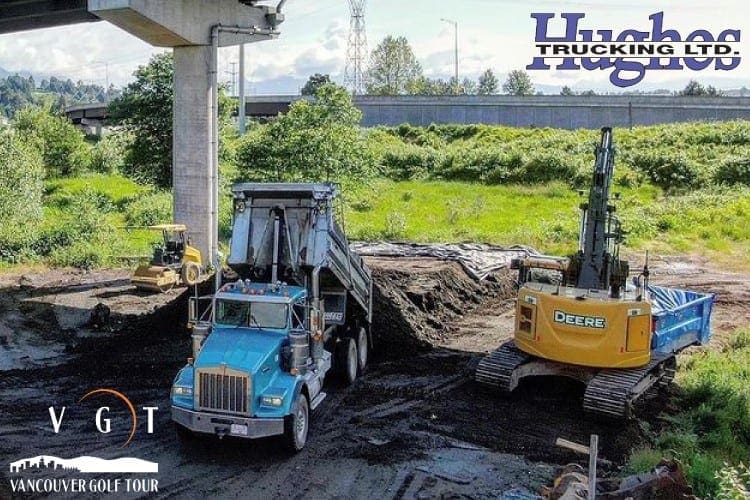 Rod Hughes, Owner of HUGHES TRUCKING added: "We are proud to be involved with the VGT through our Tournament Title Sponsorship, and to be able to hold a first-class tournament at a great venue that will provide local golfers an opportunity for top-level competition and to develop their game."
ABOUT HUGHES TRUCKING
HUGHES TRUCKING is a family-owned, and operated business. Based out of Port Coquitlam BC, we are COR Safety-Driven Certified and have been serving the Lower Mainland and Fraser Valley for over thirty-three years. The fleet of fifty gravel trucks and heavy equipment provides a wide range of sand and gravel cartage services, excavations, site clearing, supply dump sites, reclaim land, and broker sand and gravel sales. Our team of professional drivers and operators ensures safe and quality service for any small or large construction job. At Hughes Trucking, we make it our mission to keep our client's projects on time and on budget, whatever they are building.
HUGHES TRUCKING Ltd.
Rod Hughes, Owner
Unit 106 – 2655 Mary Hill Rd,
Port Coquitlam, BC
V3C 6R9
Ph: 604-941-9988
Email: rodhtl@telus.net
https://hughestrucking.ca
ABOUT VANCOUVER GOLF TOUR
The Vancouver Golf Tour (VGT) was developed in 2006 for BC's local Professionals and Amateurs (Handicap of 0-18) – giving them the opportunity for a high level of competition in a PGA Tour-like environment without the heavy expenses of travel. VGT's goal has always been to provide local players the opportunity to learn how to win while at the same time building their confidence to play on Worldwide Major Tours. For more info, visit vancouvergolftour.com.
Vancouver Golf Tour Media Contact
Fraser Mulholland, President & Commissioner
Email: fraser@vancouvergolftour.com 
Web: vancouvergolftour.com
Twitter: @VancouverGolf
Facebook: /Vancouvergolftour
Instagram: @vancouvergolf
Ph: 604.980.4653