VGT TOURNAMENT IN REVIEW
2020 JOHNSTON MEIER INSURANCE VANCOUVER OPEN
Presented by
JM Media / Dehoney Financial Group / Vancouver Park Board
August 28-30, 2020
"GORBAHN OVER-POWERS FIELD ON ROUTE TO FIRST VAN OPEN WIN"
Twenty-three year-old Kaleb Gorbahn clawed his way back from 6-shots out on day one to earn the biggest win of his career at this weekend's Johnston Meier Insurance Vancouver Open.  The Kimberly Pro carded rounds of 70, 68, 65 (-11) on Vancouver's three city golf courses (McCleery, Langara & Fraserview) to earn a $10,000 cheque to go with the Title.  His 11-under total was good for a 2-shot win over West Vancouver's Kevin Spooner who carded rounds of 66, 72, 67 and a $5,000 runner-up cheque.
This was Gorbahn's 4th Professional Win in just 8 months and Spooner's 2nd consecutive runner-up finish at the Vancouver Open. 
Interviewed after the round, Gorbahn would later say "This was a huge win for me.  Not necessarily the $10,000 cheque (which is nice of course), but more for the tournament experience I have gained and building my confidence from a win against such a quality field".  
Gorbahn topped a record Vancouver Open field of 266 golfers to etch his name on the trophy that holds many a great player's name including 3 x Van Open Winner and PGA Tour Winner Adam Hadwin (2010, 2011, 2016).  The Kimberley Pro will no question take the confidence from this major win back east as he travels to Toronto to play in the Mackenzie Tour's Canada Life Series at TPC Toronto this and next week.
Tournament Summary
It was another fantastic week on the IGA Vancouver Golf Tour at VGT's flagship event of the season – The Johnston Meier Insurance Vancouver Open, hosted at Vancouver's three Premier City Golf Courses McCleery, Langara and Fraserview.
PROFESSIONAL CHAMPIONSHIP
DAY 1
The Pros came out firing on day one at McCleery Golf Course, which was in perfect condition for all players. In the morning wave the group of Kevin Spooner (Capilano Golf and Country Club), James Allenby (Langley Golf Center), and Evan Holmes (Vancouver, BC) all got off to good starts.  Spooner was the lowest of the group firing a very solid 6 under 66.  Allenby was next at -5 (67) and Holmes finished in the top 10 at -2 (70) through the first round.
The afternoon wave also produced some great scores starting with Lawren Rowe (Squamish, BC) who started fairly sluggish on his opening 6 holes but caught fire heading into the turn. With birdies on 5 straight holes on the back nine, he quickly climbed the leaderboard finishing the day with low round of the day at 64 (-7)!
After Day one we had a stacked Pro leaderboard with Rowe at the top followed by Marine Drive's Scott Kerr who came in off the course late firing a tidy 65 (-6).
DAY 2
Day two was a stern test.  Langara played as hard as it ever has in the Championship.  With 40-km/h winds in the morning, the morning wave had a really tough time dealing with the conditions. Only 4 rounds were shot under par in the morning wave and Kaleb Gorbahn was the low man in the morning firing a 3 under 68.  After his morning round he had erased what was a 6-shot deficit down to just 3-shots off the lead when Rowe struggled with a round of 75 (+4) on the day. 
The afternoon wave saw the winds die down and the greens firm up. Even without the wind Langara played as tough as we have seen it in the Vancouver Open.  Players were experiencing challenging pins and greens that were getting really firm and fast.
Evan Holmes was the biggest mover in the afternoon with a very solid round of 68 (-3).
With all the carnage in the afternoon the leaderboard had shaken up big time.  James Allenby was our 36-hole leader after a solid day of golf and a two-day score of -5 overall (67,70).  Gorbahn's round of 68 in the morning put him in the final group just one shot back of Allenby at -4 (70,68).  Spooner (66, 72), Holmes (70,68), and Rowe (64,75) were the 3 other players tied at -4 heading into the final round.
DAY 3
Fraserview was ready for the taking on Sunday afternoon. And the final group of Allenby, Gorbahn, and Webster came out firing on the first few holes.
After a bogey on hole 1, Allenby bounced back with and Eagle on hole two to move to -6 for the tournament.  But it was Gorbahn who continued to amaze his group and the family members who were lining the fairways as he pummeled a drive on the 2nd hole par 5, making it look like a short par 4.  His massive length left him just 110 yards from the hole. After a stellar approach he knocked in a 4-foot putt for eagle to match Allenby at -6. Webster made a great 2 putt and tied the two at the top at -6 with the birdie.  On the 3rd hole, Allenby and Webster both parred the par 3, while Gorbahn made a bogey to drop one back.
Allenby hit the fairway on the par 5 4th leading to a second shot on the green on the par 5 and another birdie moving him to -7.  Gorbahn mashed another drive to within 80 yards of the par 5 hole and stuck his approach to short distance for the eagle.  The EAGLE LANDS AGAIN! He moved to -8 and one clear of Allenby.
From here on in on the front nine, Gorbahn took control chipping in for birdie on 5 and making a couple long putts for birdie on 6 and 8. All of a sudden Gorbahn had a 4-shot lead through 9 holes sitting at -10 for the championship with no-one stepping up to the challenge.  He looked poised to throw it in cruise control on the back nine.
On 10 he hit a solid 3 iron and wedge to set up another birdie from 6 feet below the hole to move his score to -11.  But missing the short putt took a bit of the momentum away and seemed to tighten the group up slightly. Webster who had been going along quietly made a birdie on 10 to get himself into the mix at -7. Allenby was just a bit off all day.  Following the birdie on 4 he made bogies on 5 and 6 and dropped out of the race 5 shots back.
Holmes and Spooner were trying to put a bit of pressure on Gorbahn as they both birdied number 12 to get a little closer. But right behind them Gorbahn birdied 12 as well to keep his distance from the pack.
The par three 13th hole has been the turning point in many Vancouver Opens in the past.  It proved to be a pivotal moment in the tournament once again. Gorbahn and Webster watched as Holmes hit his tee shot. The low draw from the lefty landed on the green and finished 6 feet from the hole. This was the pressure Holmes needed to put on Gorbahn if he was going to catch him! However, Holmes just couldn't knock down the putt and he remained at -7.
Gorbahn stepped up hitting a 7 iron on the 190-yard par 3 but didn't quite catch it leaving it in the penalty area just short of the green. Luckily for him his ball was playable from the fescue and he managed to minimize the damage somewhat with a bogey.
Now with 3 shot lead, things were getting interesting. After pars from Holmes and Gorbahn on 14 and 15 Spooner was able to creep closer with a couple of birdies himself.  So much that Gorbahn was only up by 2 shots when he approached the 16th hole.  He stepped up, and maybe feeling the heat a bit, hit a mediocre iron shot to the front of the green some 50 feet away from the pin. Seeming like he might 3-putt under the pressure, Gorbahn rolled a perfect putt up the hill and then down the slop and….. INTO THE HOLE! WHAT A HUGE PUTT that moved his lead back to three shots with only 2 to play.
 After a solid par on the challenging 17th, Gorbahn approached the 18th tee with a 3-shot lead.  Taking the safe route, he hit a 3 iron to the fairway and laid up short of the green with another iron. Ahead of him Spooner made a birdie on 18 to finish at -9 for the tournament and sat just 2 back with Gorbahn 100 yards out on 18. Gorbahn hit a sensible wedge to the middle of the green leaving him a 3 putt for the win! He only Needed 2 putts to make his par and with that tap-in for par, Kaleb Gorbahn was crowned the 2020 JOHNSTON MEIER INSURANCE Vancouver OPEN CHAMPION!!
Gorbahn gave his Dad a big hug just off the green after clinching the $10,000 cheque. This was a huge win for Gorbahn, who has been having a fantastic season this year.
WOMEN'S OPEN CHAMPIONSHIP
In the Women's OPEN Championship it was Victoria's Naomi Ko who made a comeback of her own, storming home with an impressive round of 69 (-3) on the final day to rally from 3 shots back to sail clear of her next competitor Christine Wong by 5 shots.  Wong was 2019 Women's Open Champion and was in the hunt for repeating her title until a double bogey, par, double bogey stretch on 13-15 derailed her chances.  She would end up shooting 77 and finish 5 shots back of the Symetra player Ko.
Ko finished in 19th place in the Overall Professional Division earning a cheque for $560.  But her cheque was topped up by another $1,000 by MAUI JIM CANADA for earning TOP FEMALE PRO HONORS.  This is the 3rd straight year MAUI JIM CANADA has sponsored the Women's Division at the Vancouver Open. 
MEN'S AMATEUR CHAMPIONSHIP
In the Men's Amateur Championship, we had a great battle unfolding at Fraserview on Day 3.  A real tale of the young guns vs. the steady veteran.  The 52-year old Vancouver City golfer Hein Marcus headed into the final day with a one-shot lead over Giovanni Guzzo and looking to go wire-to-wire for his first ever Vancouver Open Amateur Title.  And half-way through the final round it appeared as if Marcus would pull off the improbable, carding 4 birdies on Fraserview's front nine and opening with a 3-under 33.  This increased his lead to 5-shots over his nearest challenger, Cole Wilson of the Okanagan Golf Club, who had drawn a late time off the 10th tee.  But with some brilliant play from the 19-year old Kelowna golfer, Wilson not only erased the 5-shot deficit, but he poured on the magic, closing with a back 9 score of 32 (-4) and final round of 67 (-5), good for a convincing 5-shot win over three players including Marcus, and a pair of Beach Grove golfers John Morrow and Russell Howlett.  Wilson's round of 67 was not only the Low Amateur round of the Championship, but it was only topped by 2 Professionals in the field – Gorbahn's round of 65 and a 66 shot by Team Canada Young Pro Squad member Chris Crisologo. 
This marked Wilson's 2nd Amateur Title on the VGT in 2020 and 3rd win in just 2 years.  Pretty impressive stuff given the 19-year old's passion to be an elite 2-sport athlete (golf & hockey).  
Wilson has been ranked as high as the 10th best junior golfer in Canada and has spent time as the number one ranked junior in BC when he led the Aberdeen Hall to the school's first Senior A Golf Provincial Championship in 2018.
Wilson's long-term golf is to pursue golf Professionally and make a name for himself both on and off the course where he can give back to the community and the game for all it has done for him.
WOMEN'S AMATEUR CHAMPIONSHIP
On the Women's Amateur Championship, a pair of 13-year old golfers Luna Lu (Burnaby) and Michelle Liu (Vancouver) took the overnight lead on Friday after rounds of 72 (+1) at McCleery Golf Course.  They would hold a narrow one-shot cushion over 4 golfers including Tiffany Kong, Vannessa Zhang, Sonja Tang and Nonie Marler.  
With windy conditions toughening up the course at Langara on day 2, three young women separated themselves from the pack.  Heading into the final round it was Tiffany Kong and Luna Lu who shared the 36-hole lead at +5 with the recently crowned BC Women's Amateur Champion Michelle Liu just one shot back!
You could not have scripted a better start to the final round of the Women's Amateur Title at Fraserview as Tiffany Wong and Michelle Liu both eagled the par five 2nd hole while Lu 'struggled' with a birdie.  A total of 5-under par for the 3 young stars! WOW. 
But as fast as the trio got started, the only other birdie on the front nine would be made by Luna Lu on the par four 5th hole.  But as quickly as she closed the gap to 1 shot, she would lose that ground with an untimely double bogey 6 on the very next hole. 
Thru nine holes Kong held a 2-shot lead on Liu and 3 shots on Lu. 
The BC Women's Amateur Champion Liu came out charging on the back nine with a birdie on #10 for a share of the lead.  But she would ultimately not be able to sustain a charge thru the last 8 holes, shooting 37 on the back nine and finishing in 3rd place.  After the round Liu would comment that "it has been a very long week and I just ran out of steam on the back nine". 
Lu, who had stumbled on the front nine shooting +2 (38) needed to come home strong if she was going to catch the leader.  Although a couple of birdies on 15 and 18 kept her in the hunt, it was just too little too late being 3 shots back on Kong with 9 to play.  The Princeton University Golfer just played too steady for all challengers, right up until the 18th hole maintaining a 3-shot lead on Lu and 4 shots on Liu. 
Even with a double-bogey on 18, Tiffany Kong had stretched the lead enough to claim the title of Vancouver Open Women's Amateur Champion by 1 shot over Luna Lu and 2 shots over Michelle Liu. Where both 13-year old's had travelled back from the BC Junior & Women's Amateur in Campbell River, Kong had not played a tournament for over 5 months after having her NCAA spring schedule cut short in March due to Covid-19.  She commented that her game felt a bit rusty throughout the week, but apparently not enough rust for the 19-year old Princeton University player to hold off two phenomenal young golfers!
Senior Men's & Women's Championship
In the Senior Men's & Women's Championship, sponsored by NICKEL HEATING & VENTILATION, it was Vancouver Golf Club's John Gallacher and McCleery's Robin Lee Monroe who prevailed as Champions.  Both players outclassed their fields – Gallacher with a 5-shot win over Robert Ruff and Neil MacLeod and Monroe battling all takers and the only one to make the cut over 36-holes.  Gallacher earned top prize of $500 prize credits while Monroe earned a $200 prize credit for the win.
In the Divisional play it was James Park of Hazelmere Golf Course who prevailed for Overall Gross Flight A with a 3-day total of 229, while the Net Title was won by Brian Baker with a score of 224.  And in Flight B, Low Gross honors went to David McCullough of Fraserview Golf Course who shot 250 and Overall Net honors went to SPGA player Peter Jones with a score of 220. 
RECORD PRIZE PAYOUTS
A total of $45,000 in Professional Prize money and $40,000 in Amateur prizing was awarded at this year's Vancouver Open Charity Pro-Am and 54-Hole Championship. 
A full summary of Vancouver Open 54-Hole Flight and Divisional winners can be found HERE
A full summary of the Maui Jim Charity Pro-Am prizing can be found HERE.
MAUI JIM CHARITY PRO-AM & RAISING FUNDS
This year's MAUI JIM Charity Pro-Am at the Vancouver Open went off slightly different than our typical format due to Covid-19 restrictions.  But this did not stop 130 golfers from consisting of 26 spirited teams of 4 Amateurs and one of VGT's elite Pros from vying for the Title!!   
Amateurs goody bags were stuffed to the limits thanks to our partners Maui Jim Canada, Srixon, Cutter-Buck, Travis Mathew, 2UNDR, Asics & New Balance Golf Shoes. 
All players were treated to some amazing lunches prior to their round presented by Fraserview's Clubhouse staff that were filled with some delicious wraps and some snacks from Old Dutch and Kashi.  Players were provided with a couple of adult beverage coupons and served some sparkling refreshments provided by Rocky Mountain Tisane as they made the turn on the course!
The standard shotgun followed by buffet dinner was replaced with a 1st and 10th tee format followed by a much more casual affair on the patio where players were offered a light menu item and drink to end the day.  VGT put together a total of 40 raffle draw prizes including green fees, Cleveland Golf Wedges, a Custom Fitted Srixon 785 Series Driver & Maui Jim Sunglasses valued at over $10,000. 
When the smoke cleared, the team that came out on top was JM MEDIA TEAM #1, captained by Professional Kaleb Gorbahn, Kendall Payne, Dave Babych, Kurt Dalphond and Alex Prodanovich.  And wouldn't you know it, our top Pro for the day?  Well you guessed it, the 23-year old long bombing stud Kaleb Gorbah, who fired a sizzling round of 62 (-10) on the day for a $1,000 pay-day!!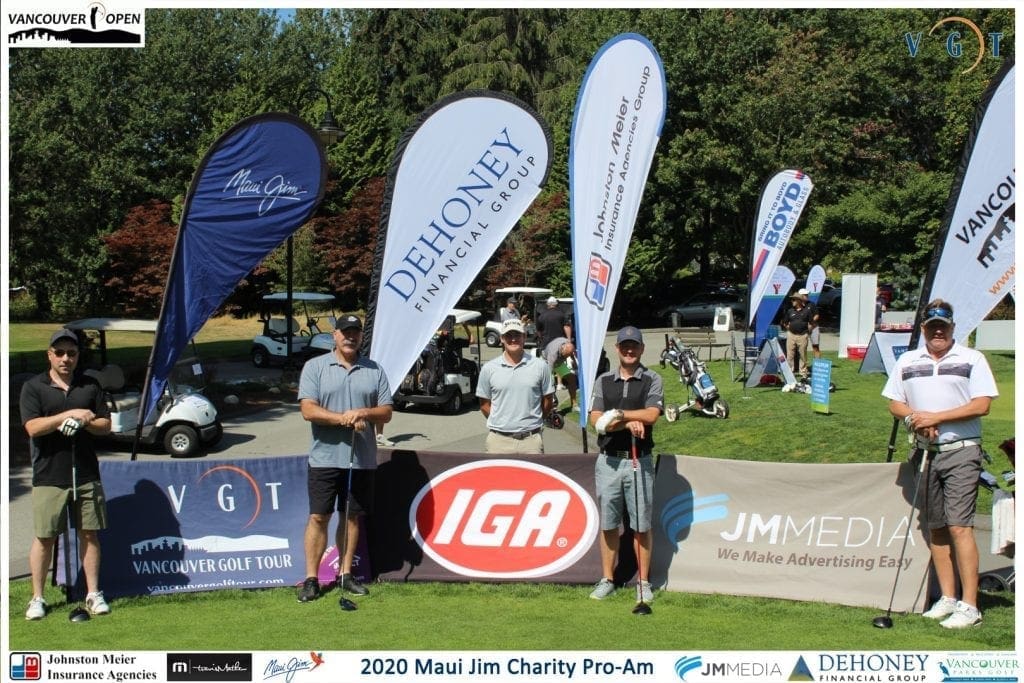 CLICK HERE FOR A LOOK AT PRO-AM PRIZE DRAW WINNERS, TEAM & PRO RESULTS!!
At the end of the day, VGT raised a total of $5,000 for 2 worthy causes at the event.  A $2,500 cheque that will go to the First Tee of Greater Vancouver YMCA and $2,500 that will go towards a newly initiated VGT Player Development Fund to assist with player travel and tournament costs. 
THANK-YOU'S
Corporate Support
Our gratitude goes out to our TOUR TITLE Sponsor, IGA Stores of BC & many of their partners who helped us launch the Vancouver Golf Tour 14 years ago.  They have been on board since day one allowing us to provide Professional Tournament experiences for 100's of up-and-coming local talent and 100's more who are simply looking to compete from week-to-week to beat their personal best! We truly have a great community of members and we owe it to our sponsors for allowing us this privilege.   
I would like to take this time to thank all our Major tournament sponsors, starting with 5x Van Open Title Sponsor – JOHNSTON MEIER INSURANCE and our Presenting Sponsors JM MEDIA GROUP, DEHONEY FINANCIAL GROUP and the Vancouver Parks Golf. 
To our 14-year Order of Merit Sponsor SRIXON/CLEVELAND, to our Charity Pro-am Sponsors MAUI JIM and TRAVIS MATHEW and to all our Major and Supporting Sponsors of the Vancouver Open who make the Vancouver Golf Tour what it is today – THANK-YOU!!
Vancouver Park Board – What a Great Partnership & Three Tremendous Layouts
It goes without saying that you cannot contest a Golf Championship without a Championship set-up.  And boy did the City of Vancouver Golf Courses deliver this year!  You could not have asked for a more stern test of golf over all three Vancouver Park Board Courses – McCleery, Langara and Fraserview. 
This year's players were offered up pristine fairways and some of the truest greens they have seen all year.  Couple that with some blustery conditions that came up late Friday afternoon and early Saturday morning and this year's Vancouver Open pin placements became extremely challenging and demanded precise iron play all day. For the 3rd consecutive year it was Langara Golf Course that proved to be the sternest test for the players with only 8 players breaking par all day after 21 had beaten par at McCleery on day 1 and 18 players who bettered par at Fraserview on Sunday. 
Our special thanks to PGA Professionals Muncie Booth and Tom Monaghan and your staff for making the event run so smoothly on your end, from player's practice rounds to accessing your incredibly busy driving ranges to assisting with power carts for the Pro-Am & Championship!! Great team-work! 
Continued thanks goes to all three Superintendents at our host Vancouver Park Board Courses.  You and your staff continue to impress the players and I know this only comes with tireless hours of overtime with your staff to present all three of your amazing public golf courses in some truly Championship Conditions:
Fraserview: Dennis Luick
McCleery: John Cartlidge
Langara: Peter Rodriguez
Special thanks to Clubhouse Manager Mark Halyk and his entire food and beverage team for working some crazy long hours and looking after our players from the Wednesday Pro-Am right thru till Sunday night with the final team meal!! Great job!!
Some additional thank-you's must go out to the following individuals at the Vancouver Park Board for believing in our vision with the Vancouver Open since day one and supporting us wholeheartedly with this partnership.  It is sad to see some of you retire this year, but we know we will see you on the fairways a bit more now and in the years to come! 😊
Thank-you Howard Normann, Malcolm Bromley, Joan Probert, Shauna Wilton and Jeff MacLean for your support with this really special event for the players.  We wouldn't be here without you!
A final round of thank-you's goes out to over 100 volunteers who came out in masses to assist us with this year's Championship – Scoring, timing, hole spotting and set-up and take-down.   And to the hardest working bunch of core VGT Team members, you all deserve a medal for the extended hours you all put in leading up to and throughout this year's Championship in spite of all the challenges we faced this year due to Covid-19!!  This event doesn't happen without the outpouring of passion and support each and every one of you gave to this event! 
THANK-YOU TO OUR CORE TEAM:
Holly Pearson – Financial Management & On-course set-up
Mike West – Website Development; Photography, On-course set-up and multi-media
Brian Small – Director of Tournament Operations
Helen Simpson – Player Communications & Registration
Taylor Seidel – Assistant Director of Tournament Operations
Loretta West – Photography, On-course set-up
Pat Johnson, Peter McIvor, Al Morris, Lise Booth, Steve Sawchuck – VGT Scoring / Timing / Registration, Set-up Team
Ruth Reeves, Roseanne McIndoe – Volunteer Co-ordinators, Live Scoring
Bernice Pozdrowski, Greg Moody, Tom Hall, Michael Knight, Steve Wade, Dan Sabourin – Rules officials
Mike Kerr – Flags4Golf.com – Signage and printing
One final congratulations to all our Champions, and in particular to our 2020 OVERALL CHAMPION KALEB GORBAHN who bettered all 266 golfers in this year's Championship!!
Until next year, stay safe, stay calm, and be kind!
Sincerely,
Fraser Mulholland
Commissioner, Vancouver Golf Tour
Tournament Director – 2020 Vancouver Open
EVENT RESULTS
---
[fts_facebook id=vancouvergolftour album_id=3203885063034351 posts=8 type=album_photos image_width=350px image_height=210px space_between_photos=1px hide_date_likes_comments=no center_container=no image_stack_animation=no image_position_lr=-10% image_position_top=-30%]
---