VGT TOURNAMENT IN REVIEW
2020 Langley Concrete Group Chilliwack Open
Chilliwack Golf Club
July 11-12, 2020
BACK 9 ZACH ATTACK FOR THE CHILLIWACK OPEN WIN!
It was another terrific weekend for the Langley Concrete Group Chilliwack Open at the Chilliwack Golf Club! With a stellar field of 168 Pros & Amateurs the biggest question was who would be crowned champion of this 50+ year old storied tournament?
Jace Minni from Beach Grove Golf Club hit the ceremonial tee-shot off the first hole, making the 2020 Chilliwack Men's Open officially underway!
In our Pro flight on day one, playing his home course, Connor O'Dell lit it up with 7 birdies and an eagle to share the clubhouse lead with Isaac Lee from Swan-e-set Bay Resort! Lee also had 6 birdies and an eagle on the day.
Jace Minni led the day on day 1 for the Amateur side firing a 3-under par 69 to take the lead in the Premier A Flight. On the B leaderboard Jeff Sheldon of Langley and Spencer Craig of Squamish Valley Golf and Country Club shared the lead at Even par 72. Mission Golf Club's Harold Loland lead C Flight through 10, but it was Royalwood's Ray Flynn who finished as the leader with a +7 round of 79. Jeremy Young of the Falls Golf Course led the way at +8 in D flight, and it stayed that way as he shot 83.
Who were our winners going to be on Day 2?
Day two saw some good scores despite the traditional afternoon winds that whipped up thru the Valley. Flight A's Leaders Alex Walker of Ledgeview Golf and Country Club (-4), Jace Minni (-3) and Ethan Posthumus (-2) teed off and got the ball rolling in the afternoon. By the turn Minni had taken the lead over walker at -4. In the Pro group, by hole 7, Isaac Lee stood at -8, Luke Bogdan at -7 and Connor O'Dell at -6 to round off the final group. A big birdie on 9 gave Lee a 1 shot lead at -9 over local Pro Zach Olson who shot up the leaderboard with an eagle on 9.
Fast forward to hole 13 for Olson, with  a tight, but clever bunker shot gave him a short birdie putt to tie the lead at -9!
Just as it has been so many past Chilliwack Open, this was going to be another dramatic finish!
Thru 16 holes in the Men's Champ Division, Jace Minni had brought himself to a sensational 8-under par, and at one point within 2 shots of the top Pros with just 3 to play.
Back to the Pro leaderboard, Lee made a fantastic eagle on hole 13 to take the outright lead at -11.  But a few holes ahead, and not to be out-done, the 23 year old Olson drained his own birdie putt from 4 feet to tie the lead. Ledgeview Golf Club's Luke Bogdan played some steady golf throughout the Open and after a birdie on the 13th hole, would close with a 2-day total of  66-70 (-8) good for a T-3 finish.
Meanwhile, Connor O'Dell struggled a bit on day 2 and finished with a 74, good enough for T-6 at -5.  Squamish Velley's Lawren Rowe was the closest competitor to our 2 leaders as he made an early charge on the front nine with 4 birdies in 5 holes.  But cooled down on the back side with just a single birdie. Still, it was a wonderful round for the Squamish representative finishing in a tie for 3rd along with Bogdan with scores of 68-68 (-8)!
From here, it was a two-man race to the finish for the Overall Title!
Jace Minni cruised to his second summer VGT Amateur victory, finishing at -6, with Ledgeview's  in solo second at -2. In the 2nd Flight it was Wyatt Teskey who held on to beat day 1 co-leader Spencer Craig by 2 shots. Harold Loland won in group C and Gary Brassart edged out fellow flight member Ron Kenny in Flight D action. It was a heart-breaking defeat for Ron as he had an unfortunate series of events leading to a triple bogey on the 18th to lose by a shot. What a battle between the two!
Back to the leaders coming down the back nine, Chilliwack's Olson made a bomb of a putt on 17 to take the outright lead over Lee at -12! The gallery let out a huge cheer as the putt dropped on 17, just as Lee was about to pull the trigger on his iron shot on 16.  He backed off coolly and did not back down one bit sticking his approach tight on 16. But he would miss his birdie and on 17, would miss to the left and only manage par meaning that he was going to be trailing Olson by a shot heading to 18.
Another nail-biting conclusion.
Olson was in a bit of trouble on the final hole, but a brilliant flop shot from behind the righthand greenside bunker got him a huge par save to stay one ahead of Isaac Lee.
THE LOCAL CROWD WENT WILD.
Now, Lee needed birdie on 18 to decide whether we were going for extra holes. This was it! The stage was set once again. Lee's tee shot landed near the left tree-line, but, a crafty little draw around the trees left himself 15 feet to force a playoff.
On the green, Lee stepped up and aimed his putt going left to right heading toward the hole, rolling, rolling, and ….. OH! Just short of the hole! THAT close to forcing a playoff with Olson.
That does it! With Lees missed putt, Zach Olson was crowned your Champion of the Langley Concrete Group Chilliwack Men's Open!!!
A remarkable feat for the rookie Pro in just his second Professional start on the VGT.  Zach Olson gets his first Professional win after a solid T3 finish in his very first Pro event last week at the Ledgeview Open!
With his win Olson notches a spot in the GATEKEEPER CHALLENGE Series Finale in September. The series will offer 6 qualifying Pros the chance to play for a $5,000 PRIZE PURSE!
As always, many thanks to the tournament sponsors, in particular to Langley Concrete Group who stepped up late and pumped the Pro Purse up to $10,000!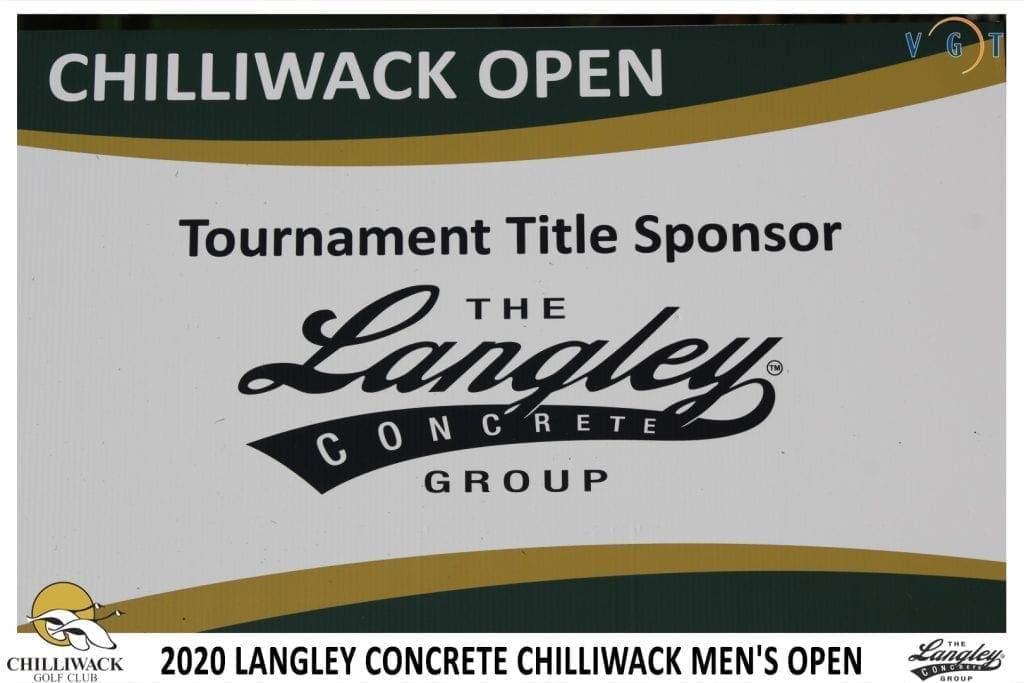 Special thanks to the course maintenance crew, and a huge shout-out to the Chilliwack Golf Club management and their teams for hosting another great tournament.
Continued applause goes to the VGT team and hard working volunteers who worked throughout the weekend conducting the rules, timing stations and final scoring to make this years event another top notch championship for the players.  You all made this event possible!!
Continued thanks to all of our tour partners, in particular our 14-year Tour Title Sponsor, IGA Stores of BC and 14-year Order of Merit Sponsor Cleveland Golf / Srixon Canada for allowing us to run the VGT professionally week-in-week out for our BC players, particularly during this Covid-19 pandemic.
EVENT RESULTS
---
[fts_facebook id=vancouvergolftour album_id=3058751140881078 posts=8 type=album_photos image_width=350px image_height=210px space_between_photos=1px hide_date_likes_comments=no center_container=no image_stack_animation=no image_position_lr=-10% image_position_top=-30%]
---