VGT TOURNAMENT IN REVIEW
2019 VGT MAJOR #3:


Sotheby's International Realty Canada

Whistler Open

Twenty-eight year old Riley Wheeldon of Comox BC had two goals coming up to play the Sotheby's International Realty Canada Whistler Open – Gain some much needed confidence and WIN.  And he did just that, tallying back-to-back rounds of 66 for a 2-day total of 10-under par and a 2-shot win over Shaughnessy's Evan Holmes. 
In a post-tournament interview, Wheeldon commented that his win at the Whistler Open was exactly what the doctor ordered. "I was at a pretty low spot there after the 1st two events on the Mackenzie Tour" sighted Wheeldon, commenting on his MC at Point Grey and an only slightly better T66 performance at Uplands in Victoria.  "I couldn't have asked for a more timely win" Wheeldon continued.  "It's great to come out on top with so many great players out here this week on the VGT, and especially nice to fend off Evan (Holmes) who has been playing some great golf as of late.  I am definitely feeling more prepared for next week up in Kelowna".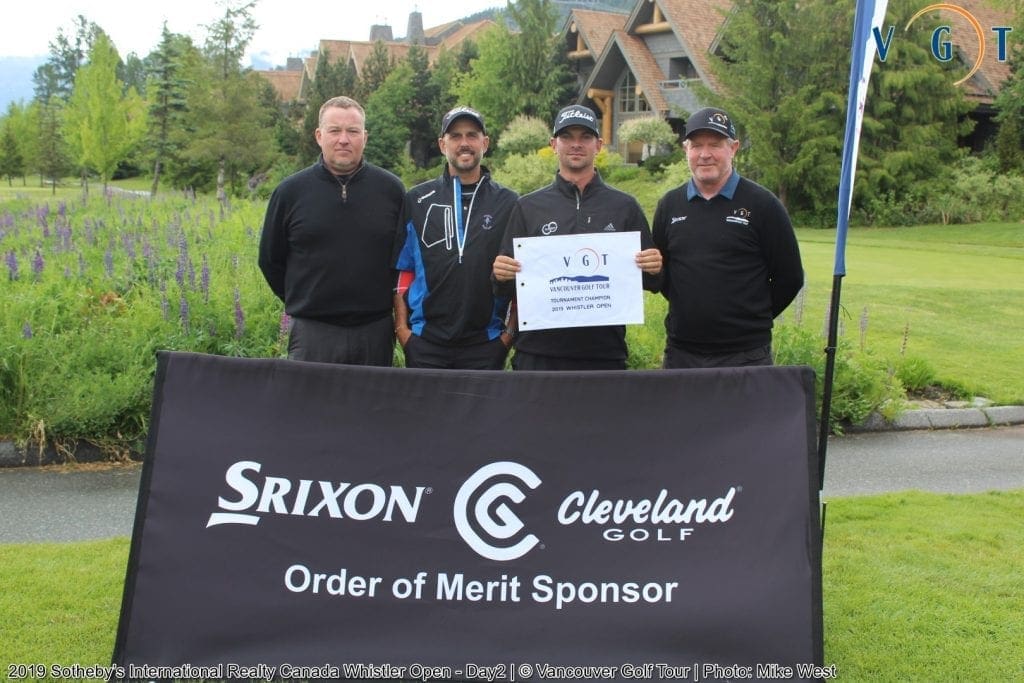 Wheeldon is referring to the next stop on the Mackenzie Tour PGA Tour Canada up at Gallagher's Canyon Golf Club, the 3rd event on the tour and one that caps off the BC Golf Swing.  Wheeldon had a vastly improved year in 2018 (21st on Money list) after losing his full Mackenzie Tour status in 2016 and 2017 where he had to re-earn his place on the tour through the spring Q-School (which he did).  Wheeldon has had past success with the VGT back including 3 consecutive runner-up finishes in the Vancouver Open (2013, 2014, 2015).  And when he needed a break from the travel and rigors of the Mackenzie Tour in 2016, Wheeldon rattled off 4 wins and three 2nd place finishes on route to the 2016 VGT Order of Merit Title (sponsored by Cleveland/Srixon).  Wheeldon will no question be heading up the highway to Kelowna with a ton of confidence having found his game in Whistler and making a bunch of birdies in the time being!  He'll be joined by his fellow VGT Professionals Mike Belle and Evan Holmes who are fully exempt on the tour as well as red-hot VGT Pro James Allenby who has been granted a well deserved sponsor exemption into the Golf BC Championship. 
MAUI JIM WOMEN'S SERIES
At this year's Sotheby's International Realty Canada Whistler Open Maui Jim once again stepped up and offered up a two top Female Awards.  This year's top female Professional honors went to Surrey's Aram Choi who finished 71,72 (143) and in a tie for 7th in the Overall field.  She would win a cheque for $650 plus a bonus $250 cheque courtesy of Maui Jim Canada.  Top Female Amateur honors went to Fraser Valley Open player Sarah Lawrence who earned a $250 Maui Jim Card for her scores of 75, 77 (152).
AMATEURS RESULTS
It came down to the last few holes, but it was Richmond Country Club's Mike Aizawa who prevailed for the Overall Amateur Title, carding rounds of 74, 68 (E) and good for a 2-shot victory over West Van's Max Reinhart and our Presenting Sponsor from Sotheby's Whistler, Nick Soldan Harriss! Aizawa was definitely out for redemption after losing in a playoff in 2018.  And he was rewarded handsomely for his win with a BUSHNELL V4 Shift Rangefinder valued at $600.  In Flight A Division Ronnie Dutta claimed Low Gross Honors with a score of 155 (+14) and a 2 shot lead over Moez Noorani.  Flight B Low Gross honors went to Chad Chomlack from Big Sky Golf Club.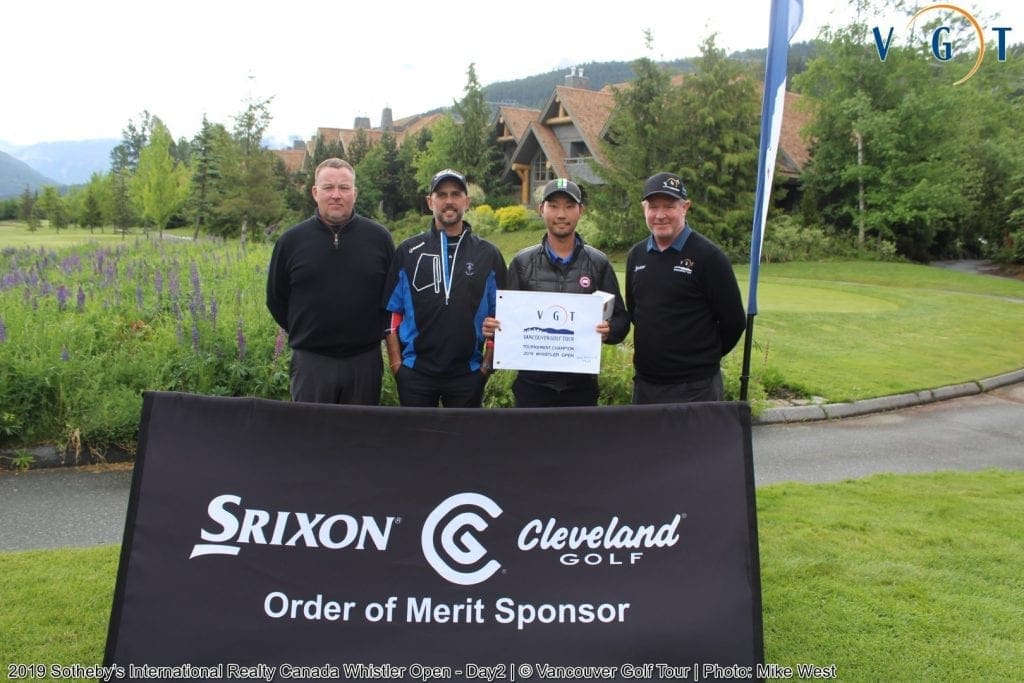 MAJOR SERIES OF PUTTING @ WHISTLER OPEN – DIRECT QUALIFIER TO $250,000 VEGAS FINALS!!
A quick shout-out to Robert and Ray from the Major Series of Putting for coming all the way up the Sea to Sky to put on a direct qualifier down to VEGAS FINALS.  Congratulations to our winner Trevor deKeruzek!  YOU'RE HEADING TO VEGAS IN OCTOBER!!
For those of you who haven't see what its all about, check-it out at www.msop.com.  Our next stops are at our 2UNDR Spring Championship on June 9th and at the Traveland RV Ledgeview Open on June 29th!
NHL'ER & OLYMPIC GOLD MEDALIST IN THE FIELD
We are always so proud to have cross sports athletes come into our VGT events.  Two years ago a pair of Canadian Bob Sled Champions Justin Kripps & Chris Spring entered the Whistler Open as a mental exercise to prepare for the 2018 Winter Olympics. And it seemed to pay off, as Kripps would end up winning a gold medal with his co-pilot Alexander Kopacz in the pairs Bobsleigh competition!  This year's event was privy to 2 more celebrity athletes, NHL player Max Reinhart and 2-time Gold Medalist Seth Westcott (Snowboard Cross Champion).  Both seem to know how to make the transition into competitive golf, Reinhart finishing T2nd Overall and Wescott finishing in 3rd Overall in his own flight.  NOT BAD!
THANK-YOU'S
Without the support of our Title Sponsor SOTHEBY'S INTERNATIONAL REALTY CANADA and Presenting Sponsors Nick Soldan Harriss and Nicklaus North Golf Course, this year's event would not have been possible.  It is an absolutely privilege to bring the VGT up into Whistler and allow our players the opportunity to play for a Professional Championship on such a world class facility.  We are forever in your debt for the continued support of our vision to prepare players like Riley Wheeldon and Evan Holmes for golf excellence on world's major golf tours.  Thank-you!  The golf course was not only in exceptional condition, but the golf course set-up and stunning views all around are simply hard to beat!!
And we have to make sure that all of Nicklaus North's team of staff and management get a huge thumbs up for welcoming our players and staff with open arms giving us the first class Whistler hospitality!! Right from the valet reception at the front door to the incredible meals and service we were served on TABLE 19 PATIO, it really is an event we look forward to coming up for each and every year!
Final thank-you's go out to all of the VGT players and many Whistler locals who played in this year's event and to our VGT Team and core group of volunteers who kept the event running smoothly as ever for both days!
Congratulations to all Division Winners, and in particular to our 2019 SOTHEBY'S REALTY WHISTLER OPEN CHAMPION – RILEY WHEELDON!!
Pro: Riley Wheeldon (-10)
Champ: Mike Aizawa (-3)
Flight-A: Ronnie Dutta
Flight-B: Chad Chomlack
Great playing everyone! 
Good luck up to all VGT players at the GBC Championship in Kelowna!
Cheers,
Fraser Mulholland
Commissioner, VGT
EVENT RESULTS
---
[fts_facebook id=vancouvergolftour album_id=2192993634123504 posts=8 type=album_photos image_width=370px image_height=210px space_between_photos=1px hide_date_likes_comments=no center_container=no image_stack_animation=no image_position_lr=-10% image_position_top=-30%]
---