By Alfie Lau
Abbotsford's Adam Hadwin did everything but win the 60th Anniversary Desert Classic in Palm Springs.
The Vancouver Golf Tour graduate chased down first-round leader Phil Mickelson midway through the final round in La Quinta, taking a three-stroke lead as he stared down a six-foot putt on the 12th hole to take a commanding four-stroke lead with just six holes to play.
It was not to be for the Abbotsford native and he saw his lead slowly, but surely disappear after a fluffed chip on the 16th hole left him in a three-way tie with Mickelson and unheralded St. Louis native Adam Long at -25 with just two holes to play.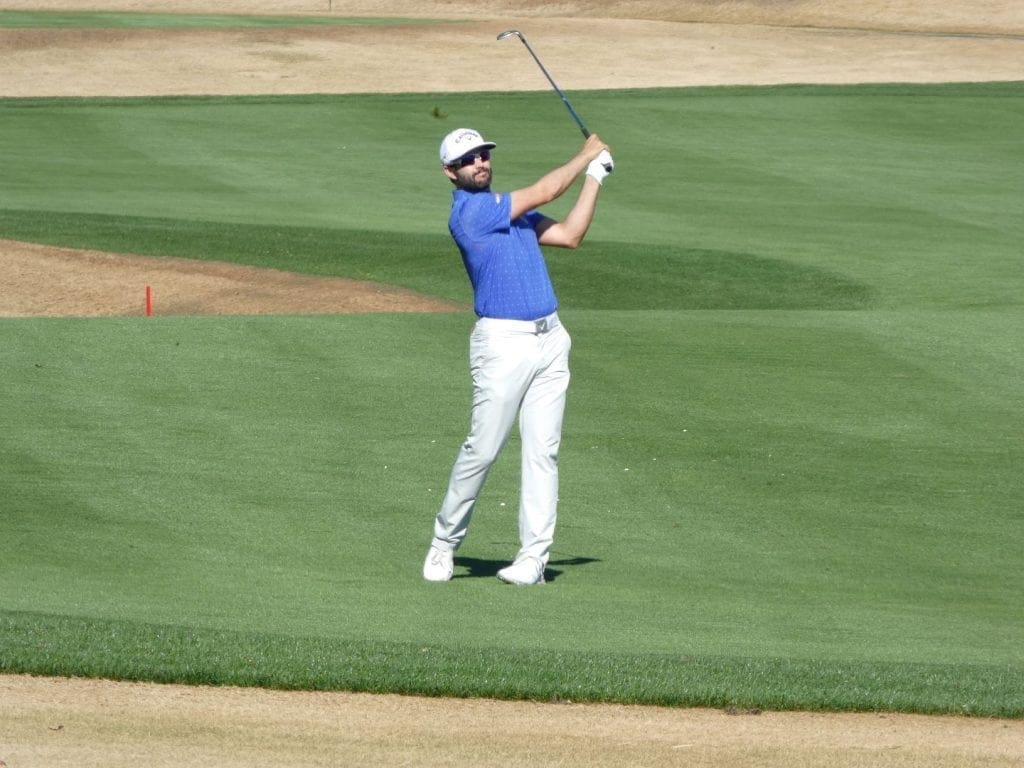 "I'm a leaderboard watcher Thursday morning, first hole, so it's just one of those things that my gaze naturally goes there," said Hadwin. "I knew it was a big putt, I could go four up, I hit a good putt, it just didn't break."
After all three made par at the treacherous par-3 island green 17th, the stage was set at 18 for someone to capture a PGA Tour title and all that confers with it: Invitations to the Masters, PGA Championship, PLAYERS Championship, two-year exemption on the PGA Tour and money, lots and lots of money.
Long hit his drive into the right rough, with a tough lie up against a collar, but he muscled it out to just under 14 feet below the hole. Mickelson was next to hit, but his approach to 30 feet wasn't optimal. And Hadwin then had it all in front of him, but he tugged his second into a greenside bunker behind the hole.
"We felt a little breeze in at 160, thought we had to try to hit the 8 good, so I was aimed a little right, trying to play for a little draw, kind of came on top of it, shut the face, and of course, it's going to fly a little bit further. But thankfully, there was a bunker back there. Didn't even know it."
Hadwin got up and down for his par, while Mickelson had 38 feet for his birdie, with his putt curling left, just below the hole. Par for Lefty set the stage for Long to hit a smooth putt that looked good and was centre cut the whole way.
"I got a pretty good read off Phil's putt," said Long. "It was one of those putts that you just stand over, you just know you're going to make. And you can't control that, but when you have that feeling, it's a good one. And I'm in pretty (much) disbelief right now. I don't really know what happened."
And as happy as Long's supporters were, there was surely disappointment amongst the throngs of Canadians who were cheering for Hadwin's second PGA Tour win.
"It's golf," said Hadwin. "I made a bunch of putts all week and then honestly, I was kind of battling it a little bit swing wise, didn't quite have it like I did the first three days.
"It was nice going into the last hole this year being tied, not one down or two down. So that was getting better there. But what a tremendous learning experience, guys making putts all over . . . and somebody had to win it today and Adam (Long) went out and did that."
Hadwin showed his usual unbelievable amount of class, doing his media obligations while bitterly disappointed, signing autographs for every last person, child or Canadian that wanted it, and even posed for pictures with fans with a big smile on his face. Hadwin knew he had a lot of fans cheering for him and he appreciated it.
"It's like playing back in Canada, to be honest with you," said Hadwin. "There's always that added pressure. You want to win in front of them. It would have been a special moment if I could have pulled it off, but there's always next year I guess. . . I had a chance to win the golf tournament. So second event of a new season, a new calendar year and here I am. So it's a good start."
Hadwin was certainly the story for Canadian golf fans, but three former Vancouver Golf Tour graduates also had nice days in La Quinta.
Merritt's Roger Sloan carded a (-7) round of 65 to vault all the way up T12 and (-17) for the week. Surrey's Adam Svensson shot a final round (-3) 69 to finish at (-16) and T18, while Abbotsford's Nick Taylor could only manage an even par 72 and finished at (-13), good for T40.
Looking on proudly was VGT Commissioner Fraser Mulholland, who flew down Saturday morning to fulfill some sponsor obligations and cheer on his alumni. For most of Sunday, it looked like Hadwin would reward Mulholland with a victory party, but that will have to wait for another day.