VGT TOURNAMENT IN REVIEW
2017 Golden Ears Mens Open
Sat- Sun, July 29-30, 2017 | Pitt Meadows Golf Club
Congratulations to all 2017 Champions!!
PRO: John Shin 133 (-11)
AMATEUR GROSS: Steven Diack 141 (-3)
AMATEUR NET: John Markic 131 (-13)
This weekend's Golden Ear's Invitational at Pitt Meadows Golf Club was filled with plenty of drama and excitement, with some miraculous shot-making and one heck of a conclusion to the tournament!!
Round one leader Kevin Stinson had a great start to his day on Sunday, rattling off 3 straight birdies on 1,2 and 3. He quickly jumped out into a commanding lead at -9 and 3 shots clear of Eugene Wong when they tee'd off on the 4th hole.
But he and Wong ran into a bit of a road block on the closing front 9 holes, making a couple of bogeys each and bringing the field back into play heading into the back 9.
And that's when the cheer was heard around Golden Ear's Park (okay, down the 10th fairway of Pitt Meadows), when North Van's Eugene Wong holed out from the fairway on the par 5 tenth hole for DOUBLE EAGLE!!
For a while it appeared it was just he and Kevin Stinson who were battling back and forth in a 2-man race for the title. First Wong with his Albatross, then after a birdie at 10 and 11, Stinson put himself back on top at -9, one clear of Wong.
However, Stinson got himself into a bit of bunker trouble on hole 12 (double bogey) and then over-clubbed off the tee on the shortened 15th for a bogey. He would move back to -6 and no longer in the pole position he had held for 29 holes.
Wong's double eagle on 10 had vaulted him to -8 in a tie for the lead. Then he traded a bogey on 13 with a birdie on 15th to stay in front at -8, and it appeared (for the time being) that he was in the driver's seat for his first Golden Ear's win.
With Stinson sliding back to -6 thru 15, Wong's nearest competitor on the leaderboard was John Shin at -7. But little did he (or anyone for that matter) know that John Shin was about to go on a "Jordan Spieth" type finish to the event. And only when the final group of Wong and Stinson completed the 17th hole and asked "How's Shin doing" did they find out he had laid down one of the most impressive finishes to the Golden Ear's history, rattling off birdies on 16 & 17 and missing a double eagle on 18 by just inches for a tap-in eagle. When VGT Commissioner replied '11-under par", Wong and Stinson stared almost in disbelief.
The task at hand for Wong (at -8) was this. Make his 2nd albatross on the day, or John Shin was the Champion! The North Van native gave it 2 mighty thumps and did get home to the reachable par 5 in 2, but he left himself some 40 feet from the pin for eagle, and officially John Shin was declared the 2017 Golden Ear's Champion!
Both Stinson and Wong finished with birdies on 18, helping their causes. Wong finished solo 2nd at -9, good for a $1,500 cheque. Stinson finished -6 and tied for 3rd with Chris Lee and Brady Stead of Royal Colwood, good for cheques of $1,050 each.
The Champion walked away with a great sense of pride knocking off some very talented players, and making up for a similar type defeat he experienced 3 years ago thanks to Nathan Leonhardt who eagled 18 to force a playoff and eventually defeat Shin.
At the trophy presentation Shin was all smiles as he pocketed a nice sized cheque for $2,500 which he declared was timely for the much needed 'diaper fund' with his wife expecting their first child!
Our continued thanks go out to the Pitt Meadows Golf Club and their membership for giving up their golf course for the entire weekend, and to the countless hours of volunteer hours the Golden Ears committee (headed by Bruce Eburne) and volunteer team put in to make this year's event a huge success for all 204 players!
Continued thanks to all of Pitt Meadows Golf Club's Operations Teams (Neil Roberts + team of Craig, Wes, Phil, GM Brian Mossop & team Caylen Wallace, Super Dave Z + your team and Clubhouse Team of Chef Gordon Ly, Julie P, Norma and staff.
Finally, very special thanks to all sponsors and partners of the 2017 Golden Ears, but in particular this year's Major Event Sponsors Meyers Norris Penny and Scott Thomson of Mail-O-Matic for stepping up once again to continue the 45+ year Golden Ears Tradition!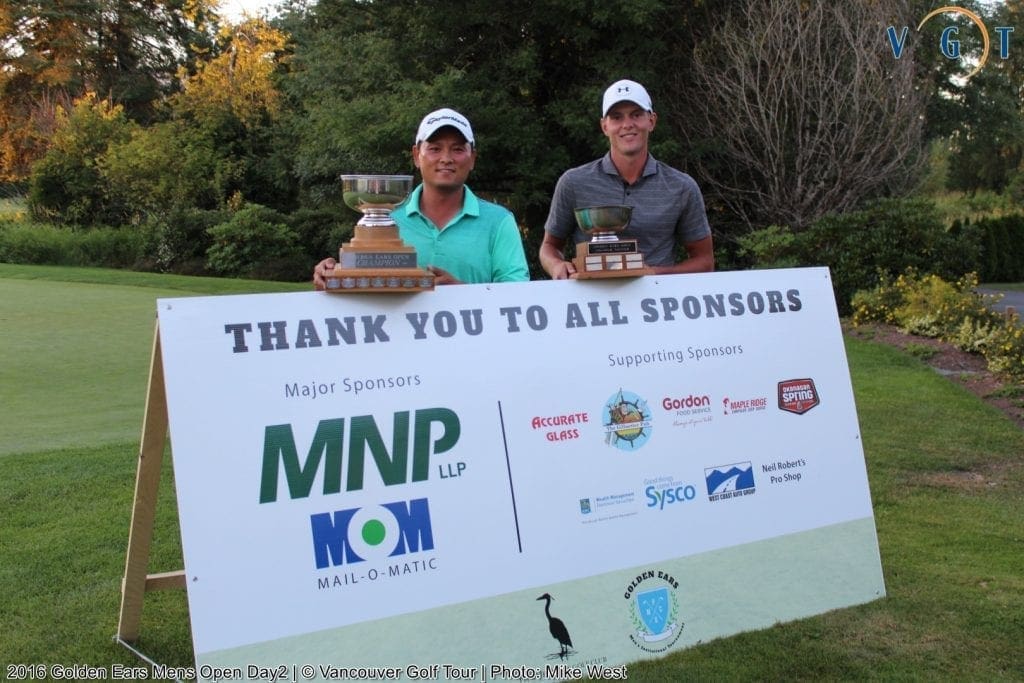 ---
[fts_facebook id=vancouvergolftour album_id=1369583333131209 posts=8 type=album_photos image_width=370px image_height=210px space_between_photos=1px hide_date_likes_comments=no center_container=no image_stack_animation=no image_position_lr=-10% image_position_top=-30%]
---