VGT TOURNAMENT IN REVIEW
2017 VGT LEDGEVIEW CLASSIC
Wednesday, April 5th | Ledgeview Golf & Country Club | 6,131 yards, Par 70
It appears that 5 months spent down in Phoenix, Arizona has paid off for Professional Kevin Stinson (Hazelmere Golf Club).  The recently turned 31 year old Mission resident carded 5 birdies and 2 bogeys on route to a round of 67 (-3) and good for a 1 shot victory over Crown Isle's  Riley Wheeldon and Darren Wallace of Langley, BC. 
Stinson took home the first place cheque of $1,000 in the 74 player field that consisted of 34 Pros and 40 Amateurs.  He also collected 1,500 points on the Srixon / Cleveland Order of Merit in the chase for the $2,500 year-end bonus prize for top Overall Pro and $1,000 bonus prize given to the top Srixon Player.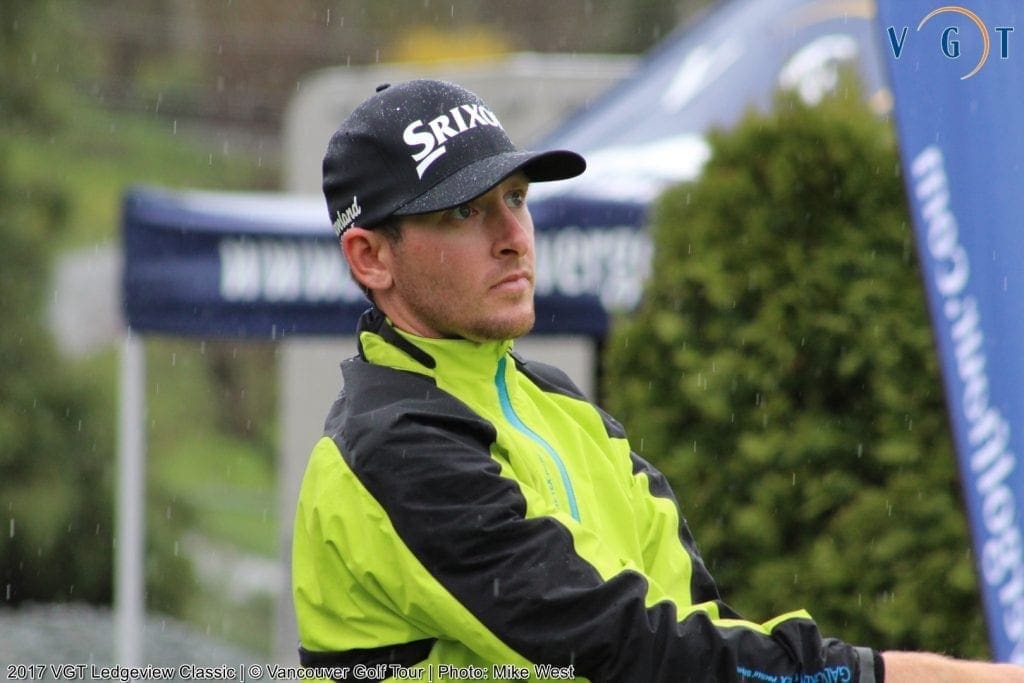 In a quick chat after his round Stinson admitted that he has been working extremely hard on all parts of his game this winter including fitness and nutrition, but had yet to see the results come through in the events he did play down south.  He was glad to see his hard work turn into a victory on the VGT.  Stinson has been one of VGT's top performers the last few years, winning the Srixon/Cleveland Order of Merit in 2015 and narrowly missing a defence of his title in 2016 by one shot at the Tour Championship.
With a t2nd place finish at Ledgeview and win at the first VGT event of 2017, the Brad Garside Open, Wheeldon continues to hold top spot on the VGT Order of Merit.  Along with the 2 year-end bonuses, there is a 3rd bonus that VGT Pros are chasing down.  The top Professional (not already exempt) thru the 2nd VGT Player's Championship on May 19th will earn an exemption into the Mackenzie Tour PGA Tour Canada's Freedom 55 Financial Open at Point Grey. 
In the Apprentice Pro Division it was Redwoods' Brian Jung who took top honors with a score of 79, two shots clear of Seymour Creek's Larry Park.
In the Amateur side of the tournament, 40 golfers endured some extremely challenging conditions including heavy rain during the course of the round.  Top spot was earned by Marine Drive member Taylor Durham (70).  A one shot victory of Carson Kallis of Gorge Vale and 2 shots over Echo Falls, Washington golfer Sarah Lawrence. Durham won $200 in VGT Prize credits to be redeemed at some point throughout the year.
In the Flight A tournament it was Steve McIntosh of Northlands Golf Course who outshined all Flight A competitors with a fabulous round of 76, three shots clear of Vancouver Golf Club's Jinho Jhi.  And it took a score of 86 from Peter Jones of the South Pacific Golfer's Association to win the trophy in Flight B, three shots clear of BC Golf Vancouver Region's Chris Hall.
2UNDR CLOSEST TO THE PIN
At every VGT sanctioned event, KP winners receive a pair of premier 2UNDR briefs.  Here are yesterday's winners:
Professional: Brian Jung
Championship: Sarah Lawrence
Flight A: Masa Takahashi
Flight B: Elly Isaak
HOLE-IN-ONE JACKPOT CONTINUES TO GROW OVER $4,000!!
With no hole-in-one winner at the Ledgeview Classic, next event's jackpot will be guaranteed at $4,200!!
In total over $7,500 in Cash and Prizes was competed for in this year's VGT Ledgeview Classic.  Thanks to all of VGT's sponsors for making this happen, in particular our 11-year Tour Title Sponsor IGA.
THANK-YOU TO LEDGEVIEW GOLF & COUNTRY CLUB & ALL VOLUNTEERS
We are always grateful of the opportunity to host our VGT events at premier facilities and Ledgeview Golf & Country Club is definitely in that category.  Thank-you Ledgeview for your continued and long time support of the VGT and our players.  You have given 100's of golfers on our tour the opportunity to learn how to compete on your championship layout which proved once again to hold up more than its own against some of BC's top Professional and Amateur Golfers.  And it is great to see the energy that is being poured into the whole facility from the grounds crew to the golf shop staff to the newly opened NORTHERN 59 BAR & GRILL with Chef Michael serving up some amazing meals!!  Please pass on our thank-you's to your whole team Gerry Hadwin!!
VGT continues to provide great experiences for its local talent thanks to the continued support of both our regular VGT Core team members and numerous local volunteers helping with hole spotting, timing and scoring.  Thanks to all who made this day possible!!
We look forward to our next visit with you and continuing to give our golfers an exceptional playing experience at Ledgeview on Canada Day long weekend at the LEDGEVIEW OPEN!!
---
[fts_facebook id=vancouvergolftour album_id=1260860110670199 posts=8 type=album_photos image_width=370px image_height=210px space_between_photos=1px hide_date_likes_comments=no center_container=no image_stack_animation=no image_position_lr=-10% image_position_top=-30%]
---