For Immediate Release (Vancouver, BC)
Saturday, January 21st, 2017
"VGT's Alumni Adam Hadwin Shoots Record Setting 59 on the PGA TOUR"
This Saturday in La Quinta, California Adam Hadwin became the first Canadian to post a 59 on the PGA TOUR at the Career Builder Challenge.  Hadwin became only the 9th player on the PGA TOUR to shoot sub-60 and only the fourth player to shoot 59 on a par 72 layout (-13) behind Al Geiberger, Chip Beck and David Duval.  Equally as impressive was that Hadwin tied the PGA TOUR scoring record with 13 birdies in a round.
When Hadwin's par putt dropped on the 18th green for his 59, a huge roar was heard from the dominantly Canadian crowd who were following the 29-year old Abbotsford Professional.  Many of these fans have followed Hadwin's journey from local junior and amateur golf to his first year of Professional Golf on the Vancouver Golf Tour (https://vancouvergolftour.com).
Hadwin has had quite a sure and steady climb to the PGA Tour since he turned Pro on the VGT in 2009 where he would go on to win 4 times, and in 2010 and '11, win the flagship Vancouver Open (http://vancouveropen.ca) in dramatic fashion.  Using VGT as a platform to gain experience and boost his confidence,  Hadwin would quickly gain Mackenzie Tour status in the spring of 2010 and would go on to win that year and one more time in 2011.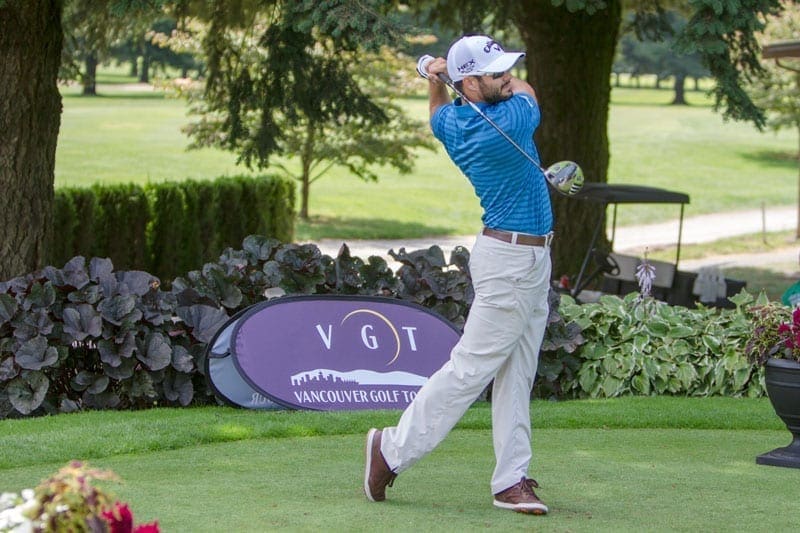 Hadwin's career has continued to have some very exciting moments for BC and Canadian golf fans.  One of the earliest and most noted moments in his early career was his dramatic run up the Canadian Open leaderboard at Shaughnessy Golf & CC in 2011.  Hadwin would not end up winning, but his 4th place finish definitely stamped his name in Canadian Golfers' minds as one of Canada's most promising hopefuls to hit the PGA TOUR.
Fast forward to 2017 and Hadwin has recorded two WEB.COM victories, a WEB.COM money title and a total of 8 top 10's on the PGA TOUR that included a 6th place finish at the 2016 Career Builder Challenge.
Saturday's 59 marked Hadwin's personal best round on the PGA Tour by 4 shots.  For the 2nd straight year he enters Sunday's final round in the final group pairing, which for all intensive purposes should give him a lot of experience to draw on this time out.
One thing for sure, this Sunday's PGA TOUR coverage will be watched by millions of Canadian golfers and "Hadwin's Army" will be out in full force at PGA West.  Many whom are excited about the promise of the next Mike Weir to emerge and give Canada's young golfers another reason to get pumped about golf and to follow their dreams of draining that winning putt on the PGA TOUR!
If Hadwin does pull off the win, one thing is certain: The Canadian Twittersphere, Facebook feeds and Instagram accounts will be buzzing a plenty and the hashtag #HADWINS will certainly be trending!!
#GOHADWIN #GOCANADAGO #VGTALUMNI