2016 Fraser Valley Open Champion Kevin Spooner (2nd from left), 2 shots clear of Kevin Stinson & Riley Lamb. Great battle coming down the end and awesome Golf from all 3 players! That $10,000 looks pretty good on you Mr. Spooner!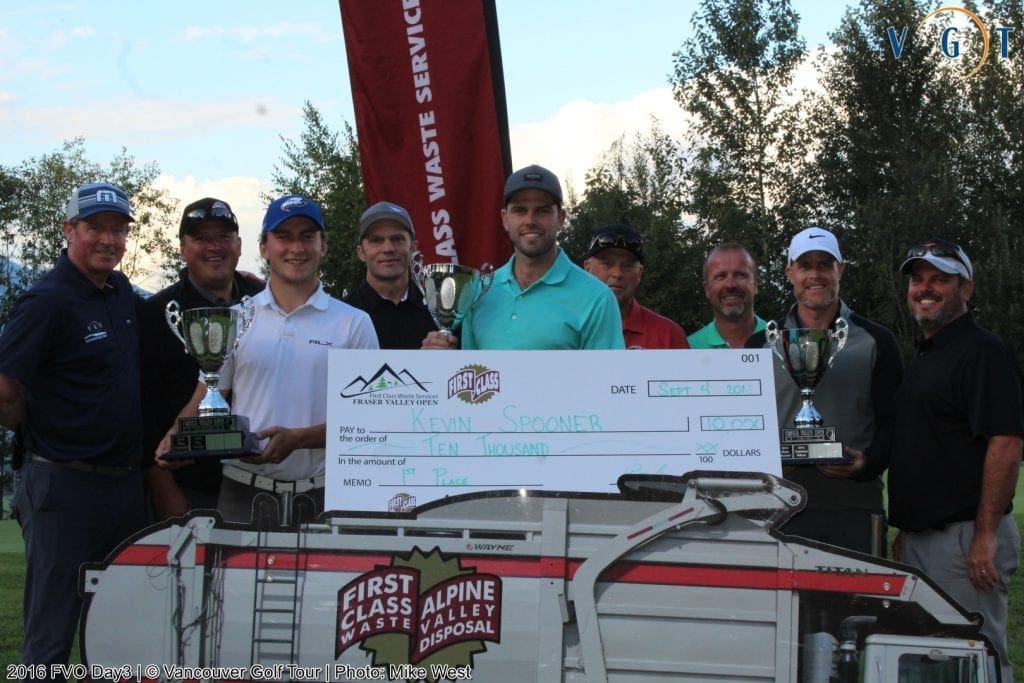 Congrats also go out to Low Amateur, UBC Golfer Brett Pasula of Red Deer, Alberta and Low Net Champion John Spears! Great golf gentlemen!
Our sincere thanks for out the Title Sponsor Don Mayhew of First Class Waste Services for pumping so much life, energy and hard earned cash into this year's event, boasting the largest combined Pro and Amateur purse on the VGT schedule! And the purse and prizing would not be there would it not be for many of Don's business colleagues and the Presenting Sponsors Chances Chilliwack, Tourism Chilliwack and Tourism Harrison Mills!
Our continued thanks to the whole Fraser Valley Open committee (Jared Rempel, Dave Corke, Jamie Baxter, Ted Swaine, & Bryan Ewart) for launching this great event 3 years ago and for pouring so much time and energy into making this one of the best golf events going!
And final thanks to the greatest and hardest working team ever! Lots of long hours this week and the whole year. You truly are the BEST!!
#TeamVGT
For a full list of Pro and Amateur results click here: www.golfleaguegenius.com/pages/291656
VGT was developed for Vancouver's local Professionals and Amateurs (Handicap of 0-18) – giving them the opportunity for a high level of competition in a PGA Tour environment right at home!
http://vancouvergolftour.com
Vancouver Golf Tour
Monday, September 5th, 2016 at 6:16pm