IGA | VANCOUVER GOLF TOUR
2015 PETRON COMMUNICATIONS
Lake Point Charity Pro-am | Fort St. John's, BC
TOURNAMENT IN REVIEW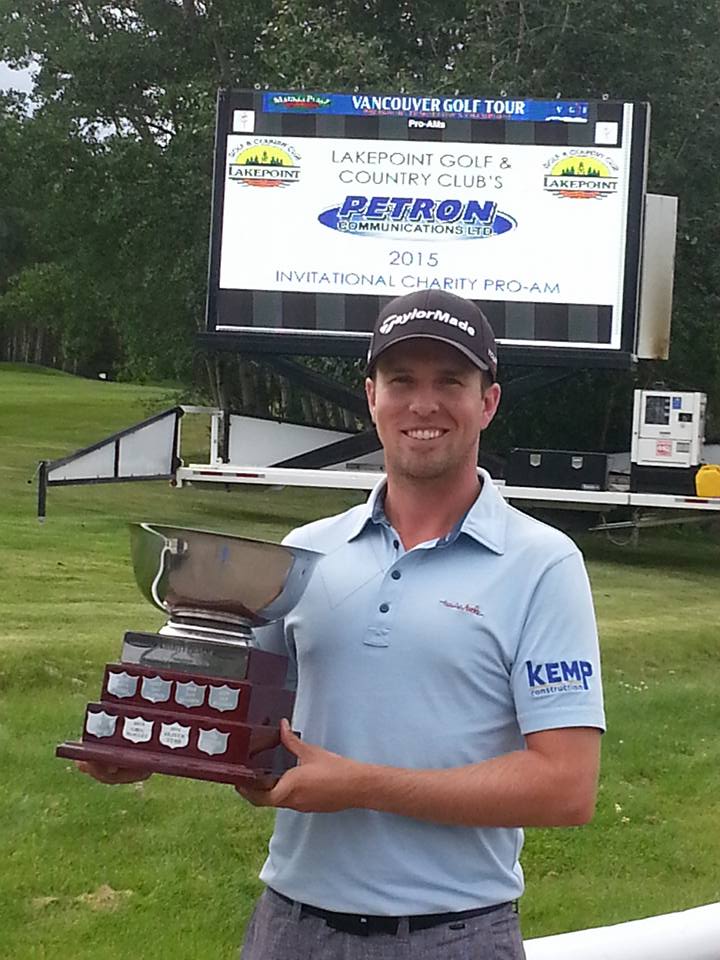 Congratulations to Richmond Country Club's Nathan Leonhardt, for winning VGT's 6 and final Major, the 2015 Petron Communications Lake Point Charity Pro-Am.
Seems like Nathan Leonhardt might have to buy some property up north at the Lake with his 2015 title being his 2nd straight Lake Point Pro-am win!  Word has it that it might be the home made lasagna or monster brownies that his host Deb Bower has made the last 2 years.  But then again, he is also just a great player!
Leonhardt played the steadiest golf over the 6,800 yard Fort St. John layout over 36 holes with rounds of 69, 70 and good enough for a 2 shot victory over Ledgeview Golf Club's Luke Bogdan. Leonhardt took home a handsome $5,000 cheque for the win and Bogdan earned himself $2,500 for 2nd place at 3 – under par.  North Vancouver's Bryn Parry and Vancouver's Robbie Bird were one shot back at -1, each earning $1,350 out of the $15,000 total purse.
This was VGT'S first year partnering with the Lake Point Pro-Am, conducting the live leaderboard scoring and the points and purse counting on the VGT CLEVELAND/SRIXON ORDER OF MERIT.
With his win Leonhardt made a bit of a leap up to top 10 on the VGT Order of Merit after taking some time off this spring due to an injury.  Parry jumped up into 3rd spot with his 3rd place finish and Order of Merit Leader Kevin Stinson kept his lead in tact with a T10th finish at the event.
Thru the Lake Point event Stinson holds a 3,000 point lead over Chilliwack's Brad Clapp who took the week off after his Vancouver Open win and an ensuing 5-week Mackenzie Tour PGA Tour Canada schedule.
The Lake Point Charity Pro-am has been in operations for close to 30 years now and has always been so welcoming and hospitable to the top BC Professionals in our region. The VGT Players this year were not only billeted by the members of the golf course but the tournament also covered the cost of the flight to Ft. St. John and shuttle service to and from the airport, making it one of BC'S premier destination Pro Ams!
The stories are legendary each year from the annual short game contest on the putting green to the Long Drive Contest (sponsored by HUSKY TANK RENTALS).  This year's Long Drive was won by Jared Rempel with a whopping 394 yard drive!  Remps may have been a bit lucky when Kevin Stinson's 3 bombs down the right side of the fairway barely missed the grid!! #BOOM
After round one of the Pro-am the Long Drive contest was then followed by the ever entertaining 9 hole 2-man horse race where pros were paired according to their 1st round scores in an alternate shot format.  The highest 1 to 2 teams were eliminated each hole until 2 teams come down the 9th to decide the Champions.  At any time if a team loses their ball they are automatically eliminated from the event.
At the end of the 9 holes it was Chilliwack's Chad McAdie and partner Jerry Christiansen of Saskatoon who prevailed after JC hit it to inside a foot on the 9th hole for the win! From what I was told it was a good thing they weren't mic'd up for the 1 minute prior to that shot!! ☺
The Tuesday evening Calcutta raises some nice funds for the Charity and also helped pump the pot for the top 3 team scores on Wednesday!  Larry Ramstad was the big winner after bidding on his team and taking home the $5,000 first place prize calcutta!
For the pro Calcutta it was Luke Bogdan who took low 2nd round honors, which made some good money for the buyers of that pro group (Jerry, FM +1)
Team Ramstad was also declared the 36 hole team champion with a 2 day total of 353 points, narrowly edging out Team Nathan Leonhardt by 2 shots.  Some amazing prizing was won by the team members and the pros played for a total of $15,000 including the stroke play event plus daily skins game and horse race!!
Thanks to everyone involved in making this year's Petron Communications Lake Point Charity Pro-am a huge success!!  From the Title Sponsor Justin McKinnon of Petron Communications to all Gold and Silver Sponsors, each and every one of you should be commended for your support of this event.
Finally, special thanks goes out to the many volunteers, Lake Point Staff members and tournament committee who put in the time around the clock to make this year's event one of the best.  You are all to be commended on an amazing event played at one of BC'S hidden jewels of the north!!
We look forward to being a part of the event in 2016 and bringing up some of Canada's rising Pro stars and giving them a great competitive tournament experience which helps elevate their confidence and ability to move onto a major tour they are aspiring to play on.
For a list of all tournament results, please visit the VGT Live Leaderboard:
https://vancouvergolftour.com/leaderboard