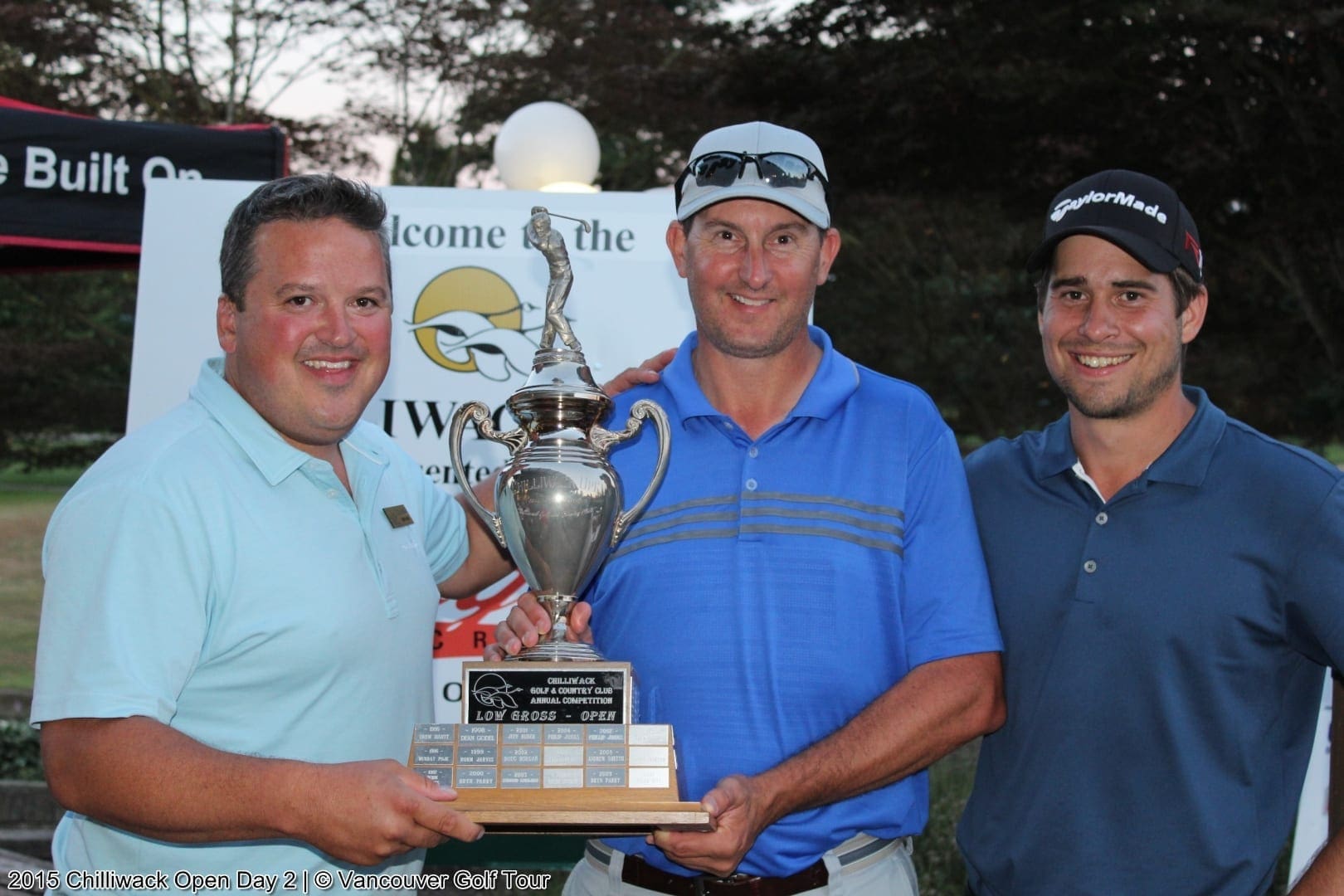 2015 Chilliwack Men's Open
Presented by
The Langley Concrete Group & Alpine Valley
It took him 2 birdies in his final 3 holes of regulation for him to earn a birth into a sudden playoff.  But but one thing for sure is when he gets into that position he makes the most of it.
Bryn Parry came into final round with a 1 shot lead over PGA Professional Mingu Kang, who had shot a credible round of 57 (-5).  Point Grey's Kyle German (68) and PGA Tour China's Dong Su (69) were 2 and 3 shots back starting the day.
Through the front nine on Sunday Parry took some time to get his mojo on, bogeying the 4th and 5th holes.  Up ahead West Coast Golf Group's Kevin Stinson was making a move the other way after an opening round of 72.  With birdies on holes 4-6 and 10-11, Stinson had moved into a share of the lead with Parry.  And after his 6th birdie rolled in on the 13th hole, Stinson held the lead over Parry for just a short period of time.  He would trade a bogey with 2 birdies on holes 14, 16 and 17 and after a solid par on 18 would post an impressive round of 7-under par 65 for the clubhouse lead.
Back on the course Parry was getting into his stride, albeit late into the back 9.  His birdies on 16 took him back within one of the lead with Stinson in the clubhouse at -7.  And in typical form, Parry laced a mid-iron into the challenging par 4, 18th hole to 4 feet and capped it off with a birdie to force a playoff with Stinson!
After both players made an bogey on the 1st playoff hole (15th) amidst an energetic gallery, it looked like Parry would be knocked out on 16 after a wayward drive.  But after a bit of magic he would make an incredible up and down for par and the playoff would move to the 17th when Stinson's birdie bid missed.
After both players parred the 17th, Parry out-lasted Stinson with a gutsy par on the 18th hole to capture his 7th Chilliwack Men's Open Title, earning himself the $2,000 first place cheque.  Stinson earned $1,200 for his 2nd place finish while Pros Kyle German and John Shin earned $925 on the day at -5.
In the amateur field it was Chilliwack Golf Club's Colin Holding who prevailed with scores of 73, 73 good for a 3 shot win over Joel McCall and Kerry Grittner.  While in the Amateur Net competition it was VGT's Trevor deKeruzek who prevailed with a 2-day net total of 135.  Both Holding and deKeruzek were privy to some sweet IPAD's for their solid play!
VGT would like to congratulate the whole team at Chilliwack Golf Club for once again setting the bar really high when it comes to golf tournament operations!  Wonderful service, exceptional Saturday social and festivities and first class golf course conditions!  No wonder the event continues to sell out each and every year at least 2 weeks in advance!
Final thanks to all of Chilliwack and VGT's volunteers and to the wonderful Chilliwack Open sponsorship group including presenting sponsors Langley Concrete Group and Alpine Valley.  Your support of the event coupled with the many supporting sponsors and partners really do make this event a whopping success every year!
For a list of full results visit www.vancouvergolftour.com/leaderboard
For a full list of prize winners visit www.vancouvergolftour.com/prizing/
Thanks again for another amazing event.  We look forward to being a part of the Chilliwack Men's Open in 2016!!
Fraser Mulholland
Commissioner, VGT