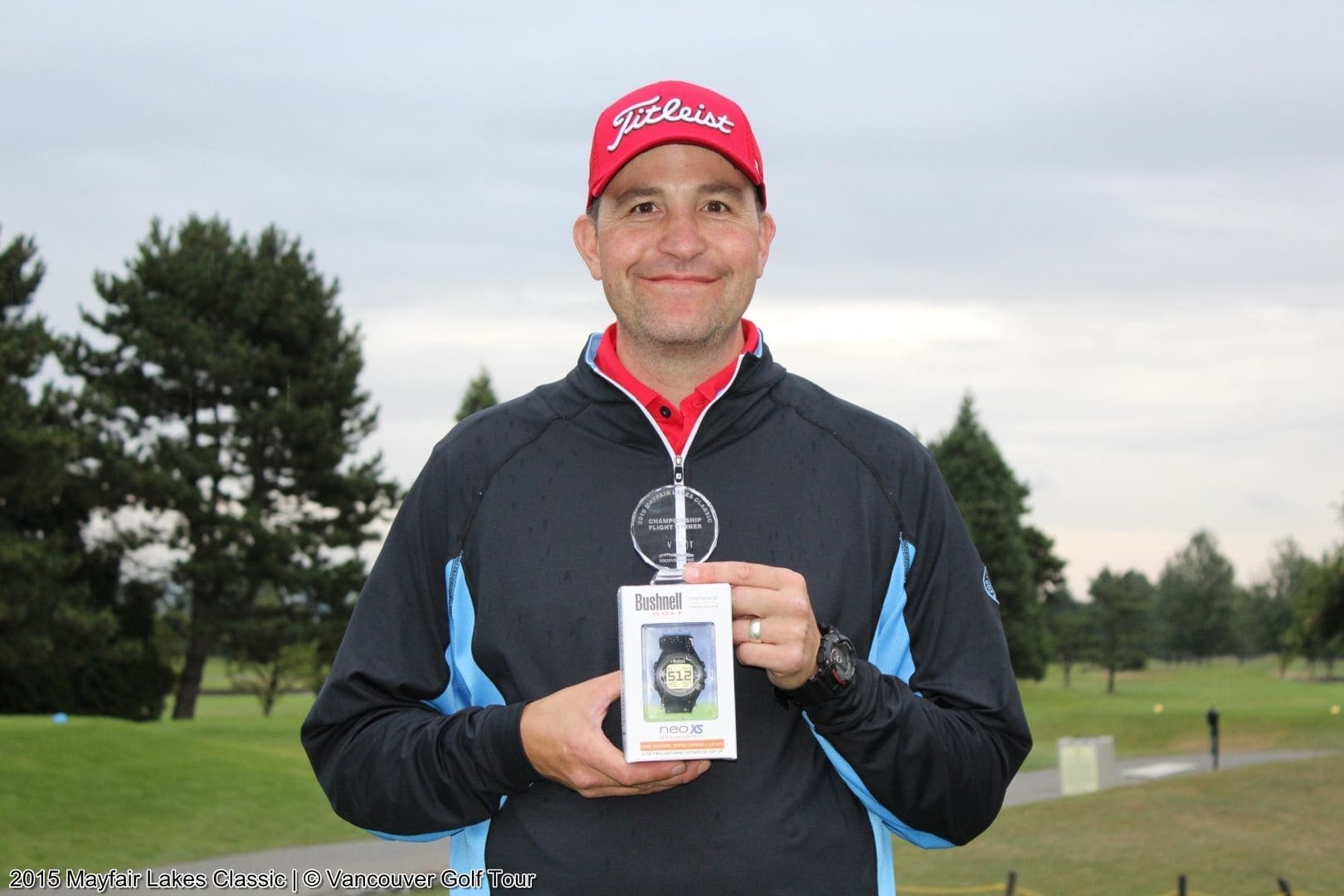 2015 VGT MAYFAIR LAKES CLASSIC
Saturday, July 11th
Mayfair Lakes Golf Club
Tournament Review
It wasn't long ago we were saying that we announced that it had been 2 full years since Kris Yardley's last win on the VGT.  But winning does seem to breed confidence.  Just ask Jordan Spieth!  And Yardley did just that this a couple of weeks ago.  Gain confidence from his win at Hazelmere.  Yardley sealed his victory after littering his scorecard with 8 birdies en route to a 3-under par 68.  The past Professional golfer took home a Bushnell GPS Watch and dozen Srixon Z-Star balls for winning the title and 1,500 Order of Merit Points.
Yardley leaps up to #3 in the CLEVELAND / SRIXON ORDER OF MERIT for the Championship Flight.  He'll take a ton of confidence into this year's Vancouver Open in 3 weeks' time.  An event he took Low Amateur honors at back in 2010 when PGA TOUR player Adam Hadwin surged to the winner's circle for his first of 2 Vancouver Open wins!
In other Amateur Flights, it took some really low numbers to win.  First off it was Taylor Johnson in Flight A who earned Low Gross Honors with a great round of 75, some 8 shots under his handicap.  And in Flight B it was Marvin Ison who shot and equally impressive round of 76 off a 14 handicap, also earning Low Gross honors for his flight.  Johnson earned a Bushnell GPS watch while Ison took away $175 worth of CLEVELAND/SRIXON credits.  Low Net honors went to Boyet Gilmore in Flight A and to Mike Kovac in Flight B.
2UNDR – KP WINNERS
CHAMPIONSHIP FLIGHT –  Kyle Debrun
FLIGHT A – Yari Kubica
FLIGHT B – Les Calder
Special thanks to all of our event partners today including KP SPONSOR 2UNDR Men's briefs and our year-long partners CLEVELAND GOLF, SRIXON, TRAVIS MATHEW and PROJEKT luggage.
Continued thanks to the VGT volunteers and team members for making this event happen and getting all the players through in under 5 hours.  Well done team! And Final thanks to Mayfair Lakes Golf Club and their team for their hospitality and providing a beautifully conditioned golf course once again for our players.
Links & Resources
Full Results can be found here: https://vancouvergolftour.com/leaderboard
Event Photos & Prizing: https://vancouvergolftour.com/prizing/