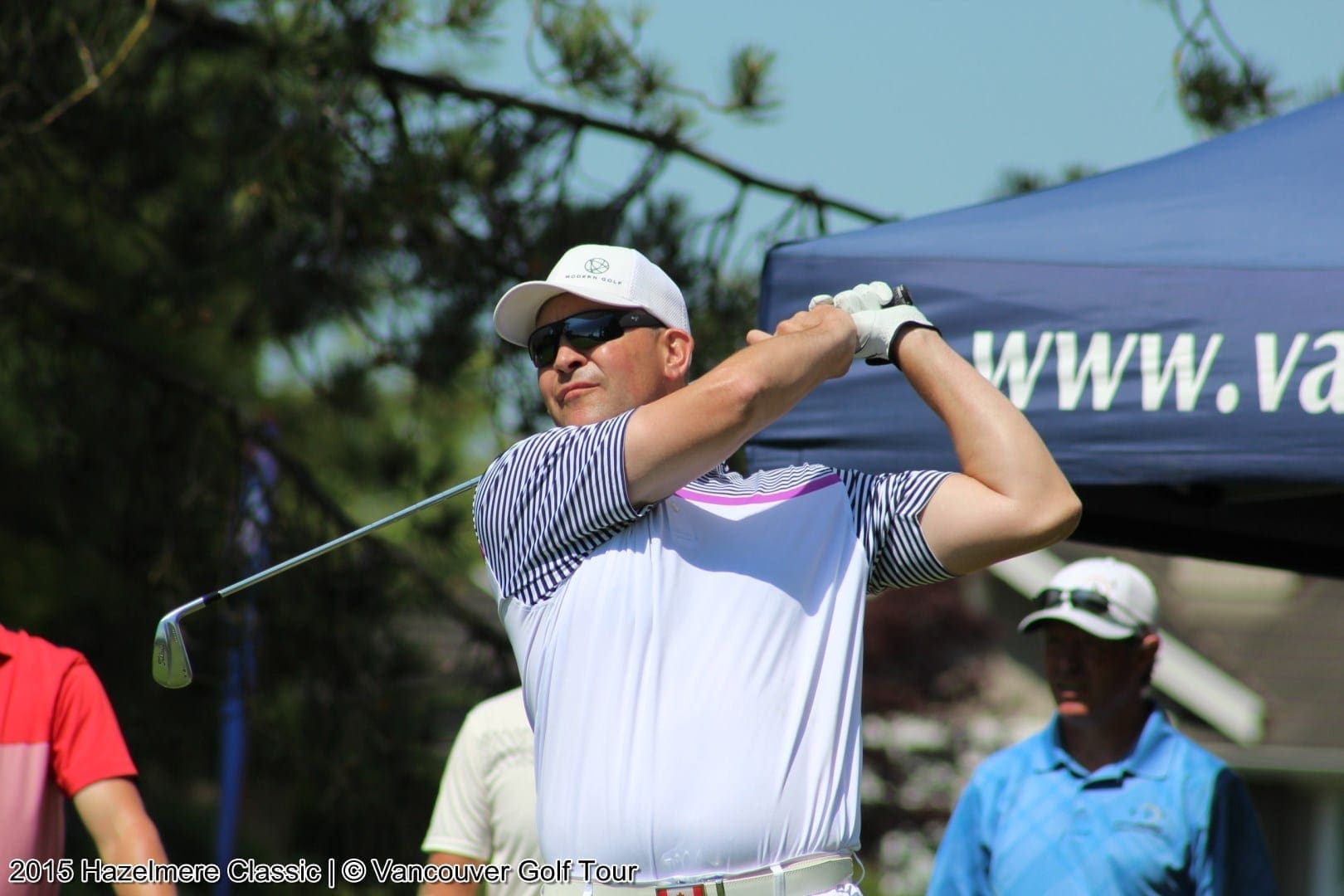 2015 VGT HAZELMERE CLASSIC
Saturday, June 27th
Hazelmere Golf Course | Par 72, 6687 yards
Tournament Review
It's been a while since VGT Amateur Kris Yardley won his last title.  Two years in fact since the 42 year old closed out the 2013 BC Men's Mid-Amateur title at Ledgeview Golf & Country Club.  And it took some fine play on the back nine to just tie Abbotsford's Dean Reddicopp after 18 holes.  Yardley came home in a very nice back nine score of 33 (-3) and would need only a par on the 1st playoff hole to earn the win over Reddicopp.
Yardley has been playing a bit less golf the last couple of years due to raising a young family and heavy work commitments, but is looking forward to getting back to Ledgeview for his next tournament, the 2015 Vancouver Open where he will look to capture Low Amateur honors in this event for the second time.  Yardley earned Low Amateur honors at the 2010 Vancouver Open where PGA TOUR Player Adam Hadwin broke through for one of his first big Professional wins.
Reddicopp will be working hard at earning his first Low Amateur title at this year's Vancouver Open on two of his 'home tracks' Pagoda Ridge and Ledgeview.  He knows both courses well and proved this with an amateur victory at the VGT Ledgeview Classic in 2014 and a victory at the Sonic Transport Open earlier in the spring.  Look for both players to contend when the final round hits Ledgeview on August 8th!  Yardley took home $300 in CLEVELAND/SRIXON gift credits for his Low Gross Win and Reddicopp earned $200 in CLEVELAND/SRIXON credits for earning Low Net honors.
In Flight A action, Raymond Kapoor earned Low Gross honors after a round of 81, edging out Jim Zalusky and Andy Jang by just one shot.  Low net honors on the day went to VGT regular Brad Heath who earned the victory in a countback with Randy Parnell.  Both players shot net scores of 72.  Both Kapoor and Heath earned $175 CLEVELAND/SRIXON gift credits for the wins.
Flight B Overall Gross winner James Hunter seemed to like his first outing as a VGT member, shooting 83 for the victory and a one shot victory over Chris Hall.  Hall would earn Low Net honors with a score of 70, two shots clear of Rob McKinnon and Russ Westcott.  Both Hunter and Hall won $175 CLEVELAND / SRIXON Gift Credits.
2UNDR – KP WINNERS
CHAMPIONSHIP FLIGHT –  HEIN MARCUS
FLIGHT A – MASA TAKAHASHI
FLIGHT B – MARVIN DECLARE
SPORTSCLIPS HAIRCUTS DRAW WINNER – WAYNE BROWN
Special thanks to all of our event partners today including hole sponsor SPORTSCLIPS HAIR CUTS, KP SPONSOR 2UNDR Men's briefs and our year-long partners CLEVELAND GOLF, SRIXON, TRAVIS MATHEW and PROJEKT.
Continued thanks to the VGT volunteers and team members for making this event happen and getting all the players through in 5 hours and 2 minutes.  Well done team! And Final thanks to Hazelmere Golf Course and their team for their hospitality and providing a beautifully conditioned golf course once again for our players.
Links & Resources
Full Results can be found here: https://vancouvergolftour.com/leaderboard
Event Photos & Prizing: https://vancouvergolftour.com/prizing/