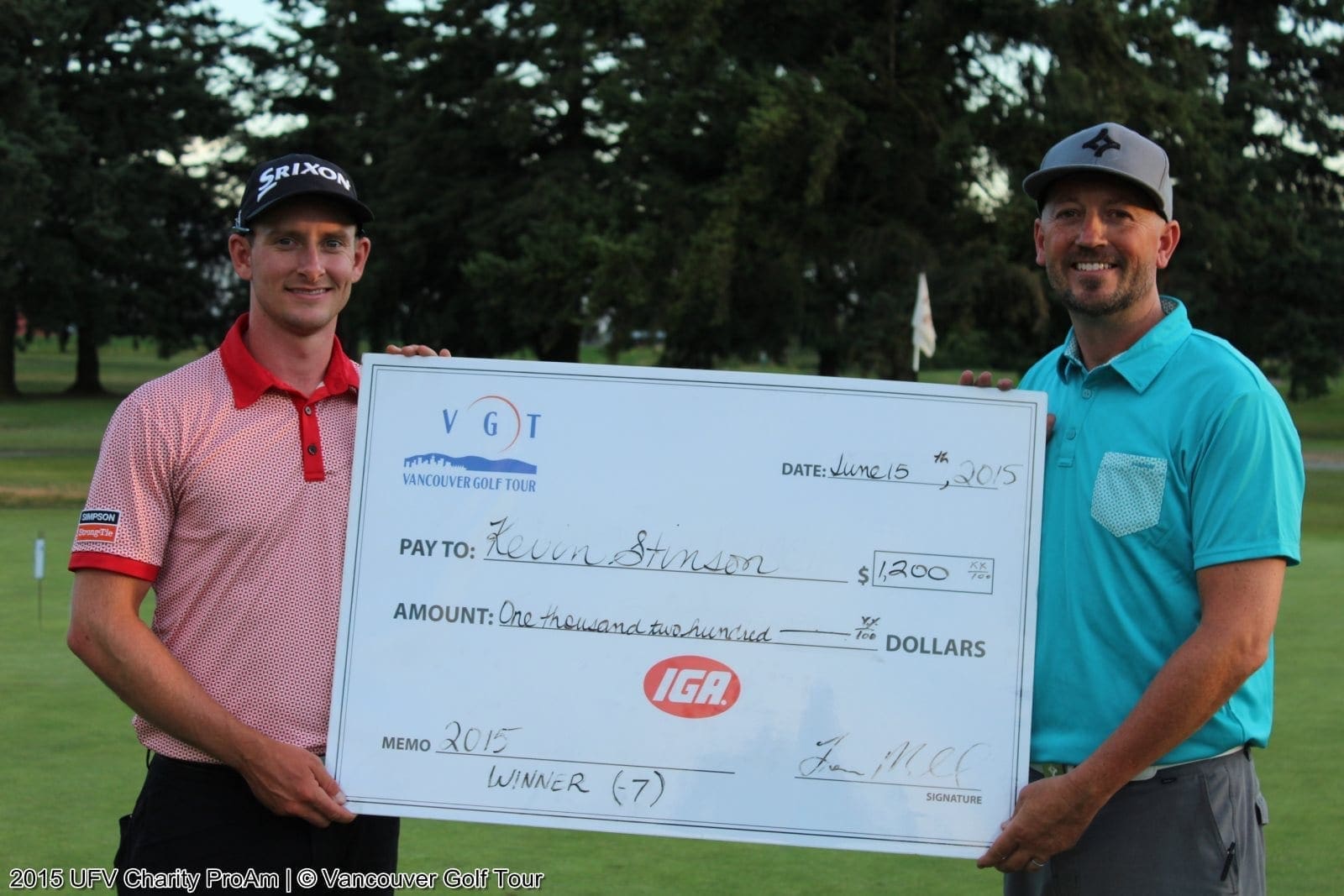 Winner Kevin Stinson / UFV Head Coach Chris Bertram
2015 UFV Fundraiser Pro-Am
Monday, June 15th | Chilliwack Golf Club
Tournament Review
Hazelmere's Kevin Stinson was just too hot to handle at this year's UFV Fundraising Pro-am.  This year's event was particularly special given the star-studded field of Pros entered into the event including PGA TOUR Player Adam Hadwin and Nick Taylor as well as Big Break Celebrity and Kikkor Golf founder James Lepp.  Mix in a number of VGT's top Professionals and it was one heck of a day for the Amateurs who came to support the event and play with one of Canada's top Professional Golfers in some pristine Chilliwack Golf Club conditions!
At the end of the day, Stinson took home the trophy and $1,200 winner's cheque for his outstanding round of 65 which included 8 birdies and an eagle!  He outlasted all Pros, including a 2-shot win over Pros Adam Hadwin and Chris Lee.  Lee lead his team to the podium in the Pro-am competition with a score of -21 and nudging out former PGA Tour player Ray Stewart's team in Golf Canada retrogression!
This was the first year the UFV Pro-am was in collaboration with the VGT and served as a CLEVELAND/SRIXON Order of Merit event on the Vancouver Golf Tour schedule. Hats off to UFV Head Coach Chris Bertram for putting on a fantastic show this year and raising some great money for their golf program!!!
Many people to thank on the day, including Nick Taylor, Adam Hadwin, James Lepp and Ray Stewart for giving their time and helping draw some great funds for the charity with a bit of a 'bidding war' to play with these celebrity players!  Thanks guys! And to the Pro-am Presenting sponsor, Cleveland Golf / Srixon Canada for playing a huge role not only with their support of this event, but for being a key sponsor of the UFV Golf Program and the Vancouver Golf Tour for a number of years now.  Dan Dodman should be given major recognition for his belief in developing local golf and golfers and is a huge reason the VGT and UFV Golf Program are both developing some of Canada's top golfers!!
Special thanks to the Chilliwack Golf Club for their amazing support of this event, from the course set-up to the buffet dinner…you guys really know what you are doing and are so much fun to deal with on a regular basis with the events you host on the VGT!  Congrats on another amazing event!!  We look forward to our next partnership with you in just over a month when you host the big one (Chilliwack Open) on July 18 & 19!!
Links & Resources
Full Results can be found here: https://vancouvergolftour.com/leaderboard
Event Photos & Prizing: https://vancouvergolftour.com/prizing/