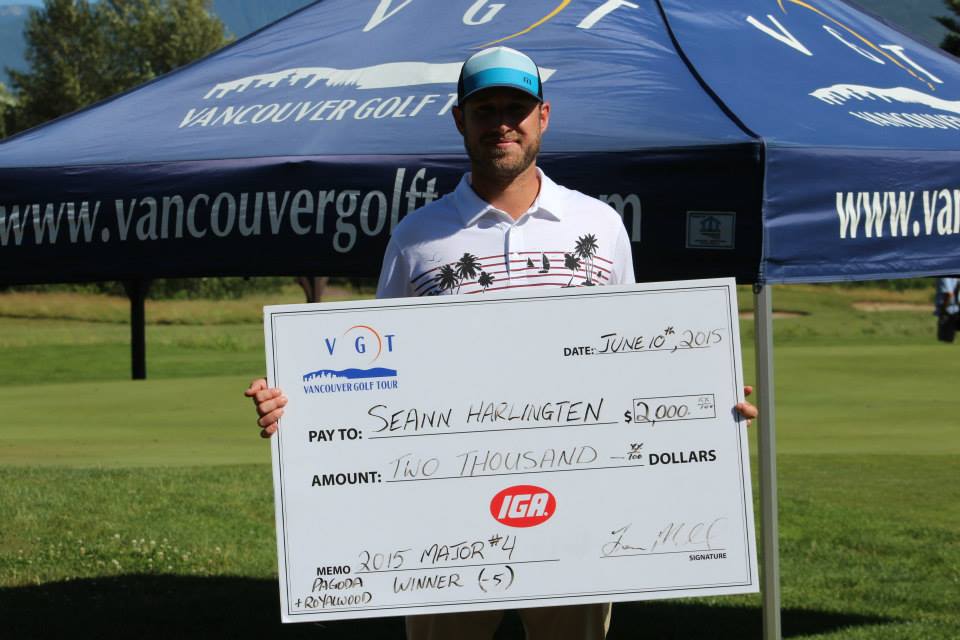 VGT MAJOR SERIES #4
Pagoda Ridge Golf Course / Royalwood Golf Course
June 9 / 10, 2015
Tournament Review
Capilano Golf & CC's Seann Harlingten of the MACKENZIE TOUR PGA TOUR Canada birdied his last 2 holes at VGT's 4th MAJOR of the year to reach a playoff with LAB at Northview Teaching Professional John Shin.  Both players finished the event at 5-under par (139), battling extremely tough pin positions in round one and winds swirling at 30-40 km/hr in round two.
Both Harlingten and Shin grinded out pars on the 1st playoff hole with up-and-downs from around the green but it was Harlingten who was the only one to birdie the 2nd hole par 5, and he would be declared the Champion of VGT's 4th MAJOR!
With the win, Harlingten took home first prize of $2,000.  Shin collected $1,400 for 2nd place.  It was Shin's 2nd runner-up finish in the last 2 events he played after some great golf at the PGA of BC Assistant's Championship last week.
Harlingten has had a decent start to the PGA TOUR CANADA season with a T7th finish at the PC Financial Open at Point Grey and just narrowly missing the cut in Victoria by one shot.  He has also had a very solid start out on the VGT this spring with now 2 wins, a 2nd and 3rd place finish in only 7 starts.  His win puts him into top spot on the CLEVELAND/SRIXON VGT ORDER OF MERIT, some 1,200 points ahead of Chilliwack's Brad Clapp. Point Grey's Ryan Williams and Bear Mountain Golf Resort's Riley Wheeldon are only a few hundred points back in 3rd and 4th place.  Hazelmere's Kevin Stinson holds down 5th spot with just 2 Majors to go!
CLEVELAND/SRIXON ORDER OF MERIT:
https://vancouvergolftour.com/standings/
TOP AMATEUR HONORS!
Mark Heinrich earned the "BUSHNELL" Low Amateur Award at +4 and 12 shots clear of Marine Drive's Jacob Vanderpass and Mayfair Lakes' Tony Mak.
Flight A Low Gross – Brian Baker (72)
Flight B Low Gross – Jesse Knotts (84)
VGT Apprentice Pro Division
T1 Jeff Debou, Larry Park, Jason Cordes (77)   $375/each.
VGT would like to extend their thanks to both Pagoda Ridge and Royalwood Golf Course for hosting this year's VGT Major Series event and helping VGT "Prepare Tomorrow's Champions".
Links & Resources
Full Results can be found here: https://vancouvergolftour.com/leaderboard
Event Photos & Prizing: https://vancouvergolftour.com/prizing/
Video Flyover by Heliwood Media: http://youtu.be/QyC9u2a8GZM