IGA | VANCOUVER GOLF TOUR


For Immediate Release: Vancouver, BC (April 21, 2015)
2015 CANADA BREAD BC MATCH PLAY FINALS
Sunday, April 19, 2015
Northview Golf & Country Club – Ridge Course
Par 72, 6950 yards
36-HOLE RESULT
Thomas Hay / Jeremy Paradis (20)
4 & 2 over
Murray Poje / Keir Smith (11)
Pagoda Ridge's Thomas Hay was a man on a mission last Sunday at the 69th Annual BC Match Play (Team) Championship.  Whether it was the double protein booster shake he was drinking or the Aimpoint seminar he attended 2 days prior, the 26-year old Langley Pro played Sunday like he belonged on the PGA Tour.  His scorecard on the front nine was littered with birdies on 1, 5, 7 & 8.  Sprinkle in a 10 footer for eagle on hole #4 and he would make the turn at 6-under par on his own ball.  When he followed it up with another birdie on the 10th, Hay was on a serious 59 watch.  He would continue to impress the crowds, playing partner and opponents with precision like driving and iron play.  And when he finally capitalized again with birdies on #12 and again on #18, he had carded a smooth 63 (-9) on the morning match.
Oh, wait.  We said this was a team event, right?  So I guess we should mention that he did have a partner.  And Jeremy Paradis was no slouch on the day, that's for sure.  In fact, he supported his partner on multiple occasions with birdie on the same hole, and on the ODD occasion that Hay did not make birdie, he was there for him.  So when Paradis birdied the 11th and 16th and had a near miss for eagle on 18 from 12 feet, team Hay/Paradis had shot an impressive team better ball score of 61 (-11), which might be a record for the Match Play finals….To be sure, we'll have to dig into the BC Golf Museum archives. 
So at 11-under par you'd think this match would be all but buried, especially against a couple of 50-something Pros riding a power cart, right?  WRONG!  What I failed to mention is that this 'Senior' team of Murray Poje and Keir Smith are two of the most decorated PGA of Canada Professionals out there.   Both played some great golf on the Canadian Tour back in the mid-to-late 90's, and both have had impressive PGA Professional records, capturing the PGA of BC and PGA of BC Senior Titles (Poje) and PGA of Ontario and PGA of Ontario Senior Title (Smith).  But could they handle these two 20-something year olds?  Well the answer is yes.  Although it was looking like the match was running away from them early on when they fell 4 down thru 7 holes and had yet to record a team birdie.  But battle back they did, see-sawing back and forth between Poje and Smith as to who would take turns at halving or winning the hole.  First it was Poje with an up and down for birdie on the 8th.  Then it was Smith who hit a smashing long iron into the 214 yard 9th and rolled in a 6 footer for the only birdie.  They would make the turn at 3-down.  Nothing to get excited about but they did put a temporary stop to the match that was getting away on them.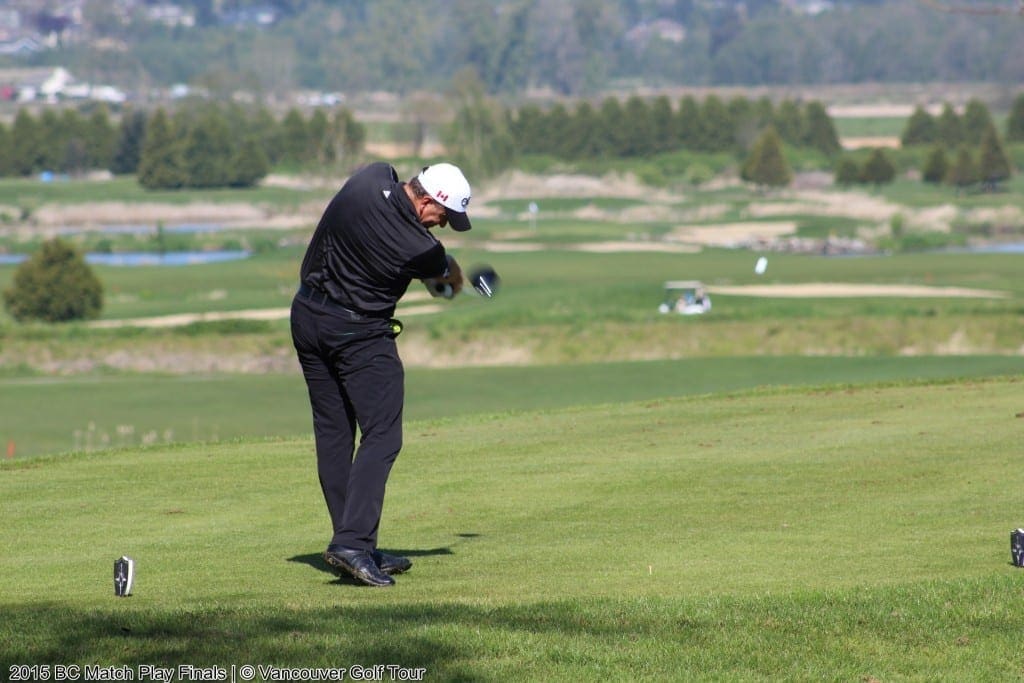 The back 9 started just like the front 9, with Hay making an unreal punch shot from under a tree to 4 feet.  Poje missed his 10' birdie try and Hay slammed his 4 footer in for the win.  The match thus went back to 4-up Hay/Paradis.  Hay and Paradis hit solid shots in to 10 and 25 feet and Poje and Smith answered back with shots to 5 feet and 18 feet.  Paradis was the first birdie in from 25 feet and when Smith's putt missed, it was Poje from 5' for the half.  But he powered it thru the break and the lead was extended to 5up Hay/Paradis. 
The reachable 12th par 5 was just that, at least for Smith and Hay, who hit beautiful approach shots to within chipping distance of the pin.  Both make valiant efforts for their eagles and are conceded birdies.  The match remained 5 up Hay/Paradis.
The uphill 13th was reached by all 4 players in regulation, and all 4 had some serious looks at the hole for birdie.  All four settled for pars and so Hay/Paradis continued their 5 up lead.
Hole 14 at the Ridge, one most memorable for the Mike Weir hole-out in the 1999 Air Canada Championship, and always seems to bring some excitement to any golf tournament with water guarding the green right and heavily bunkered all on the left side.  After Smith finds the water, Paradis and Hay take a more conservative approach to the middle part of the green and would make par.  Poje hit an impressive iron shot into 10 feet with his partner out of the hole, and capitalized with the birdie.  And when Hay and Smith's birdie attempts slide by the hole, Poje jammed in his second straight birdie to cut the lead down to 3 with 3 holes left in the morning round. 
The signature 16th downhill par 3, always poses some difficulty even for the best Professionals, with the wind constantly in the face and the green heavily guarded by bunkers short and left.  Poje and Smith were first to hit and they both leaked their tee-shots to the right, leaving almost no shots to the back left flag.  Hay hit a solid one to the middle of the green to 30 feet and Paradis pured it right at the flag, but just trickled over the back of the green.  And after Poje and Smith's chips ran sliding 10-15 feet by the hole, it looked like par would be good enough for the win.  Well it didn't matter much, as Paradis hit a beautiful pitch from behind the green that trickled to the bottom of the cup for birdie!  Back to 4 up for Hay/Paradis and a sigh of relief from Paradis, who was wondering if his ball would ever count in the match!
But the tides turned once again in Poje and Smith's favor when both Hay and Paradis could only muster up a par, and when Smith drained a perfectly weighted putt from 20 feet for the win.  3 up Hay/Paradis.
It was Paradis and Poje's time to shine on the 18th hole.  As both players hit incredible long-iron approaches to the 18th green, both ending up less than 15 feet from the hole.  As Poje commented later "that seemed a lot easier than with 20,000 fans sitting in the bleachers back when I played the Air Canada Championship".  Both had partners ready to make birdie, but Paradis and Poje were looking to make eagle and change the complexion of the match heading into the break.  Poje was first from 14 feet, and his putt just wouldn't curl into the cup when he over-read the break.  Birdie.  Now it was Paradis' turn to take total command of the match if his putt went in.  And half way there it looked like it would, but it ran out of steam, and the teams would settle for a half.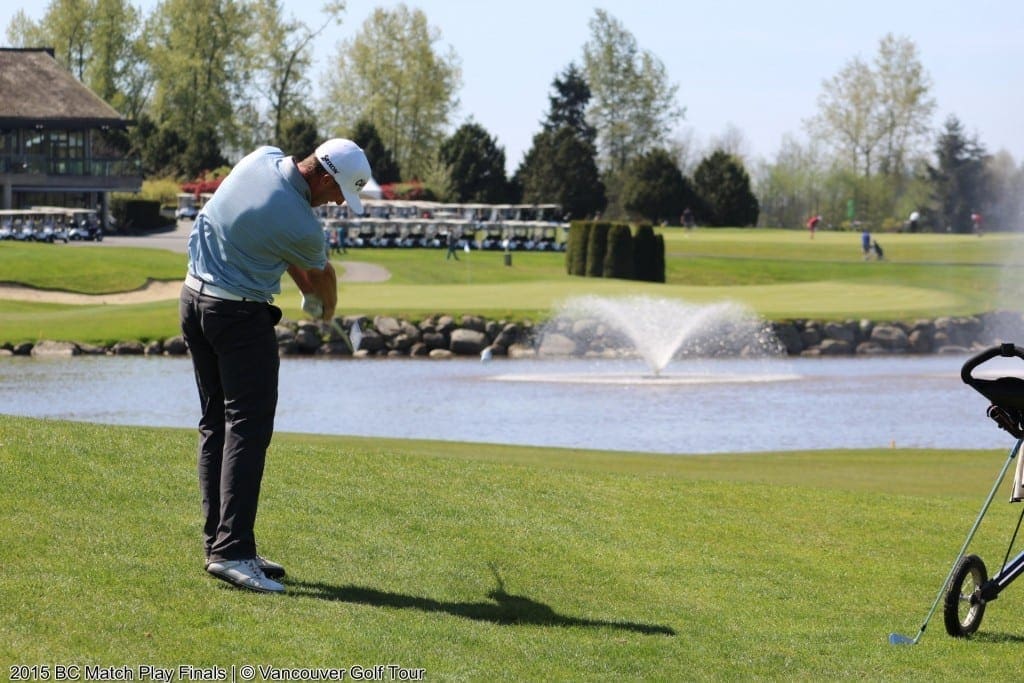 THRU 18 HOLES – PARADIS & HAY 3 UP
After an hour break for lunch, all 4 players re-warmed up and were back on the 1st tee for the second 18 holes of the match.  The golf course was changing by the hour, as the wind had picked up and the sun had started to firm up the greens.  So much to the point where players had difficulty holding the greens, making hitting the fairway even more important.
The 19th and 20th holes looked a mirror image of the morning round with Hay having the best chances at birdie.  But this time Hay's putts just burned the edge of the cup and wouldn't drop.  So the match remained 3 up Hay/Paradis.
Both Smith and Paradis were having some issues after some driver trouble on the 21st hole, and so leaving it up to Poje and Hay to decide the hole.  First Poje, then Hay made clutch 4 footers for par that kept the match 3 up Hay/Paradis.
Hole 22 looked like it had the makings of a comeback in the making, when both Paradis and Hay failed to make birdie and Poje nailed a downhill 5 footer for the win. 
Heading to the downhill par 3, 23rd hole, Poje and Smith had narrowed the lead to 2 holes.  All four players hit solid iron shots, but with the green being one of the most exposed greens on the course, all four plaeyrs found their balls over the back of the green needing to rely on their short game.  And it was Poje again who put the pressure on Paradis when he made the first par from 5 feet.  But Paradis stepped up confidently and rolled his 4 footer in for par and the half.  2 up Hay/Paradis.
After the 24th hole was halved with pars from all players, Thomas Hay once again asserted himself as the better ball-striker on the day, hitting a pure drive and long iron into 18 feet for eagle.  After his partner made his birdie from 20 feet, he had a free run for his eagle.  But possibly with a bit too much excitement, he ran his putt thru the break and would have to settle for a team birdie.  And now it was up to Smith to save his team from 15 feet, which he did!  The match remained Hay / Paradis 2 up.
The driveable 26th hole was a lost chance for both teams, particularly for Poje/Smith, as they had the only real chance for birdie.  Smith had hit a brilliant pitch shot up to 5 feet, but tugged his putt and the hole was halved.  And after some scrambling par's on the 27th were made by both teams, the match remained in Hay / Paradis' favor 2 up.
The 28th hole was halved again when both Paradis' and Poje's birdie bids fell just inches short.  And hole 29 was a bit of a shocker when it appeared Poje and Smith were in command of the hole with birdie tries from 4 feet and 10 feet and Paradis and Hay outside 15 feet.  But it was Hay who struck first with a perfectly paced putt, and all of a sudden Poje and Smith needed to make one of their birdies or this match would be getting away from them.  Smith elected to putt first from 4 feet, but he power-lipped and now it was down to Poje.  And he clutched up from 10 feet for the half!  Still only 2 down with 7 to play.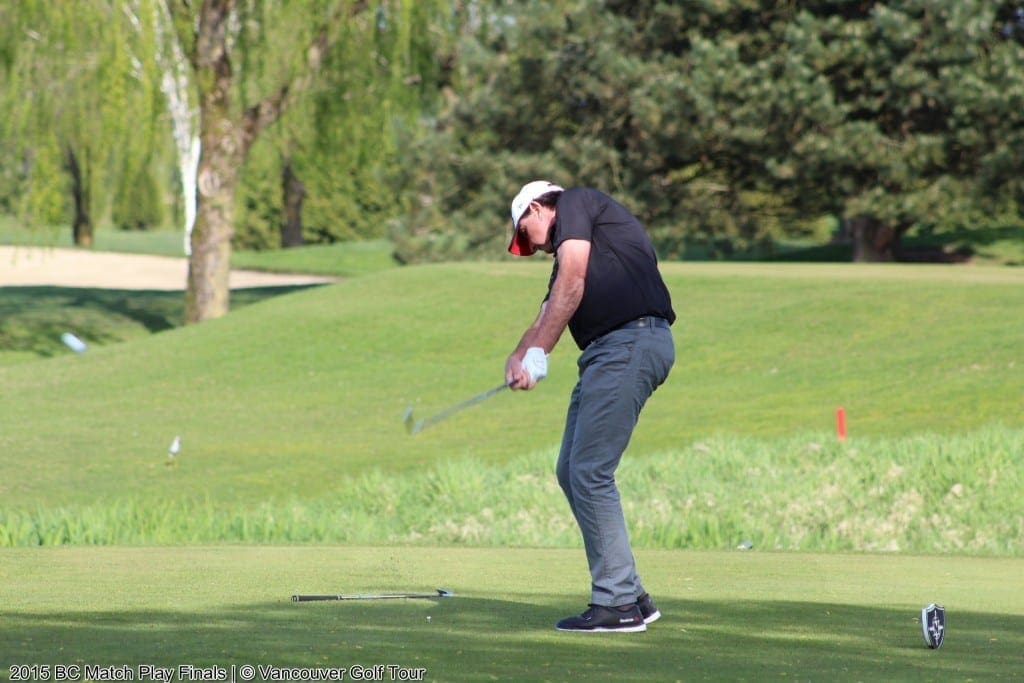 Smith blocks his drive into the fairway bunker on the par 5, 30th hole, making it a lay-up for him.  Poje hits a gorgeous drive and gets into the greenside bunker in 2.  But that just wasn't good enough for the team of Paradis and Hay, as both players hit perfect drives and 2nd shots to the back of the green, both lagging up to gimme range.  So it was up to Poje from the left greenside bunker to get up and down for the half.  He struck his bunker shot with precision, but his ball hit the seam on the fringe, and shot 20 feet past the hole.  When his birdie putt fell short, the match was now 3 up for Paradis/Hay with 6 to play.
Hay continued to put the pressure on Poje and Smith on the 31st hole when he canned a 30 footer for his birdie and take the match to 4 up and 5 to play.  But just as quickly as they had extended the lead, they gave it back when both player's balls found the greenside pond, and they conceded Poje's birdie bid from 12 feet.  3 up with 4 to play.  Still life!
The short uphill par 4, 33rd hole was another great opportunities for all players to end the match, or breath more life.  But with the pin on the front of the sloppiest part of the green, made putts very challenging and all 4 players would make pars for the half.  3 up and 3 to play.
Hole 34 was almost a carbon copy of the morning matches when both Poje and Smith hit their iron shots out to the right side of the green.  Hay also hits his iron shot to about 30 feet right side of the hole, and his partner made good on his tee shot and stuffed it once again over the flag, this time stopping 12 feet past the hole.  Poje and Smith made solid attempts down the hill for their birdies, but fell just short.  And it was now up to Paradis to 2-putt for the half and end the match.  Well he did one better and drained his putt for birdie and put an exclamation point on the match, 4&2.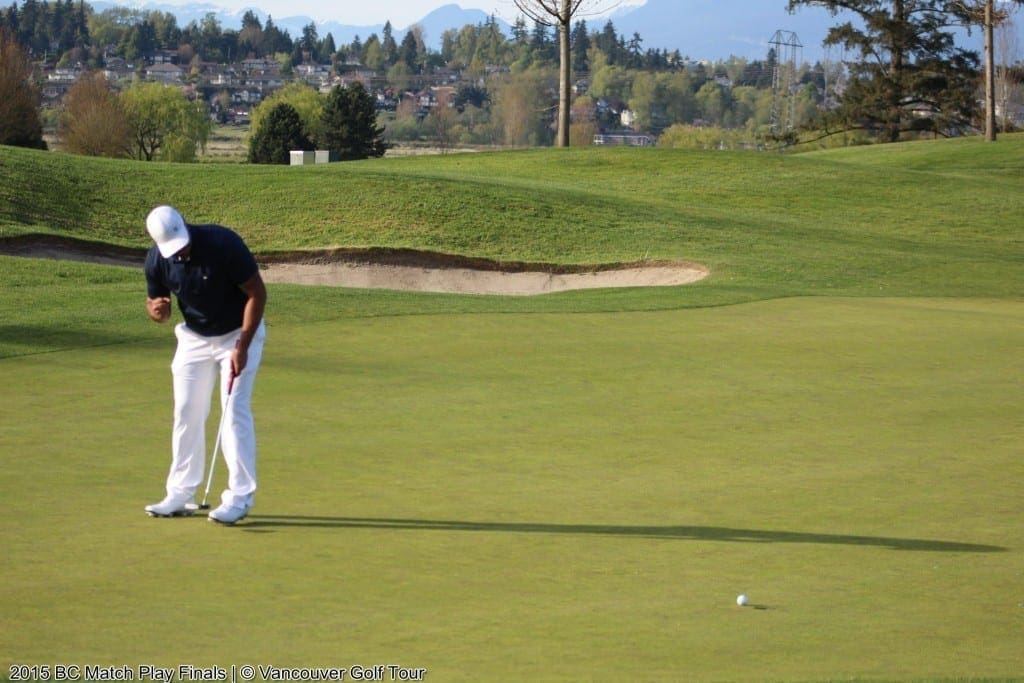 To summarize, both teams played some exceptional shots throughout the match.  Poje and Smith made a total of 11 team birdies on the day, but were just not strong enough for Hay and Paradis who carded 14 team birdies and an eagle.  Hay was by far the dominant player of the 4-some, carding 10 birdies and an eagle over the 34 holes played. But his partner was right by his side when he was needed most, and that was definitely a winning formula for this year's BC Match Play finals!
Both Hay and Paradis will take away a bundle of confidence into the remaining VGT Tournament schedule, and earning top spot on the Order of Merit for an exemption into the PGA TOUR Canada's PC Financial Open on May 28th.  Both Paradis and Hay will compete in VGT's first Major of the year next week at the "BATTLE AT THE BEAR" at Bear Mountain Resort and Spa in Victoria.  And Hay should take a bundle of confidence from his play in the finals into PGA TOUR Canada qualifying school up at Crown Isle the following week. 
On the NET side of the BC Match Play Championship, finalists Alex Arishenkoff and his partner Jesse Wilson were unstoppable in their bid for their first Net Match Play title.  Both players rallied off each other, counting on opposite holes and doing their best rendition of "ham and egging" to defeat 2-time finalists Dave Ebner and Jason Boyd 6&5.  In fairness, Ebner and Boyd did not have their A games on the day, so they will look to come back in 2016 for a 3rd consecutive trip to the finals and take the title.  They do say 3rd time lucky, right?
Arishenkoff and Wilson took top prize honors of BUSHNELL Z6 'JOLT' Rangefinders valued at $500/each.  And Ebner and Boyd walked away with $300 Gift vouchers towards CLEVELAND GOLF, SRIXON or TRAVIS MATHEW Clothing.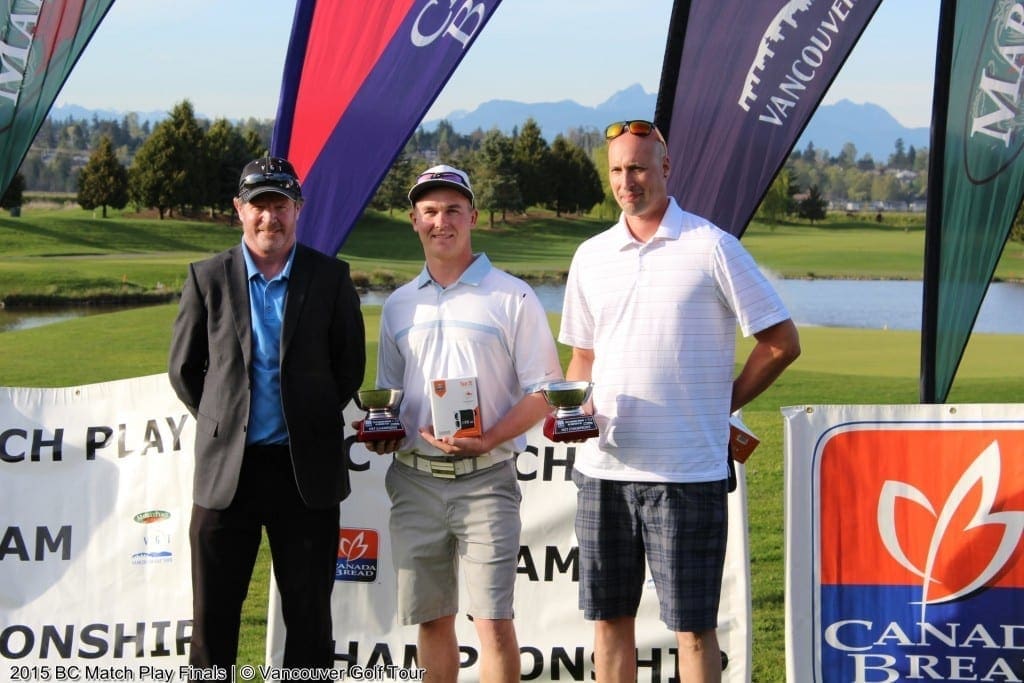 All totaled, this year's BC Match Play paid out a total of over $11,000 in cash and prizes to those players making it into the ¼ finals! 
For a full look at Match Play results from 1st round to the finals, click here
For a collection of pictures and hole-by-hole results of the BC Match Play finals, follow the VGT on Twitter at http://twitter.com/vancouvergolf.
For a review of the BC Match Play finals in video and some great photos courtesy of Mike West, visit the VGT Facebook page at http://facebook.com/vancouvergolftour.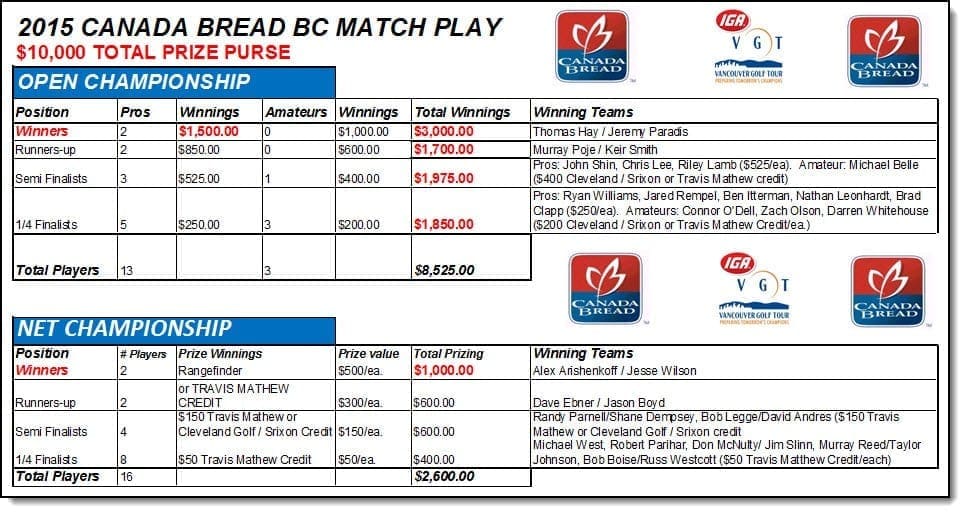 Next year marks the 70th Anniversary of the BC MATCH PLAY.  We plan on making some special announcements regarding the 2016 BC MATCH PLAY in the coming months!
Special thanks to Title Sponsor CANADA BREAD for allowing us to run such a top quality event for our BC Pros and Amateurs.  It has such a long standing tradition and we couldn't do it without your support!
A great deal of thanks must go out to our 2015 BC Match Play host golf courses (Northview, Capilano Golf & C.C., Kings Links, Sandpiper and Pagoda Ridge) for their support of this long-standing event. 
Finally, our continued thanks to all the volunteers and VGT Team members who continue to make this event very special for the players.  Four straight weekends is a lot to ask for, and I thank-you for your continued efforts and energy surrounding this event!
Fraser Mulholland
President & Commissioner
Vancouver Golf Tour