IGA | VANCOUVER GOLF TOUR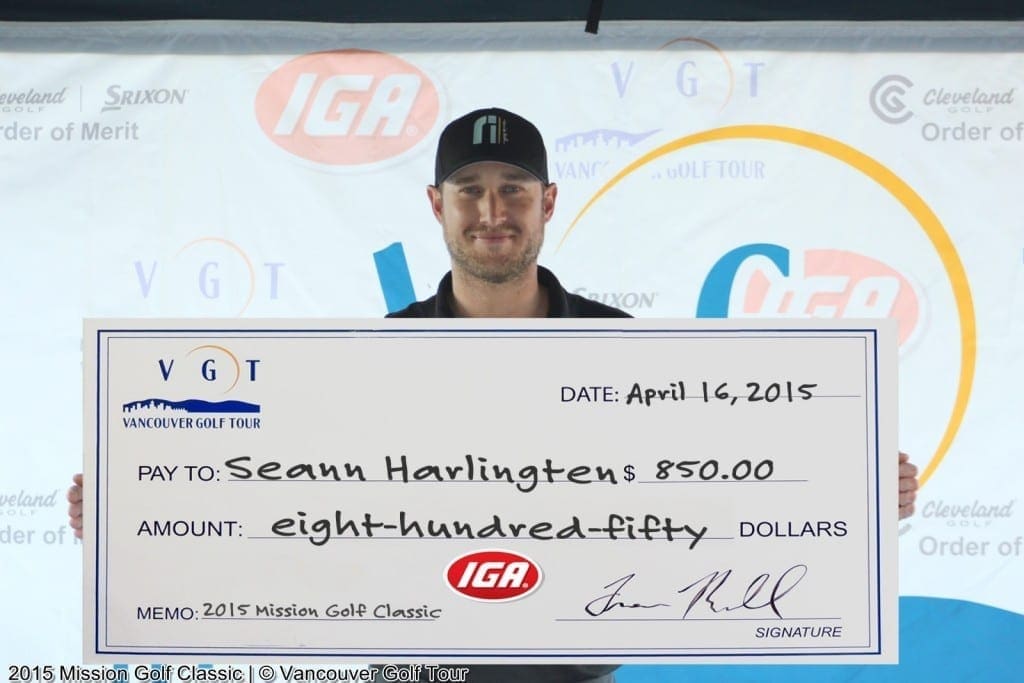 2015 Mission Golf Classic
Thursday, April 16, 2015
Mission Golf Club
West Vancouver's Seann Harlingten was back in the winner's circle this Thursday at VGT's 4th Championship event of the Spring/Summer schedule.  Harlingten fired a round of 65 (-6) to fight off challengers Ryan Williams of Point Grey Golf & Country Club and Adam Cornelson of the Vancouver Golf Club by one shot.
Harlingten has been battling a wrist injury the last couple of years and has been taking the offseason to rest and rehab his injury.  He had a relatively injury free season last year, and when he was healthy, he played some exceptional golf, both on the VGT and PGA TOUR CANADA.  Last year Harlingten earned the exemption spot into the PGA TOUR Canada's PC FINANCIAL OPEN, which he turned into a top 20 finish, and into more confidence at his next few events on their schedule.  Before the half way point of the season Harlingten had moved his way into fully exempt status on the tour, and a top 30 finish on the year-end Order of Merit.  And had it not been for a very unfortunate DQ on one Saturday afternoon from leaving the scoring tent early, Harlingten could well have been on his way to final stage of WEB.COM Q-School.
Harlingten's win earned him $800 and 1,500 CLEVELAND/SRIXON Order of Merit points.  More importantly it gave him a WIN, and more confidence to play at the highest level when PGA TOUR Canada comes into town at the end of May.
Apprentice Professional Larry Park was almost in tears when he tied for low honors, and good enough for his first official PRO WIN of any sort.  He shot a solid round of 71 (E) to tie with Morgan Creek's Jessie Singh.  Both players earned $350 for their wins!
In Amateur competition, Chilliwack Golf Club's Kaleb Fisher took a one shot victory over fellow Chilliwack member Connor O'Dell with a 1-under par round of 70.  Moez Noorani was crowned Flight B Low Gross Winner with a score of 77 and four shots clear of Rich Chambers of Sechelt Golf Club.  And in Flight B Peter Jones ripped-it-up, shooting a gross score of 77 and a 7 shot victory over Trevor de Keruzek.
The 29 Professionals in the field played for a total prize purse of $4,175 while the 34 amateurs in the field shared over $2,000 in prizes and VGT Prize credits for CLEVELAND GOLF / SRIXON / 2UNDR / TRAVIS MATHEW CLOTHING & PROJEKT LUGGAGE gift credits for the day!
Congratulations to all flight winners and special thanks to Mark Anderson and Mission Golf & Country Club and their members for their support of the Vancouver Golf Tour.  Your management team and staff are some of most pleasant to work with in the business!  We look forward to another visit with the golf club later on in the fall!
For event results, prizing and photos click here
Fraser Mulholland
President & Commissioner
Vancouver Golf Tour