Story by Fraser Mulholland, VGT Commissioner
Taylor Ends 5-Year Drought for Canadian to Win on PGA TOUR
The enormity of today's win on the PGA TOUR may not yet have sunk in yet for 26-year old Abbotsford Pro Nick Taylor, but it won't take long, believe me!  With his win the 10-time winner on the Vancouver Golf Tour was the first Canadian born winner on the PGA TOUR since 2007 when Mike Weir won at the Frys.com Open.  Yes, Canada has had quite a drought!
Taylor's first PGA TOUR victory earned him a whopping $720,000 (U.S.), but equally important were the bonuses that came with it:
Fully Exempt on PGA TOUR thru the 2016-17 season
Exemption into the 2015 Player's Championship
Exemption into the 2015 PGA Championship
Potential sponsor endorsements
Jump in World Ranking from 566 to 210.
Taylor's victory comes in only his 4th career PGA TOUR event as a full-time member and 13th career PGA TOUR event after just recently earning his status from the WEB.COM Finals 2 short months ago.
As Commissioner of the Vancouver Golf Tour, I was privileged to gain an interview with Taylor after his round to get some personal insights on his first PGA Tour victory:
FM: "Nick, how does it feel coming off your first PGA TOUR victory?"
NT: "It's tough to describe.  Kind of surreal.  The more perks I hear about the win, the crazier it feels.  I tried to stay in the moment the whole day and everything seemed to be going my way and I just kind of let it happen.  But it definitely hasn't  sunk in yet"
FM: "When you're out there in a final round on the PGA TOUR (in the 2nd last pairing), were the feelings any different for you than any other tournament you've played in?  And We're you having to fight off a lot of tension?  And if you did, how did you battle it because you sure looked calm as a cucumber out there?"
NT: "I got off to a great start (birdies at 1,3 &5) and that let me calm down a bit.  And once I got into a share of the lead, I never really looked at a leader board until the 15th hole."
"I tried to work off past experiences, whether it be past Amateur or College experiences or Professional wins on the Vancouver Golf Tour.  It was definitely different, and bigger circumstances but I've definitely had lots of events I can draw back on.  One in particular was the final round 63 I shot at the WEB.COM Finals to get my PGA card.  It felt like a similar day out there with the same amount of pressure on the line.  That definitely helped a lot".
FM: "Did you have a strategy going into the final round"?
NT: "Just to hit it as well as I could and hit as many greens as possible so I could have lots of birdie chances and let my putter take care of the rest.  My putter definitely got hot out there".
FM: "Back 3 weeks ago in Vegas you had 16 birdies and 2 eagles over the 4 days.  Would you say the biggest difference was you hit it a little better this week but got a lot more out of the putter?"
NT: "Yes I think so for the most part.  I've been tweaking my driver since I cracked it just after the WEB.COM finals.  I got a new driver in the bag about a month ago and was still tweaking it a bit in Vegas.  It was getting a bit better, but seems like I've got it set to the specs I really like and I trusted it even more this week.  So when I hit it a bit off, it wasn't nearly as penalizing this week as it was in my first few events."
"Everything was very solid this week.  My misses with my irons were very good, and I left myself in good spots.  The first few events (on the PGA TOUR) I was just a bit more inconsistent with my misses than I would have liked.  Yesterday I actually hit it really quite well other than missing a handful of shorter putts that I wasn't really used to.  And I guess I kind of made up for that today (chuckles)."
And that he certainly did, taking only 24 putts in his first 17 holes before his solo 3-putt on the 18th hole, which was inconsequential given his 3-shot lead coming down the final hole.  On record, Taylor made 8 birdies on the day including four putts over 15 feet which helped his cause a lot.
FM: "For us (VGT) we are all so very proud of your win today being our first VGT player to win on the PGA TOUR.  I know a lot of people have been in your corner along the journey, including your parents and coaches, wife.  Maybe you can expand a bit on their influence on your career getting you here to your first win."
NT: "So many people on the way here have helped.  And I wouldn't be here without all of them as building blocks.  I've been with Matt Thurmond since 2006 when I was at University of Washington.  He's been such a good mentor to me as a coach, and someone to look up to for many things.  I'd say he's helped me more mentally and keep me composed.   Rob (Houlding) I've met since first year of school and developed a good relationship with him since then.  We don't see as much of each other as we would like (because of tour travel), but our relationship seems to work out just fine as we don't get to relying on each other and when we do see each other we get things done and it works well.  He's been such a good help, both supporting me on and off the golf course.  I just can't thank them enough for all they've done for me, as without their guidance I wouldn't be sitting here with my first PGA Tour win".
FM: "Tell me a bit about your mom and dad.  I know they are both huge supporters of you and are so proud of you not only for your win, but for your past accomplishments and for who you are as a true gentlemen on and off the golf course".  Tell us how they have been a part of shaping your golf career"?
NT: "It's funny, the older you get the more daunting it becomes how much they sacrificed for you, not just for me but my brother as well.  How much time and money, sacrificing time for you.  My mother had summers off, and I'm sure she would have rather been doing lots of other things other than driving us off to golf tournaments all year.  They have been the biggest supporters of my golf and I wouldn't be here without them.  They've taught me everything".
"It's a bit ironic that for all the people that have taught me everything and supported me, none of them were able to be with me to share in the excitement of my first win.  But I'm looking forward to seeing my wife this week as she'll come with me down to Mexico.  She has been there for me throughout this whole journey.  And I'll share my experiences with family and friends when I get home after Cancun for sure.  There is a long list of people I need to thank for me being here today, all building blocks to my career and I wouldn't be here without them".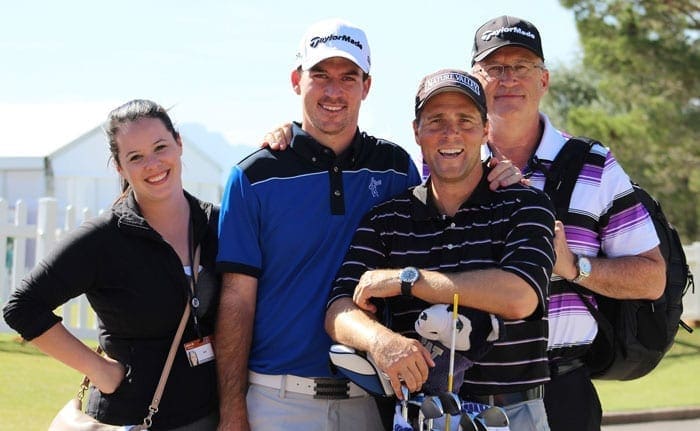 FM: "Can you give a message or lesson from your PGA TOUR win to a lot of the young, aspiring Canadian Golfers whether they be juniors or young Professionals?"
NT: "I would say it has to be belief.  I've played with a lot of talented (local) guys on PGA Tour Canada and many of them have the talent to be out here.  And there's no reason they can't be out here with me.  But it has to do with inner belief.  Even 6 months ago I went thru a stretch of a lot of doubt and not believing in myself.  But I guess it's being able to persevere through those times and keep believing in what got you success along the way.  And keep doing that.  It can happen to anybody (win on the PGA Tour).  You have to keep your head down and keep going"
FM: "Nick, Our (VGT) Team is so very proud of you and we are extremely happy for you that you have won your first PGA TOUR event in your first season!  Your win has really helped validate everything we have been working on achieving at VGT:  "Preparing Tomorrow's Champions".  We are so proud to call you an Alumni of the VGT.  I hope that the VGT has served as a developmental tool for you and that winning 8 times on the VGT last year has had some influence on you being where you are today".
NT: "The VGT has definitely been one of the building blocks I was talking about being part of my path to my first PGA TOUR win.  It's kind of crazy to think that only a year and a half ago I was out there on the VGT and now a winner on the PGA Tour!"
FM: "It's a really neat story for us to see how fast you've made the transition from a winner on our tour to playing on the PGA TOUR, and now a first time Champion!  I think there are a number of young pros and amateurs right behind you that can now see that it doesn't necessarily have to take 5 or 6 years from winning locally to playing (and winning) on the PGA TOUR.  But one thing they also must recognize is that they WILL need to dominate like you did!"
NT: "Yeah that's true (chuckles)"
Eight years ago when the VGT was created, we had a vision.  Build a local, affordable developmental tour and help prepare the local talent to make it to the PGA TOUR and become a Champion.  With his win today, Nick Taylor has officially turned my dream into reality.  Congratulations Nick!  It couldn't have happened to a nicer guy"
Fraser Mulholland
Commissioner & President
Vancouver Golf Tour