2014 Woodland Golf VGT Tour Championship
Saturday, Sunday Oct 4 & 5 , 2014 | Swaneset Golf Resort
[ez_btn color="blue" url="https://www.facebook.com/media/set/?set=a.687395854683297.1073741921.154059001350321&type=1&l=786141a425″ target="_blank"]Click Here for Event Photos[/ez_btn]

Tournament Recap
North Vancouver's Eugene Wong fired a stellar final round 65 (-7) on Sunday to capture his 2nd Tour Championship event in 3 years.  Back in 2012, Wong took to winning 3 Professional events in a row, including the Greater Waterway Classic, the Vancouver Open and PGA TOUR Canada's Tour Championship.  This time it was the Woodland Golf VGT Tour Championship, VGT's final summer event of the 2014 season.  And although his $1,800 winner's cheque doesn't compare to the $16,000 he won for his 2012 Canadian Tour win, he will undoubtedly take a lot of confidence away from the event heading into 2nd stage of WEB.COM TOUR Qualifying School in November.
Wong was up against some fierce competition, including a trio of his PGA Tour Canada colleagues who finished just 2 shots back and a number of other PGA Tour Canada players who were back home after their season.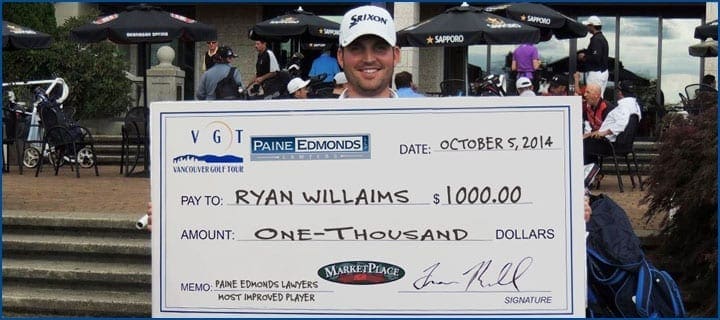 First of those giving chase down the stretch was 2014 PGA Tour Canada's Tour Championship winner Ryan Williams.  Williams would make a valiant charge for the title on the back nine but would come up a couple of putts short of tying Wong.  Although he did not defend his Tour Championship title, Williams was awarded the Most Improved Player of 2014, a $1,000 award sponsored by Brad Garside of Paine Edmonds Lawyers.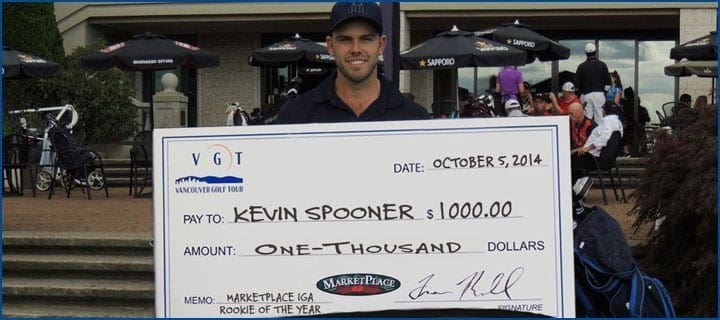 The other two giving Wong a run for his money were PGA TOUR Canada rookies Seann Harlingten and (round 1 leader) Kevin Spooner.  Harlingten pushed off with a bit too slow a start on the front nine on Sunday and although he closed with 4 birdies in his last 8 holes, he would also fall 2 shots short.  Spooner's bogeys on hole 4 and 12 on Sunday would cost him a chance at a playoff and leave him in a tie for 2nd place with Williams and Harlingten.  All three players would cash cheques for $1,050 each.  All three players have had break-out years on PGA Tour Canada. Williams finishing in 6th place on the money list while Harlingten and Spooner both turned non-status into quite a year.  Harlingten made 9 of 10 cuts with 3 top 10 finishes to place 29th on the money title.  Spooner Monday qualified for 6 events and would make the cut in 4 of 6 events with two top 25 finishes.  Thanks to his season on PGA TOUR Canada and some impressive finishes on the VGT he was honored with Rookie of the Year distinction and a $1,000 cheque courtesy of Marketplace IGA.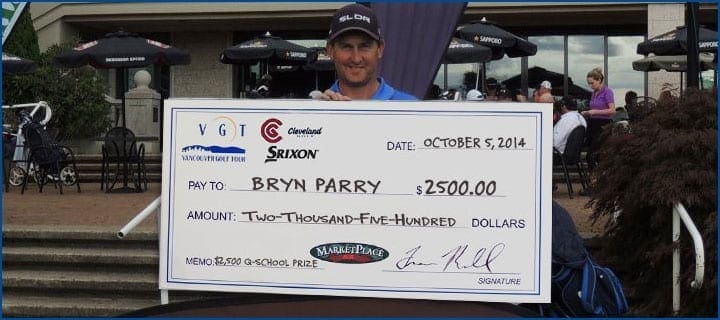 North Vancouver Teaching Professional Bryn Parry had the 2nd low round of the tournament with a final round 66 (-6) to vault him into a share of 5th with Guildford Pro Rob Arthur.  Parry's play this year was once again too much for all VGT Professionals, and he was crowned the 2014 CLEVELAND GOLF / SRIXON CANADA Order of Merit Champion for a 7th straight year!  Parry took home the trophy and a $2,500 Bonus to use for the Q-School of his choice in 2014 or Spring of 2015.
In the newly formed Apprentice Pro Division Marine Drive Golf Club's Greg Pool capped off his year with a score of 2-under par 70.  He would take home a $650 cheque for first place as well as a year-end $500 bonus cheque for wrapping up the season as Order of Merit Leader for all Apprentices!
VGT's Tour Championship Winner (Wong) finished with a total of 7 top-20 finishes including 2 top-10′s on PGA TOUR Canada this year.  Pretty impressive numbers considering there are only 11 tournaments on PGA TOUR Canada's schedule. His steady play throughout the year allowed Eugene to finish 18th on PGA TOUR Canada's Order of Merit. By finishing inside the top-20 on the Order of Merit, Eugene was rewarded with a direct-route to the Web.com Tour's 2nd Stage Q-School where he will compete at Bear Creek Golf Club in Murrieta, California, November 18-21.  A top 20 finish at 2nd stage will give the North Vancouver Pro a birth to the Final Stage of WEB.COM Q-School where he will join fellow VGT Pro Ryan Williams who earned a pass to final stage by finishing top 10 on the PGA TOUR Canada money list.   This year's Q-School finals will be hosted in the first week of December in Palm Beach Gardens, Florida.
Wong's win at the Tour Championship was his 3rd VGT Professional Win in the past 3 years.  Wong has one of the best Amateur & College track records of all Canadian golfers let alone any amateur coming out of College golf.  So I have no doubt he will use all of his past Amateur and Professional accomplishments and use them to his advantage at 2nd Stage of WEB.COM TOUR Q-School.
This weekend's VGT Tour Championship not only crowned Divisional Tournament winners, but also year-end Order of Merit Winners within each Division and Flight and some year-end Professional Awards.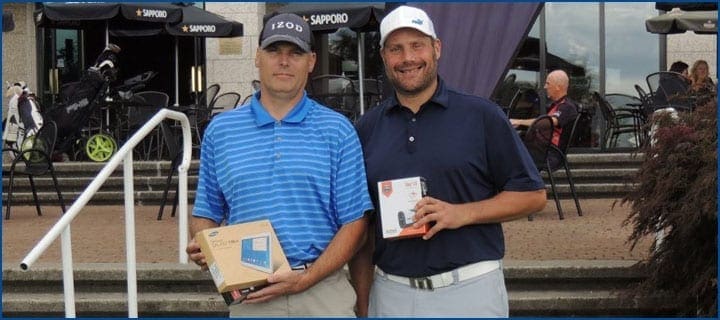 The first of those to be recognized was Langley's Mark Heinrich (R), who did a double-double.  First by tying for Low Amateur in the event with McCleery's Hein Marcus (L), and then capturing the Championship Amateur Order of Merit, narrowly edging Fort Langley's Jeff Sheldon by a mere 100 points (out of 8,000).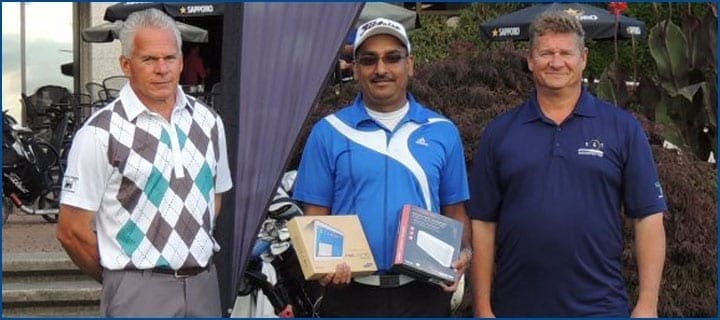 One of the more impressive showings we have seen all year came from one of our Amateurs in Flight A.  Raj Singh (C) opened up with an even par 72 off an 8 handicap on day one (net 64) and just when everyone thought he might not be able to hold his lead, he went onto shoot an even more impressive final round 71 (net 63) to lap the field at 17-under par for the walk-away OVERALL NET CHAMPION.
VGT has many people to thank for this event.  First off is Title Sponsor WOODLAND GOLF LTD., designers of Pagoda Ridge and the Official Shaping, moving & design firm of the Vancouver Golf Tour.  This was the 3rd consecutive year WOODLAND GOLF has Titled the VGT Tour Championship, allowing Pros and Amateurs to compete for a 36-hole Championship and some great prizes and prize money to be won.  A total of over $20,000 in Pro cash and amateur prizes were awarded on the day, including $11,500 in event prizing and another $8,500 in Year-end Awards!
Congratulations to all Event Winners as well as our CLEVELAND/SRIXON Order of Merit Champions of 2014!!  All Amateur Order of Merit Winners took home an awesome trip to the VGT Desert Classic event in Phoenix in March, including a free flight + $200 credit for the event!
FINAL THANK-YOU's:
VALUED SPONSORS & PARTNERS
Our continued thanks must go out to each and every one of our 2014 VGT Sponsors.  This year has been one we will never forget!  Not just the amount of amazing experiences we have had with our own VGT players on course, but to witness 2 VGT players graduate onto the PGA TOUR in the same year is unbelievable!!  None of this would ever have happened if it weren't for the continued support of our Title Sponsor MARKETPLACE IGA and their many partners (Canada Bread, Saputo, Nestle) and some of our major sponsors who have been onboard since year one including Johnston Meier Insurance, Paine Edmonds Lawyers and Nickel Heating & Ventilation!  We owe it all to you!
And without premier golf courses, we would not have the tour we have today!  Thank-you to each and every golf course owner & operator we deal with that is supporting both Amateur golf & Professional Golf development.  You truly are making a difference in the world of Canadian Golf, and in particular with BC Golfers who have these amazing golf courses to play on our Tour's schedule!!
VGT TEAM MEMBERS & VOLUNTEERS
What can I say?  What an unbelievable year to share with the dozens of VGT Team members and volunteers!  Many of whom come out around the clock to 10-20+ events in a season to make this dream of Preparing Canada's Golfers for the PGA Tour a possibility.
In particular, I need to say a 1000 thank-you's to one VGT Team Member.   He is a one-of-a-kind gentleman who has given so much of his time and energy to the tour, mastering our scoring system, communicating with members and their special requests, and missing NOT ONE event this year!  Ladies and gentlemen, please join me in putting your hands together for Brian Small, our Director of Tournament Operations!  Little did he know when he stuck his hand up when we asked him "Can you help us with some operational work" did he know what he was getting into!
Well, I think we could say that for all of our Core VGT Team Members, who need to be thanked a thousand times for their service to growing the game of golf in Canada:
Brian Small – Director of Tournament Operations
Holly Pearson – Financial Management & On-course Registration
Mike West – Website Development; On-course set-up and multi-media
Helen Simpson – Player Communications & Registration
Ruth Reeves, Roseanne McIndoe – Volunteer Co-ordinators, Live Scoring
Peter McIvor, Al Morris, Ray Porter, Loretta English – Live Scoring, Set-up & Take-down
Richard Smythe, Mike Jones – Official Starters
Bill Schabes – VGT Live Scoring Team
Pat Johnson – VGT Prize reconciliation, VGT live Scoring
George Sterling – Course Set-up, Head Rules Official
Bernice Small, Tom Hall, Greg Moody – Rules officials
Michael Cowhig, Craig McDowell, Jack Murray – Photography & Videography
I know this is not my first time saying this, but VGT would not be where it is today without each and every one of these individual's support!  Thank-you, thank-you, thank-you!  I look forward to coordinating the '2nd half' of the VGT season this winter and prepping for an even bigger and better 2015 Season!
Sincerely,
Fraser Mulholland
President & Commissioner
VGT
Prizing/Results
PRO RESULTS
[easyembed field="2014-tc-pro"]
AMATEUR RESULTS
[easyembed field="2014-tc-am"]
ORDER OF MERIT RESULTS
[easyembed field="2014-tc-oom"]
[ez_btn color="blue" url="https://www.facebook.com/media/set/?set=a.687395854683297.1073741921.154059001350321&type=1&l=786141a425″ target="_blank"]Click Here for Event Photos[/ez_btn]