PGA TOUR'S HADWIN, TAYLOR THE MAIN ATTRACTIONS, BUT WILLIAMS OUT-LASTS ALL IN WEST VAN SHOOT-OUT WIN!!
It took a 20 foot putt on the final hole from Vancouver's Ryan Williams to out-last Seymour Creek's Oliver Tubb on the final hole to capture his 2nd VGT – Golf West Vancouver Shoot-out event in 3 years!
[ez_youtube url="https://www.youtube.com/watch?v=Jcr19S7U8gY" width="640″ height="360″ autoplay="0″ autohide="2″ controls="1″]
Newly minted PGA TOUR players & VGT Alumni Adam Hadwin and Nick Taylor were on hand for the day, exciting over 250 fans that swarmed the fairways to see these 2 future Canadian stars play head-to-head with 8 of Canada's top Golf Prospects plus 3 amateur qualifiers.
The tournament started with a demonstration clinic from some of the marquee pros that included a "How to" on Yoga warm-up from Adam Hadwin after he was caught on camera at the final WEB.COM event doing some "Miguel Angel Jiminez type" stretches.  But in all seriousness, fans were treated to some of Canada's finest Pro golfers' secrets on how they control their golf ball, its flight, shape and distance, ultimately what makes them the Champions they are!
[ez_two]
[ez_btn color="blue" url="https://www.facebook.com/media/set/?set=a.683850608371155.1073741920.154059001350321&type=1&l=c85d617d8e" target="_blank"]Click Here for 2014 Event Photos[/ez_btn]
[/ez_two]
[ez_two_last]
[ez_btn color="blue" url="https://www.facebook.com/media/set/?set=a.448638828559002.1073741846.154059001350321&type=1&l=59f638a048″ target="_blank"]Click Here for 2013 Event Photos[/ez_btn]
[/ez_two_last]
At the end of the clinic VGT called up both Adam Hadwin and Nick Taylor to accept a Graduation plaque as the first 2 VGT Members to successfully make it to the PGA TOUR!  VGT Commissioner Fraser Mulholland called up all VGT volunteers to be a part of this memorable moment, stating "This wouldn't be happening if it weren't for each and every one of you".
Shoot-out Clinic
[ez_youtube url="https://www.youtube.com/watch?v=bmZgOPy19L8″ width="640″ height="360″ autoplay="0″ autohide="2″ controls="1″]
A total of 13 players started off the first tee together with the high 2 scores on holes 1 thru 3 getting eliminated and then the highest one score on holes 4-8 being eliminated so the final 2 players would walk down the 9th fairway to decide the winner!  If at any time there was a tie for highest score, a chip-off would be staged at a designated area to see who moved on and who was eliminated!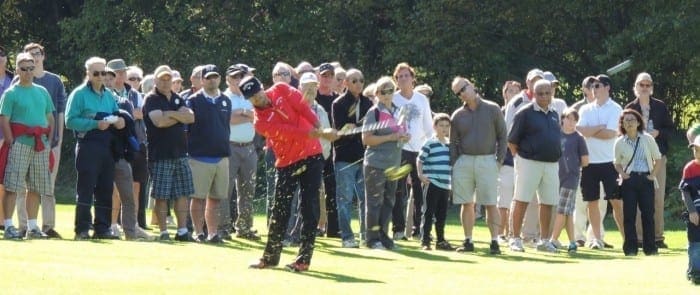 After 4 players had been knocked out on the first 2 holes, Hadwin was bounced out after a chip-off from the back of the 3rd green.  After Langley's Adam Cornelson had some tree troubles on the 4th hole, Taylor was sent packing on the 5th green when both Tubb and Stinson drained clutch 6 footers for par to get into the chip-off, and then knock him out.
Gleneagles Head Professional James Presnail delighted the home crowd with some dazzling shots, coming close to a hole-in-one on the 5th hole himself!  He would eventually bow out on the 6th hole after a lengthy 3-putt.  Mission's Kevin Stinson would endure until the 7th hole before being knocked out by virtue of a 60 foot putt-off that saw Tubb and Parry knocking it to inside a foot.
Holes 1-4
[ez_youtube url="https://www.youtube.com/watch?v=ax95AfidiHM" width="640″ height="360″ autoplay="0″ autohide="2″ controls="1″]
After North Van Teaching Pro Oliver Tubb stuffed it in for birdie on the 8th, it would go down to a KP sand shot from Williams and Parry, who had both made 3's.  Williams ousted Parry with a shot to within a few feet, and Parry would take home $300 for his 3rd place showing (2 years in a row).
And when Tubb missed his 10 foot putt for birdie, he was the final player to be knocked out.  He would earn $500 for his runner-up showing while Williams took home a $1,000 first place cheque and another $100 for his long drive off the 1st tee (donated by the District of West Vancouver).
Holes 5-9
[ez_youtube url="https://www.youtube.com/watch?v=ceh4OPaZSXw" width="640″ height="360″ autoplay="0″ autohide="2″ controls="1″]
Thanks to the support of Presenting Sponsors Bernstein-Buchanan, GolfTEC Canada, Nestle Canada and Fresh Street Canada as well as the support of the District of West Vancouver, Monaghan Golf & Larson Station, the pros played for a purse of $3,000.  Thanks to the special efforts of Brian Bernstein of Scotia McLeod, close to $10,000 was raised for the Lions Gate Hospital, which will go to great use in buying stretchers and much needed equipment.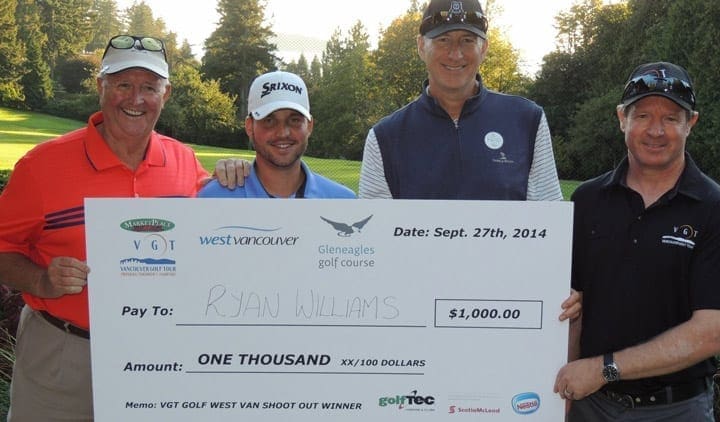 Probably one of the cooler parts of the day was seeing both Hadwin and Taylor stick around after they were knocked out to mingle with the crowd, take a few pictures and sign some autographs, and even kick a soccer ball around with a youngster in the crowd!!  Pretty classy stuff!
The Shoot-out win just adds to William's marvelous year out on PGA Tour Canada.  The 7 year VGT member went on to win the PGA Tour Canada TOUR Championship, a cool $38,500 in prize money that included a $10,000 cheque for Canadian Player of the Year!
But before that he will tee-it-up in this weekend's VGT Tour Championship to retain his crown from last year.  He'll then be heading off to represent Canada at the inaugural Bridgestone America's Golf Cup, a new event featuring teams from the PGA TOUR, PGA TOUR Latinoamérica and PGA TOUR Canada taking place October 20-26 at the Pilar Golf Club in Buenos Aires, Argentina.
Thanks to his 6th place finish on PGA Tour Canada's money list, Williams will be heading straight thru to final stage of WEB.COM TOUR Q-School in Florida the first week of December.  All of us at VGT will be cheering you on as we always do!
See Also:
Fraser Mulholland | Commissioner | VGT