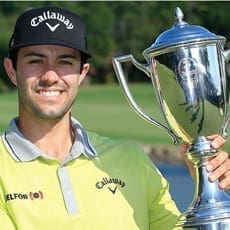 Marketplace IGA
VANCOUVER GOLF TOUR
"This Week on the VGT" (Thru Sept.7th, 2014)
"ADAM HADWIN WINS 2ND WEB.COM TOUR EVENT"
As many of you can attest, it was a very exciting afternoon this past Sunday watching VGT Alumni Adam Hadwin secure his 2nd Win in 2014 on the WEB.COM TOUR at the Chiquita Classic in North Carolina!!  Although Adam had already earned his PGA TOUR card for the 2014-15 season, his 2nd WEB.COM TOUR win bumped him from the #7 ranked PGA TOUR card to a share for the #1 priority spot.  The 4 WEB.COM TOUR Finals events ultimately determines who earns their PGA TOUR card and their priority ranking for the '14-'15 PGA TOUR season.
"I was nervous the whole day," Hadwin said. "I just trusted my golf swing, trusted the shots that I saw and stayed aggressive."
The former Vancouver Golf Tour Professional earned $180,000 to push his season total to $473,667. He wrapped up a PGA Tour card with his fourth-place finish on the regular-season money list and is competing with the other top-25 players for PGA Tour priority, with regular-season earnings counting in their totals and the final leader getting a spot in The Players Championship.
"It's huge," Hadwin said, commenting about the top spot. "To get fully exempt for the year and to obviously be in The Players is an added bonus."
Fellow VGT Alulmni, Nick Taylor of Abbotsford, B.C. finished in a tie for 27th in the event and sits 27th on the Finals priority ranking.  Taylor needs to keep his priority ranking inside the top 50 at the end of the next 2 WEB.COM TOUR events in order to earn one of the additional 25 PGA Tour cards available (50 total).
The WEB.COM TOUR Finals conclude this and next week with the Nationwide Children's Hospital Championship and the Tour Championship the following week.  Both Hadwin and Taylor are registered in the field this week.  Hadwin is looking to secure the #1 seed to guarantee a full schedule on the PGA TOUR and the spot into the Player's Championship while Taylor will be looking to keep a firm lock on his position to earn status on the PGA TOUR for '14-'15.  Should be a very exciting last couple of weeks following both players as well as fellow BC Professional Roger Sloan and Ottawa's Brad Fritsch.  Sloan has sewn up his status on the PGA TOUR for '14-15 while Fritsch is still battling for one of the 25 available cards!
For Thursday's Tee-times at the Nationwide Children's Hospital Championship, CLICK HERE. 
"Hadwin & Taylor to Headline Sept. 27 VGT Shootout"
We are very excited to have both Adam Hadwin and Nick Taylor come home and headline the VGT-GOLF WEST VAN SHOOT-OUT on Saturday, Sept.27th at GLENEAGLES GOLF COURSE!!  Hadwin and Taylor will battle it out against 8 of Canada's Top Professionals and 2 amateurs in a 9-Hole elimination shoot-out, including PGA TOUR Canada Pros Eugene Wong and Ryan Williams as well as 6-time VGT Order of Merit Winner Bryn Parry!!
You Can Play Against Hadwin & Taylor!!
As an Amateur, you can earn a spot to play in the shoot-out against Adam & Nick!!  Simply book a time and play Gleneagles Golf Course by Sept.14th and you could tee-it-up with all 10 Pros in the Shoot-out!
Click HERE for more info!
I really hope you can all come out and support the event, whether to spectate, volunteer, sponsor or play.  The event is FREE to watch and the first 200 spectators will be treated to a Free BBQ & Haagen Dazs ice cream!! All spectators are eligible to enter a draw for a chance to shoot for a $100,000 Hole-in-one on the 2nd Hole with $25,000 being donated to the Lions Gate Hospital!
We are still looking for some sponsors for the event to help us with our fundraising goals!  Sponsors will get great exposure on course and have a chance to play in a morning 9-hole outing with some of Canada's top Pros with a luncheon and golf clinic to follow.  The outing commences at 9:30am with lunch at 12 noon.  Canada's Top Pros will conduct a clinic at 1pm and the shoot-out gets underway right at 2pm!
For sponsorship enquiries, please email fraser@vancouvergolftour.com.
For more details on the Shoot-out, please click here. 
Funds raised from the shoot-out will go to support the Lions Gate Hospital!  Our goal is to reach $10,000 in pledges and donations, which are being accepted on the day as well as online through the Lions Gate Hospital Foundation .
Continued success to all 4 Canadians at the next 2 WEB.COM TOUR Finals events and we'll look forward to seeing you out at the VGT-Golf West Van Shoot-out on Sept.27th!
Best regards,
Fraser Mulholland
Commissioner
VGT