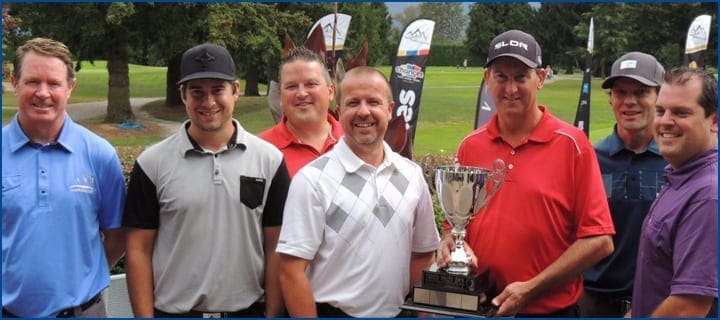 2014 FRASER VALLEY OPEN
Presented by Chances Chilliwack Gaming Center
Aug.30, 31st, Sept.1st
The Falls / Sandpiper / Chilliwack G.C.
Tournament Recap
The inaugural Fraser Valley Open kicked off this Labor Day long weekend at the Falls Golf Club in Chilliwack, a course that boasts breathtaking views that overlook the Fraser Valley from an impressive 750 foot elevation. The golf course is set in beautifully natural surroundings, with towering cedars and cascading waterfalls that can lull you to sleep if you're not careful.
Round one of the FVO was hit with some inclement weather half way through the round, and paired with the challenging pin locations, this made scoring conditions very difficult.  In fact, of all players in the field, only 2 golfers broke par, those being North Vancouver's Bryn Parry (69) and Abbotsford's Brett Stewart (70).  Meadowland's Pro Andrew Smeeth (71) and John Shin of the LAB at Northview (72) were not far out of the mix after surviving what would be the toughest scoring day of this inaugural 54-hole event.
The 2014 Fraser Valley Open not only had a collection of some of BC's top Pros in the field, but some very accomplished Amateurs such as past Canadian Tour players Kris Yardley & Greg Trammell (Canadian Jr. Champ), 2-time Amateur winner on the VGT Colin Gilliam and UFV Team members Kaleb Fisher, Nick Guenther and Matt Gudmundson.   Thru 18 holes of the championship Gudmundson and Yardley would share the lead at +2 (73) with Guenther (75) and Trammell (76) keeping within earshot of the lead.
Local member Robin Smith lead the way in the A Flight with a beauty of a 78 on his home track to get his first VGT event underway quite nicely!  He would share the lead in the net side of the tournament with Flight A regular Moez Noorani who fired a 79 himself.
Round two of the Fraser Valley Open moved across the Harrison River and onto the beautiful surrounds of the Sandpiper Golf Course.  Although rain threatened early on, weather continued to improve as the day went on, making scoring ideal for the front nine.  Through the front nine, Northview's John Shin was making the biggest move on round one leader Parry as he opened with a 3-under par 33.  But Parry would not relent, pushing on with a 34 of his own for a 2-shot lead thru 27 holes of the tournament.
Thru 11 holes Shin had caught Parry when he had back-to-back birdies on 10 and 11.  But Parry fought back with birdies of his own on 12 and 13 to quickly take back the lead.  Both players would struggle on the 14th hole with Parry making a bogey and Shin making a double-bogey and Parry's lead was now 3 shots thru 16 holes and looking like he would come out the 36-hole leader.  But a complete swing came on the final 2 holes when Parry bogeyed the long 17th and then double-bogeyed the 18th hole to finish 1-under for the day and 3-under thru 36 holes.  Shin's par, birdie finish put him with a smooth 67 (-5) on the day and a one-shot lead over parry at -4 heading into the final round.  Meadowland's Andrew Smeeth continued his steady play shooting a 2-under par 70 for a 36 hole total of -2.
On the  Amateur side of the event, Capilano Golf & Country Club member Greg Trammell made the first big move of the day with a beauty front nine score of 33 (-3) to get back to level with day 1 leader Yardley, both now at +2 for the tournament.  Abbotsford's Nick Guenther was thru the front nine in even par, and would trail only by 2 shots thru 27 holes.  But with the wind swirling on the back nine and causing club selection to be a major challenge, Guenther would find himself the clubhouse leader through 36 as he controlled the damage the best on the back nine for a 2-day total of 6-over par.
It was the leaders who seemed to have the most challenges on the closing nine, as Yardley posted a 42 and Trammell fired a 41 on the back nine.  This would put Trammell one shot back of Guenther at +7 and Yardley at +8 and 2-back heading into the final round.  Round 1 co-leader Matt Gudmundson struggled on the day with a 78 while Royal Colwood's Darren Day would score the low Amateur round with a 73 and put himself somewhere back in the picture of the Amateur competition.
In the net side of the tournament, the strongest moves on the day went to Sandpiper's own Cameron Wilson with an awesome score of 77 (net 63) while VGT regular Moez Noorani continued to shine with a beauty 76 (66 net) of his own to take a commanding lead in the overall net tournament.
Final round action moved back across the river onto the Fraser Valley's most popular golf course, the Chilliwack Golf Club, which features magnificent tree lined fairways, a creek that meanders through the back nine and breathtaking mountain vistas in every direction.  Home to the 50+ year old Chilliwack Open tournament, the Chilliwack Golf Club is no stranger to hosting many championship events and prides itself on recently being recognized as the 2013 PGA of BC Facility of the year!
The final round pairing of Parry, Shin, Smeeth and Stewart would see some fireworks on the front nine, which is often the case with the 3-par 5's on the front nine at Chilliwack GC.  Through 9-holes of play it was Burnaby's John Shin who would separate himself from the pack nailing 5 birdies and a front nine score of 32.  Parry was no slouch of his own, carding 3 birdies of his own and a very solid opening nine of 34.  He would be 3 back at the turn and need some magic coming home to collect the trophy!  And with Smeeth making a couple too many bogeys on what could have been a really low front nine, it appeared it would be a 2-man race for the title between Shin and Parry.
Parry would open the scoring first with a birdie 4 on the par 5-11th, and Shin's lead was now only 2.  And after a bogey on the difficult par 3-13th by Shin and Parry only trailed by one.  Both players would birdie the short 15th and Shin would continue to hold a one shot lead at -9 with just 3 holes to play.  Maybe someone could knock off Parry from winning yet another championship at Chilliwack (he is a 6 time winner of the Chilliwack Open, and won 10 tournaments at the course). 
But a rather uncharacteristic straight pull shot off the tee by Shin saw his ball bounce straight right across the fairway and dribbled across the OB line.  He would have to re-tee his ball, and would make an untimely double-bogey and would now come down the final 2 holes now one shot back of Parry.  When his 15 foot birdie bid went by the edge of the hole on the 18th and when Parry made a 5-footer for par, he would fall one shot short, and Bryn Parry was crowned the Inaugural Fraser Valley Open Champion!
Parry's win earned him a nice $1,800 cheque and 2,500 points towards the CLEVELAND/SRIXON Order of Merit Race to win a $2,500 Q-School Prize!  Shin took home a $1,200 cheque for runner-up while Smeeth collected $1,000 for 3rd place solo!  Parry was quick to thank all 3 golf courses for initiating this great 54-hole championship.  With this his 11th Professional win at Chilliwack Golf Club, he asked Bryan Ewart (GM) if he would host an event tomorrow!  Great win Mr. Parry!
The final round for the Amateur Title at the Fraser Valley Open turned out to be equally, if not more exciting a story between leader Nick Guenther and Greg Trammell in the final group and Kris Yardley who would start the day 2 shots off the pace in the 2nd last group. 
Guenther and Yardley started their assault on the front nine, both players carding 5 birdies and shooting a beautiful opening 33 (-4).  Trammell would go out with a slightly slower start on the front nine (-1) and start his back nine 4 off the pace Guenther was setting. 
Yardley would start his back nine right where he began the day, 2 shots behind Guenther, but he was not content with that.  He continued very steady play and would make birdies on 11 and a on 17 to get to -6 on the day. Guenther would make another 2 birdies himself but bogeys on 12 and 14 would knock him back to -4 on the day and now tied with Yardley coming down 18. 
Trammell was playing very steady golf himself, birdying the 10th to get to -2 for the day and now only 3 back.  And with veteran like play, he would continue to be patient until he made a great birdie on the 17th to get within 2-shots of Guenther, who was playing alongside him and with Yardley who was now up ahead on the 18th fairway. 
Yardley would find trouble off the tee on the testy 18th, and after a bad bounce out of bounds, would have to re-tee.  He would make bogey on his 2nd ball, stumbling home to a great round of 69, which could have easily been 66 or lower.  His triple bogey on 18 would cost him missing a playoff by 2 shots!
The 18th hole would prove to also be Guenther's undoing, as he ended up missing his par putt in regulation while Trammell came through with one of the only birdies on 18 that day!  He would out-last the UFV Team member on the first playoff hole, making another solid par on the 18th hole while Guenther would make a bogey to miss the title by 1 shot!
Trammell's victory was his first in quite some time as he had taken a fairly significant hiatus from tournament play the last 15-20 years to grow his family's business Pressed Metal who coincidentally just signed on in the spring as VGT's Awards and Recognition partner!  Great story, must be Karma Greg!
Trammell commented on the uniqueness of the event playing the championship over 3 courses, each very different and challenging in their own way.  He voiced the same thank-yous to the courses and the committee members for initiating the event and giving a lot of great players an opportunity to hone their game over 3 great courses.  It was a great win for him and nice timing as he was using the event as a warm-up for the Canadian Mid-Amateur tournament being held in just under 2-weeks' time.
On the Overall Net side of the tournament, 36-hole overall net leader Moez Noorani could not be caught on day 3 as he posted another fine round of 78 (net 68) for a 3-day net total of -12.  He would take home a swank Galvin Green Jacket valued over $400 and some great hardware for the Low Net Title.  Low Gross honors for Flight A went to North Shore's Brian Baker while Low Gross in Flight B went to Chilliwack Golf Club's own Stan Cunningham!
For a full list of results, click https://vancouvergolftour.com/leaderboard
THANK-YOU'S
Hats off to the Fraser Valley Open Organizing Committee and the support of the great sponsors and partners that jumped on board to make the Inaugural Fraser Valley Open not only possible, but a huge success!  All three golf courses were in wonderful condition and each of the golf courses' superintendent's should be commended on their efforts to prepare the golf courses in tour-like conditions for the players!
PRESENTING SPONSOR
Chances Chilliwack Gaming Center
MAJOR SPONSORS
Tourism Chilliwack
Tourism Harrison Hot Springs
HOST COURSES / ORGANIZING COMMITTEE
Chilliwack Golf Club – Bryan Ewart & Jared Rempel
The Falls Golf Club – Jamie Baxter & David Corke
Sandpiper Golf Course – Ted Swaine
On behalf of the Vancouver Golf Tour, our thanks go out to all FVO Committee members for initiating this great event and inviting us to take the role we did with the live event scoring and operations of the event.  Yet again another great partnership we value giving our players a place to play and allow them to reach for greatness on three fantastic Championship golf courses.
Thank-you for this opportunity!
VGT TEAM & VOLUNTEERS
Without the continued dedication and support of so many of the VGT Team members, volunteers and all the golf club volunteers that came out to support the event, this event would not have happened.  Congratulations to all of you for helping VGT pave the path for the many talented players we have in BC.  We know it's just a matter of time before some of the players in this field will go on to do great things on the PGA Tour Canada, Web.com and PGA Tour!  You are making their dreams a possibility!
Sincerely,
Fraser Mulholland
Commissioner
VGT
Prizing/Results
[easyembed field="2014-FVO"]
[ez_btn color="blue" url="https://www.facebook.com/media/set/?set=a.670358993053650.1073741915.154059001350321&type=1&l=4376a4ebcb" target="_blank"]Click Here for Event Photos[/ez_btn]