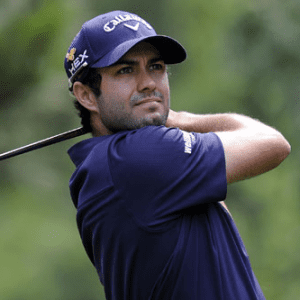 MARKETPLACE IGA
VANCOUVER GOLF TOUR
FOR IMMEDIATE RELEASE (Vancouver, BC)
August 25th, 2014
VGT Alumni Adam Hadwin Writes his ticket to the PGA TOUR
It seems like just yesterday when Abbotsford's Adam Hadwin first strode down the fairways of his first Vancouver Golf Tour (VGT) event at the Guildford Open.  Although he didn't win his first VGT Pro event it certainly didn't take long before the then 22 year old showed he would be a force to be reckoned with on any tour.  In fact, by the end of his maiden Pro season on the VGT, Hadwin had collected his first four (4) Professional wins and two runner-up finishes out of 9 events (see below).  He would earn the "Cleveland/Srixon" Rookie of the Year Award on the VGT that year, nearly knocking off past Nationwide Tour Player Bryn Parry in his rookie season.
Not surprisingly, Hadwin's first ever Pro victory came at the 2009 Ledgeview Open, at the course where he got his start in junior golf.  Hadwin was quick to take the confidence  from his inaugural Pro season on the VGT and quite easily earn his Canadian Tour card for the 2010 season.  He would go onto have an exceptional rookie season on the Can Tour with 6 top 10's out of the 8 events he played.
But it is important to note that Hadwin continued to use the VGT as a place to develop his game in the spring leading up to the '10 Canadian Tour season.  With three 2nd place finishes on VGT prior to his start out on the CDN Tour and then his biggest career pro win (at the time) at the Vancouver City Open.  Hadwin would be quoted saying "VGT has allowed me to gain vital experience and confidence my first couple of years as a Professional and really helped me believe if I could pay (and win) against some of BC's most tested Pros (Bryn Parry, Phil Jonas), then I could win out on the Canadian Tour, or any tour for that matter".
"Hads" would cap off his Rookie of the Year season with his first of 2 Canadian Tour wins at the 2010 Desert Dunes Classic and earn Low Canadian honors at the 2010 RBC Canadian Open.  He would earn Rookie of the Year status on the Can Tour and once again continue to gain confidence in himself and his game heading into what would be his breakout year in 2011 that included 5 PGA Tour events and 5 cuts made including a t39th finish at the US Open.  His "Coming out party" and by far his most exciting tournament (for Canada) was at the 2011 RBC Canadian Open at Shaughnessy Golf & Country Club where he made a dramatic move on the back nine to finish in 4th place!  Adam Hadwin was now a household name to all Canadians, and quickly becoming the face of Canadian Golf!
So when Hadwin committed to play the 2011 Vancouver Open at Langara, McCleery and Fraserview, all of a sudden the event took a life of itself.  Hadwin's attendance quickly drew more media and fan attention to the Van Open than ever before.  And when he opened with rounds of 65,65 it looked like he would walk-away with a 10 shot win.  But thru 12 holes on the final round, Kamloop's Pro Brad Clapp would reel him in and eventually tie things up.  And when Clapp birdied 18, Hadwin came down the par five 18th fairway needing to make birdie to tie and force a playoff!
As I am sure we will continue to see for many years, Hadwin got the crowd on their feet as he hit a 6 iron from 190 yards to 6 feet for eagle (see video).  Although Hadwin would not make his eagle putt, he would confidently come back up the 18th hole in the playoff against Clapp and take his 2nd straight Vancouver Open title with a birdie!
Ultimately in 2011 Hadwin would prove to everyone that he was one of Canada's top Pros, eventually vaulting to the top Ranked Canadian in the Official World Golf Rankings.  And by virtue of his play and money position after his five PGA TOUR starts, Hadwin was invited to head straight to final stage of PGA TOUR Q-School that December.
After 3 rounds Hadwin was certainly moving in the right direction to earn his PGA TOUR card, but 4th and 5th rounds of 76 and 75 meant a ticket to play the WEB.COM TOUR in 2012.  And after some awesome playing in his rookie season on that tour, Hadwin was one shot away from taking the 25th and final card for the PGA TOUR had it not been for a brilliant up-and-down on 18 from behind the green from James Hahn.  With Hahn's birdie, Hadwin was bumped to 30th on the money list and another trip back to Q-School finals.  One step away from the big leagues again, but after a sluggish start firing 74 in his opening round, Hads would find himself yet again 1 shot away from playing on the PGA TOUR after he bounced back with rounds of 71 and 3 consecutive 68's.
So it was back to the WEB.COM for his 2nd year in 2013 to look to make a top 25 spot and get where he has been dreaming of playing since a young boy.  A quiet start to the year and what he would term an "inconsistent" year, Hadwin would find himself on the outside looking in again at the end of the 2013 WEB.COM season, finishing 66th on the money list.  Good enough to reach the playoffs and another shot at the PGA TOUR, but he would struggle with his game missing 3 of 4 cuts in the WEB.COM playoffs, so it would be a 3rd straight year on the WEB.COM.
Having a less success in 2013 than expected, this gave Hadwin reason to reflect on how he was approaching both his game and his tour life on and off the course.  Ultimately Hadwin took to making his career strictly 'business', from charting his schedule to charting what was giving him success (or lack of) while on and off the road.  And the biggest thing he changed in his game was his strategy, not his swing or putting stroke, which he has built with the help of Brett Saunders and Scott Rodgers to be fundamentally one of the best in the world.  No, it was HOW he played each course.  Often it would mean  'gearing back' and playing much less aggressive off the tee.  And before you knew it, Hadwin had his 1st WEB.COM TOUR victory in only his 2nd start at the Chile Classic!
Hadwin's early win simply would give him a ton of confidence and take a bunch of pressure off him for the rest of the year.  With the ability to customize his schedule to his needs, Hadwin continued to play solid golf and would find two more top 10's by early June.
Fast forward to this week's Portland Open, Hadwin had played his way into the 10th spot on the WEB.COM money list and could miss the cut and guarantee being handed his PGA TOUR card on Sunday evening!  Not a bad position to be in considering the amount of pressure so many other WEB.COM players were facing this week (Roger Sloan included!).
Well, as is so often the case, when one doesn't feel pressure, they perform to their fullest potential.  And other than a rusty opening round of +2 (2 weeks off "glamping", Mariners ball might do that?) Hadwin took form with two beauty rounds of 66, 63 and found himself 2 shots back of money leader Carlos Ortiz in the final group on Sunday.  When it was all said and done, Hadwin played a great final round, but would finish 1 shot shy of his 2nd win of the season, finishing T2nd and move him up 6 places into the 4th spot on the 2014 WEB.COM TOUR money list!
Hadwin won't be the solo BC Pro to earn status on the '14-15 PGA TOUR as Merritt's Roger Sloan kept inside the top 25 even after missing the cut this week.  Both players will take the money they have earned into the WEB.COM TOUR finals next week, and after these 4 events all moneys won from their year will determine their PGA TOUR card ranking for the '14-15 season.
With his 4th place money ($295,000), Hads assures himself of some very decent status on the PGA TOUR for '14-15.  You can be sure to see Adam in his first event as an official PGA TOUR member at the FRYS.COM event on Oct.10-13th in San Martin, California.    Did someone say ROADTRIP??
TEAM VGT is incredibly proud of ADAM HADWIN being our first alumni to reach the PGA TOUR full time!  Adam, you've had a long journey ahead of you, but you've shown all of us each step of the way that you truly belong out there!  We will all be cheering for you the next 4 weeks on the WEB.COM finals and this fall as you start your next golf chapter as an official PGA TOUR member!
GO HADS GO!!
NICK TAYLOR ENROUTE TO WEB.COM TOUR PLAYOFFS
VGT's hottest player in 2013, Nick Taylor kept it cool on Sunday on the WEB.COM to keep his spot in the top 75 on the money.  Nick will join Adam in the WEB.COM final 4 events chasing down a top 25 spot in those events to join Adam on the PGA TOUR in 2014-15.  We'll be cheering just as hard for you Mr. Taylor!!
GO NICK GO!!
Fraser Mulholland
Commissioner | Vancouver Golf Tour (VGT)