For Immediate Release
Vancouver, BC (May 8th, 2014) – MODERN GOLF has been named PREFERRED CUSTOM CLUB FITTING FACILITY of the Vancouver Golf Tour (VGT) for 2014.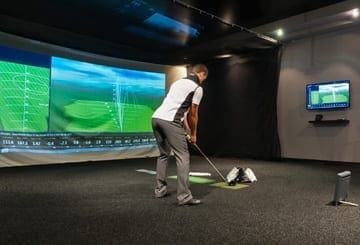 "I'm really excited that MODERN GOLF (Canada's Premier Club Fitting Facility) has joined the team of growing partners of the VGT" states VGT Commissioner Fraser Mulholland.  "We are very fortunate to now have a state-of-the art club fitting and club building facility (in MODERN GOLF) that our members can access right here in the heart of Greater Vancouver". 
"MODERN GOLF has been offering some of the most specialized club fitting and club building services the past 2 years since launching successfully in the Greater Toronto in 2012.  And now with their new facility on 130th street in Surrey, we are extremely fortunate to showcase their services to our VGT Members throughout the year". 
"We are very excited for the opportunity to have MODERN GOLF partner with the Vancouver Golf Tour" states Director of Marketing Jonah Tremback. 
"Every player, no matter what age or ability should play with equipment that is a perfectly fit for their swing type and body make-up.  Using precise instruments and the highest grade components available, MODERN GOLF is able to build clubs exactly to specifications, ultimately assisting golfers with their specific equipment needs". 
"Our Vancouver facility offers golfers a unique club-fitting experience using the best technology in the industry. We also offer the largest matrix of demo options in North America. This allows us to refine and customize every aspect of the fitting process and cater it directly toward your unique swing needs.  
We look forward to working with the VGT's Tour's Professional and Amateur Golfers, helping them get the absolute most out of their equipment and ultimately help them achieve their goals and enjoying the game."
– Jonah Tremback, MODERN GOLF 
Through their Partnership with the Vancouver Golf Tour, MODERN GOLF will provide VGT members with a number of prizes throughout the season.  Members winning these prizes will be privy to unparalleled state-of-the-art technology in custom club fitting and custom club building.
About MODERN GOLF
Modern Golf is Canada's premiere custom golf club fitting and indoor golf facility. Our state of the art club fitting process will provide improved results for any golfer, regardless of their skill level. For more information on MODERN GOLF please visit their website. 
Media Contact
MODERN GOLF
Jonah Tremback
Jtremback@moderngolf.ca
www.moderngolf.ca
Vancouver Location – 8125 130th street, Surrey, BC
Dean Walters, PGA of BC
dwalters@moderngolf.ca
About Vancouver Golf Tour
Since 2006 VGT has been giving BC's local Professionals and Amateurs the opportunity for a high level of competition in a PGA Tour environment.  VGT's goal has always been to provide local players the opportunity to learn how to win and build their confidence to play on Worldwide Major Tours.  The mission statement of VGT is to 'Prepare Tomorrow's Champions'. In 2013, a record 15 VGT Professionals competed at the PGA Tour Q-School.  VGT currently has 3 of its alumni playing with full status on the WEB.COM Tour and 3 alumni with conditional status.
MEDIA CONTACT
Vancouver Golf Tour
Fraser Mulholland
President & Commissioner
fraser@vancouvergolftour.com
www.vancouvergolftour.com
(604) 980-4653