2013 HAZELMERE CLASSIC / BMW GOLF CUP INTERNATIONAL
Hazelmere Golf Club | Sunday, August 4th
6,627 yards, Par 72
Tournament in Review
VGT Players Pursue Order of Merit Points and a Trip to Chateau Whistler
 
With only a handful of events remaining on the summer schedule, VGT Amateurs tee'd it up with two goals in mind at our Hazelmere Classic:  Chase down some points for our year-ending CLEVELAND/SRIXON ORDER OF MERIT race and attempt to win a spot in the prestigious BMW Golf Cup International Canadian finals!
All players at this weekend's Hazelmere Classic played an individual stroke play event within  their own flight as well as a team competition that was sponsored by BMW Canada and BMW Langley (BMW Golf Cup International).  Players were given the chance to pick a partner or be randomly paired up with another VGT player.  Some amazing scores were shot, in both the individual event as well as the Team competition.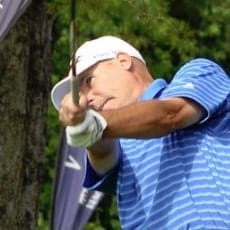 At the end of the day, Our overall Low Gross Amateur in the Championship Flight was Hein Marcus of Vancouver who shot a score of 74, claiming his first VGT win of the year.  Marcus took the title after a super front nine score of -2, and continued his fine play holding at -2 thru 15 holes.  But he would get a flyer with his wedge shot on 16 that one hopped over the (firming) green and eventually make double bogey 7.  And then hoping to avoid going over the green on the challenging par 3, 16th hole, Marcus would catch the water guarding the front of the green and make a bogey 4.  He would stumble with another bogey on the final hole, but thanks to his great play on the opening 15 holes he had built up just enough of a cushion to hold on for a 1 shot victory over Derek Wray, Wade Hickey and Riley Lamb. 
With his win, Marcus works his way into the top 5 of the Championship Division of the CLEVELAND/SRIXON VGT Order of Merit.  West Van's Dave Rose continues to lead the way after only playing in 4 VGT events and Vancouver's Chris Moore holds down 2nd spot.  Rose will be joined by 9 other Amateurs who have played the VGT this year, including Surrey's Adam Svensson (2012 Canadian Jr. Champion, 2011-2013 Low Amateur, Vancouver Open) and Kevin Kwon of Pitt Meadows who just recently won the Canadian Junior for his 2nd time in 3 years (2011 and 2013 Canadian Junior Champion). 
In other flight action it took some amazing golf to win.  Starting in the A Flight, Raymond Kapoor shot a career round of 73 to take home LOW GROSS Champion and a $200 Marketplace IGA Gift Card plus a round of golf at Sandpiper Golf Resort.  While FLIGHT A NET CHAMPION went to Randy Parnell who carded a 69 Net, winning a Cleveland 588 Wedge and a Dozen Srixon Z-Star balls.  Both Kapoor and Parnell jumped up a number of spots on the CLEVCELAND/SRIXON ORDER OF MERIT, but it is going to be hard to catch our leader, Murray Reed, who sits at 15,000 points through 15 events played.  His closest chaser is Shane Jung at 10,400 points with only a handful of events remaining!
In Flight B it was SPGA Member Peter Jones who led the way in the LOW GROSS Division, carding a score of 81 for top honors.  Jones would also walk away with a $200 Marketplace IGA Gift Card + a round at the beautiful Sandpiper Golf Resort.  Overall LOW NET for FLIGHT B went to FLIGHT B ORDER OF MERIT LEADER Gil Semet, with a score of 67 (-5).  Semet was awarded a Cleveland Classic Hybrid club and Dozen Srixon Z-Star balls for his fine play and continued to hold onto his lead in Flight B for the CLEVELAND/SRIXON Order of Merit.  With his win, Jones moved up into 2nd place in Flight B standings, but sits almost 4,000 points behind Semet coming into the final few events before the Tour Championship.
[ez_btn color="blue" url="https://www.facebook.com/media/set/?set=a.482772188478999.1073741865.154059001350321&type=1&l=41cb2c7e60″ target="_blank"]Click Here To View Event Photos[/ez_btn]
BMW Golf Cup International – Team Results
Thanks to BMW Canada and BMW Langley VGT golfers were privy to an added feature at this year's Hazelmere event.  Players were given a chance to compete with a partner in a TEAM BEST BALL format over 18 holes while at the same time (thanks to BMW), have some fun on-course KP, Long Drive and Hole-in-one contests giving out some great prizes.
At the end of the day it was the 'DYNAMIC DUO' of Raymond Kapoor and Randy Parnell who sealed their victory with an amazing BEST NET SCORE of 59 (-13).  Both players had an amazing day of golf and as they would attest to later "We ham 'n egged it almost perfectly".  The exciting part about their win was an invitation to the BMW Golf Cup International Canadian Finals scheduled for Sept.8-11th up at the Fairmont Chateau Whistler.  Both players will be invited to bring a guest for all the activities involved with this great event, including a guest tournament, practice round, golf clinic with PGA TOUR star GRAHAM DELAET, a cocktail party and closing tournament dinner!  Both Parnell and Kapoor will represent VGT in the event individually and the TOP LOW STABLEFORD SCORE in each flight will be invited to an all-inclusive trip (with guest) to PHUKET, THAILAND in March for the BMW Golf Cup International WORLD FINALS!! 
Congratulations RAYMOND KAPOOR and RANDY PARNELL!!  DO VGT PROUD!! Honorable mention goes out to runner's-up team of Jim Zalusky and Peter Jones who carded a BEST NET SCORE of 60.  Both were awarded a premium FENIX GOLF shirt for their efforts! 
KP Winners on the day were awarded some great golf equipment thanks to BMW Canada.  Our winners during the event were as follows:
Hole #6 – KP (handicap 11-20)      Randy Parnell
Hole #9 – Long Drive (All players) – Raj Singh
Hole #17 – KP (handicap 0-10) – Colby Peters
During the dinner presentations, BMW representative Casey Lennon thanked all players for their attendance, and thanked VGT for hosting a very well-run event.  His final comments were that through the BMW Golf Cup Program, BMW Canada will donate $500 to the HAZELMERE GOLF JUNIOR PROGRAM!!  NICE WORK BMW!!
VGT would like to take this time to congratulate all winners at this year's VGT Hazelmere Classic and BMW Golf Cup International qualifier.  Our special thanks go out to Rick Saran of BMW Canada for initiating this great event with VGT and to Aly Jiwani of BMW Langley for partnering with the VGT to guarantee a first class event!  I would invite everyone to take the time to visit BMW Langley's website (and see their great showroom of vehicles in person of course!) by clicking here .  Final thanks to Casey Lennon of BMW Canada for the attention to detail and the presentation of some of the nicest BMW cars on the market at our event!  Hope your game at Glen Abbey went well the next day!
Continued thanks goes out to all of our hard working VGT Team members who make a day like this possible.  Your efforts do not go un-noticed by everyone in attendance! 
Final thanks to Hazelmere Golf Club for being as gracious a host to the VGT as ever!  The golf course was in fantastic shape once again and your pro-shop team (Graham, Mike, Aaron, Wade, Calum) does a fantastic job of welcoming everyone at VGT for a great day on your course!  Final thanks to all the clubhouse staff for catering to our players and to the wait staff who were working around the clock to make sure our players received their tournament meals with a smile! Great work!
[easyembed field="2013hazelmere-classic"]