[ez_btn color="blue" url="https://www.facebook.com/media/set/?set=a.451419398280945.1073741851.154059001350321&type=1&l=05751babd9″ target="_blank"]Click to View Event Photos[/ez_btn]
VGT Tournament in Review
2013 West Coast Golf Group Pro-am | May 29-31st, 2013
Final Round: Swan-e-set Resort  | 7,000 yards, Par 72 | Pitt Meadows, BC
Purse: $32,500 | Winner's share: $7,500
Weather: 10 degrees Celsius, steady rain in morning; sunny breaks and 18 degrees in afternoon
Langley's Adam Cornelson Endures 6-Hole Playoff with Red-Hot Taylor to win West Coast Golf Group Invitational
(May 31st, 2013 – Pitt Meadows, BC) –  Just when it didn't look like anyone would get in the way of Abbotsford's Nick Taylor winning his 6th straight VGT event, Langley's Adam Cornelson handed him his first "Loss" by birdying the 6th playoff hole to be officially dubbed the "Taylor Slayer". 
Both players fought through heavy rains in the morning part of the final round on a lengthy 7,000 yard Swan-e-set Resort layout.   Cornelson came into the final round 2 shots up on Taylor and after some excellent play on the front nine (34), he had opened up a 4 shot lead on Taylor.  But North Vancouver's Bryn Parry, arguably PGA Canada's most decorated Professional was making a charge of his own on the front.  He opened up with a 34 (-2) and was now only 2 shots back of Cornelson.  The back nine would prove to be quite an exciting one for all 3 players, who had separated themselves from the pack of 22 golfers that made the cut. 
Taylor made his move on the par five 10th with a nice up and down birdie.  But Cornelson wouldn't be giving up that easily and made a birdie of his own to keep himself 4 shots up of Taylor (and 3 of Parry) with 8 to play.  But when Taylor pushed the pedal down with another birdie on 11, and Cornelson a bogey of his own on the 12th, this tournament was now wide open!
One group ahead, Parry made a move of his own to -11 with a birdie on the par five 14th and he was now only one back of Cornelson with 4 to play.  But he would quickly give one back on the 16th with a lengthy 3-putt.  As is typical of the 40 year old Parry, he would not give in, bouncing back with another birdie on the difficult 17th.  But his bogey on 16 would turn out to be the difference maker and he would finish the tournament at 11-under par, one shot off the playoff and good for solo 3rd!
With Cornelson (admittedly) playing a bit more conservative on the back nine, Taylor took full advantage and poured another birdie in on 15 to cut the lead to 1 shot with 3 to play.  And as he's being doing all spring on the VGT, Taylor rolled in yet another birdie on 17 to go -4 on the back nine and this tournament was all square coming down 18!
After both players struck it down the middle of the fairway, Taylor was first to play.  He had laid it back fairly conservatively, and faced a shot of about 180 yards to the pin.  He took dead aim and flushed a mid-iron to 12 feet from the stick for his birdie.  Cornelson was next from 150 yards and he struck a solid shot just left of the pin, and he would have 15 feet for his bird.
After Cornelson's putt slid passed the hole, all he could do is hold his breath and hope that Taylor wouldn't make his 5th birdie on the back nine to close him out.  He watched as Taylor's ball rolled down the hill.  And half way there it looked like Taylor had made it 6 straight VGT wins…..but for some reason it veered off line and Cornelson let his breath out in a sigh of relief!  PLAYOFF!!
Hole #1 in the playoff would come back down the 18th fairway and would continue for a total of 6 holes before Cornelson finally capitalized on one of many fine shots to the green.  Both players had excellent birdie chances to finish the playoff and win the tournament.  Taylor first on the 18th hole.  Both with mid-length birdie tries on the 1st hole.  Then it was Cornelson who would make the most clutch putt to stay in the match, with a 12 foot par save on the lengthy 2nd. 
After both players flushed irons on the par three 3rd hole, one thought it would end here, but both players slid their putts by the hole.  And the same held true on the 4th hole from 15 feet.  But it turned out to be a better pitch shot from Cornelson on the par five 5th hole that gave him the advantage.  Taylor would miss from 20 feet, and Cornelson took full advantage of this and poured in his 7 footer for birdie and the WIN!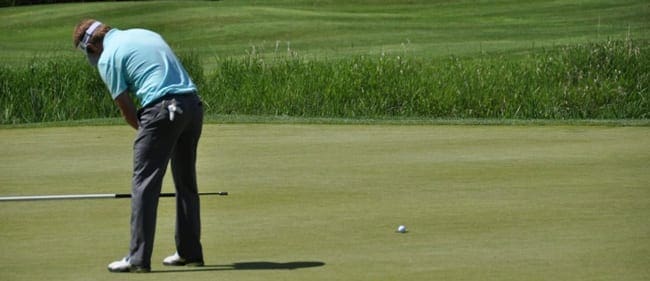 Cornelson sited his victory as the most important win of his career to date.  Not so much for the healthy $7,500 first place cheque (he won a $10,000 First place at the Tri Cities Pro-am), but more importantly for the caliber of field he was up against and the timing of his victory coming right before the PGA TOUR Canada schedule.  Taylor took home $4,500 for 2nd place and Parry a cheque for $3,500.  Both players playing outstanding golf through the first 5 VGT Majors events.  Taylor going an incredible 58 under par for the 5 events (11 tournament rounds) and Darren Wallace and Bryn Parry only slightly behind at 37 and 36-under par for the same amount of rounds.  Wallace made the biggest charge in the final round shooting 67 to place 4th and win $2,800. 
Cornelson's win was a valuable one in that the points won from this event counted for both the MAJORS SERIES Order of Merit and the VGT 'Regular Series' Order of Merit sponsored by CLEVELAND GOLF/SRIXON CANADA.  The Majors Series Order of Merit was sealed up by Taylor after his 2nd playoff loss and 3 wins out of the first 5 majors events and only the Vancouver Open to play.  However, the CLEVELAND/SRIXON ORDER OF MERIT continues on the remainder of the season and includes all remaining single day Pro-ams and 36-hole events the VGT is sanctioned with (Chilliwack Open/ Golden Ears Open).  Cornelson vaults himself into the lead in this series after 6 events with Taylor and Parry close on his heels.
Players competed for a total purse of $32,500 and a winners' cheque of $7,500.