[ez_btn color="blue" url="https://www.facebook.com/media/set/?set=a.440233159399569.1073741839.154059001350321&type=1&l=4e768d53e9″ target="_blank"]Click to View Event Photos[/ez_btn]
VGT Tournament in Review
PGA TOUR CANADA'S RYAN WILLIAMS WINS VGT'S FIRST MAJOR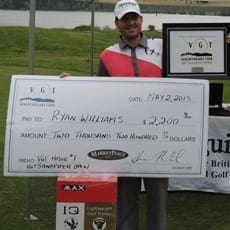 VGT's Inaugural Major Series event turned into a showdown by 3 of BC's top PGA TOUR CANADA players Ryan Williams, Nick Taylor and Darren Wallace.  After a stellar opening round of 65 that included eight birdies and an eagle, Williams started the final round with a 2-shot lead over Langley's Darren Wallace.  But after an opening 9-hole score of 38 thanks to a double-bogey on #2, Williams' lead had vanished and he now sat in a tie for 2nd place with Taylor, one shot behind Wallace.  But Williams would quickly regain his lead with birdies on 10 and 11 to get to 7-under par for the tournament.
Chilliwack's Jared Rempel made a valiant charge at Williams on the start of his back nine with birdies on 2,3, 7,8, 10 and 13, and would share the lead until he stumbled coming home to finish in a tie for 5th place in the event.  VGT'S first Major would eventually turn into a 3-man race on the final five holes of play.  Wallace would open up the charge first with birdies on 12 and 13 to establish the lead at -8.  He would trade off a bogey and birdie on 14 and 15 to remain at -8.  This would not be good enough for the lead through 15 holes however, as Abbotsford's Nick Taylor would make his charge on those same two holes.  First, firing a short iron to one foot on 14 for the birdie and then from long range with long iron for the near double-eagle on 15.  This put Taylor to -9 and a one shot lead over Wallace and two over Williams, who failed to capitalize on his birdie try on 15 from 5 feet.
The final three holes continued to be just as exciting when Williams hit a beautiful iron shot into the 16th hole par 3 and nailed it for birdie to get to 8-under and one back of Taylor.  He then would make one of the only four birdies on the day on the long 17th hole to share the lead with Taylor coming down 18, and Wallace now 1-shot back at -8.
Both Taylor and Williams hit nice shots into the back-right pin, which was guarded by water the whole way.  Williams from 30 feet just missed and tapped in for par, and then Taylor from 15 feet just missed on the low side.  Both finished at 9-under par and would wait for Wallace to put to see if they would stroll down the 1st hole in a 2 or 3 man playoff.  Wallace eyed up his 4-foot putt after hitting an exceptional shot under the circumstances, and he nailed it to make it into the playoff!
After signing cards, all 3 players would return to the 1st tee for a sudden death playoff.  Both Williams and Wallace were flawless off the tee, while Taylor's drive hooked left towards the trees, forcing him to layup and pitch on for 3.  Williams and Wallace both hit great shots onto the par 5 in two, and would two-putt for birdie, while Taylor would need his putt to stay in the playoff.  When his putt slipped by the hole, Wallace and Williams would carry onto #2 on their own.
At the end of the 2nd playoff hole, Williams would get sweet revenge on this hole, nailing a 15 footer for birdie to claim the Title at VGT's first MAJOR SERIES EVENT!  Williams took home a cheque for $2,200, the trophy and a sweet new BIG MAX push cart courtesy of G&G Canada.  Both Wallace and Taylor would walk away with $1,350 cheques each for a share in 2nd place.  Richmond's Matt Daniel would finish in 4th place on his own after solid rounds of 70,68 – good for a $1,000 cheque.
Williams takes an early lead in the MAJORS SERIES ORDER of MERIT with 5,000 points.  The MAJORS SERIES Order of Merit winner will take home an estimated bonus of $5,000 after the 6-event series that concludes with the $100,000 VANCOUVER OPEN.
AMATEUR A&B EVENT
On Day one, Flight A and B Amateurs battled for their own titles over an 18 hole event at Sandpiper, and your winners in each flight, by gross score we as follows:
FLIGHT A: Wade Hickey (75)
FLIGHT B: Mike West (87)
Each player won a $150 gift card to Marketplace IGA as well as a round of golf to one of Vancouver Parks Golf's Premier City Courses.
For a full list of results and prizes in each flight, please CLICK HERE.
VGT would like to pay thanks to the owners and operations team at Sandpiper Golf Course, who have time and again made our tournament experience at their course second-to-none!  From the warmest of receptions to the tour-like conditions, we really are fortunate to have such support from such a first class facility!!
Thank-you Betty-Anne, Ted, Blair and all of your operations team!
[easyembed field="2013-sandpiper-major"]