[ez_btn color="blue" url="https://www.facebook.com/media/set/?set=a.435452049877680.1073741837.154059001350321&type=1&l=a964fdff5d" target="_blank"]Click to View Event Photos[/ez_btn]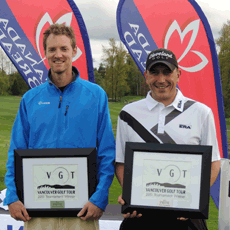 PGA TOUR Canada's Matt Daniel and Matt Makinson wanted to show all takers that last year's Canada Bread BC Team Match Play win was no fluke.  And after 4 weeks of match play competition, they certainly did that, running through some formidable past Champions along the way.  Other than their opening match versus Beach Grove's Colin Bykowski and Austin Hughes, which ended 2&1, their opponents in the 36-hole finals (Curtis Baldwin and Mark Heinrich) were likely their toughest opponents faced.  But the formidable Defending Champions were just too tough a team for the #2 seeds Baldwin/Heinrich, and the 36-hole match was closed out on the 33rd hole at 4&3.
The finals were set at Northview's Ridge course in Surrey, tipped to the gold tees and playing what felt like 8,000 yards in the cool/windy temperatures.  The rough was wet and thick, almost ankle deep, which made scoring more difficult than in past years.
The tone of the golf course and conditions were established early – playing brutally long AND tough!  Long irons into #1 and a tucked pin made for challenging approach shots.  After no shots hit the green, Makinson and Daniel walked away the only players to get up and down for par.  Quickly they were one up.  Both teams fought for hard earned pars on #2 and #3 with Matt Daniel making a clutch 8 footer on 3 for the half.  After a hooked drive on the par five 4th hole, Makinson hits a brilliant recovery towards the green and (we still don't know how) finds his ball on the fringe some 20' from the pin in 2.  All other players fail to convert from around the green in 2 and Makinson slams his 5 footer in for birdie to make it 2-up thru 4.
Holes 5 and 6 are halved with tap-in pars by both teams, with both teams having decent looks from 15' on hole 6.  The par five 7th hole was reached by Baldwin, but he was left with some 50' to the back pin.  Daniel got it into the greenside bunker in two, but failed to convert his sand save for birdie.  Baldwin was next from 50' for eagle, but left it 8' short, and lipped out his birdie try.  Hole is halved and Matt/Matt remained 2 up.
The 8th hole was a common tail of the event, as both Daniel and Makinson hit decent drives on this drive-able par 4, just short of the green.  Whereas Baldwin hit equally a good drive into the greenside bunker, he was left solo to battle Matt and Matt after his partner's ball found the water off the tee.  While Baldwin exploded to 15' and missed his birdie try, both Makinson and Daniel converted their birdies and the match all of a sudden became 3-up Matt's.
 After halving the long par 3, 9th hole with pars, the match seemed to be slipping away from Baldwin and Heinrich when Makinson poured in another birdie on #10 and Baldwin missed from just inside 10' to go 4-up.  However, the match quickly came back to 3-up when Heinrich chipped in from the side of the green on 11 to win the hole.
Team birdies were made by Baldwin and both Matt's on the 12th with Daniel having the best chance at eagle from 20 feet.  Another halved hole on 13 when Baldwin made a great up and down from behind the green to save his par.  The match remained 3 up Daniel/Makinson thru 13. 
On the 14th hole, made infamous by Mike Weir's hole-out in the '99 ACC, all players made pars, with Heinrich's being the closest to find the hole for birdie.  3up.
Holes 15 and 16 were both halved with team pars, with Daniel and Baldwin having best chances at birdie on 15 and all players having a look on 16, including Daniel's near hole-out from the bunker.
The difficult 17th was playing slightly more tame on this day, playing down wind and so players had shorter irons in for their approaches.  However, no team capitalized on their birdie chances and the hole was halved.  Makinson definitely had the best opportunity at birdie, but narrowly missed!
It appeared that the 18th hole was in Baldwin and Heinrich's favor after 2 shots, as both of them hit great shots from long iron range onto the island green for eagle chances.  Both Matt's had missed the green left, leaving difficult up and downs for their birds.  However, it was a turn of events when Makinson made a sweet up and down for his birdie and both Baldwin and Heinrich miss-judged the speed on their down-hill eagle tries and 3-putted for pars. 
Thru the morning round, Makinson and Daniel lead the BC Match Play Finals 4 up. 
After being treated to a sit-down lunch, play resumed at just before 2pm.  Conditions had warmed slightly, but the golf course was still playing overly long.  Hole #1 played its difficult self, making pars by both teams a good score.  The match remained 4up Matt and Matt.
After 2 great shots into the 20th hole by Makinson and Heinrich, Makinson had the first look at birdie, but just missed.  Heinrich had a similar length putt from 5 feet and he made no mistake.  Match now at 3 up Makinson/Daniel.   And the momentum seemed to be turning the #2 seeds way when Heinrich sent a beautiful 5 iron shot into the 21st hole, giving him a 6-foot birdie chance.  Makinson would put the pressure on Heinrich to make the putt when he made a beautiful up and down for par.  And when Heinrich's birdie failed to drop, a bit of momentum was certainly lost.  And Makinson and Daniel took full advantage of this, hitting exceptional shots off the tee and into the par 5 green, making birdies almost certain.  Both Heinrich and Baldwin failed to capitalize their birdie chances and after Makinson converted his first, it was back to a 4up margin.
This margin was short-lived however, as Makinson/Daniel both missed the par 3 green and Baldwin sent his long iron approach right at the flag, lipping out for an ace and tapping in for his birdie.  Apparently Baldwin and Heinrich were not going down without a fight!
Daniel and Makinson have the best opportunities for birdie on the 24th hole, Daniel just missing on his chip-in and Makinson missing from 15'.  Baldwin with the best chance for his team at 25', but all made 4's and the match remained 3up. 
The best birdie opportunity on the 25th hole came from Daniel as he exploded his greenside bunker shot to 6'.  But after failing to convert, pars were halved.
With his partner in for par, and both Matt's assured of a birdie after chipping to tap-in length, Baldwin keeps the match alive with a heroic 25 foot birdie.  3 up MM.
After Heinrich's chip lipped out for birdie on the par three 27th hole, it was Matt Daniel's turn to nail a sizeable putt to half the hole.  With 9 holes to play, Makinson and Daniel kept a decent sized lead at 3up.
The 28th hole seemed to get the growing crowd stirring just a little bit, as Heinrich's approach fired right at the flag, and when his 8' birdie found the hole, the match was now only 2up Makinson/Daniel.
I will officially call the 29th hole the 'VGT' Turning Point of the match.  With Baldwin's ball in the water on the par 3 (unfortunate bounce off a power cart), Heinrich hits a very decent shot at the front pin to 20 feet.  With water guarding this green all around, a shot to 20' now looks great.  And when Makinson's ball ricochet off the wall into the water, Daniel faced a very difficult iron shot ahead of him.  But showing his true Canadian Tour veteran colors, Daniel stuffed it to 6'.  After Heinrich's putt edged by the hole, Daniel had a chance to tighten the noose on this match with holes winding down.  AND HE DID!  The match was now back to a comfortable (but certainly not insurmountable) lead, 3 up with 7 to play. 
After Baldwin's tee-short pulled out of play, Heinrich was essentially alone to play against both Matt's balls.  He managed just fine, pitching his 3rd into 3' feet and making birdie, halving the hole with both Daniel and Makinson.  Makinson made a great up and down, while Daniel had another exceptional long iron approach into 15 feet for eagle, but he couldn't capitalize.  The hole was halved with birdies.  3 up with 6 to play for MM.
After a couple of holes off, Baldwin was back to business, dialing in his iron shot on the 31st hole to 15'.  Daniel was in around the same length for his birdie, and when both players missed their chances the match still remained 3 up MM with 5 to play.
With holes running out, and Daniel and Makinson just not letting down on their play, the 32nd hole turned out to be a nail in the coffin, as Baldwin and Heinrich made solid pars, but Daniel draining a 12 footer for birdie off the fringe to all but end the match.  4 up MM with 4 to play.
Needing at least a birdie on the short par four 33rd hole to keep the match alive, Baldwin and Heinrich were in a tight situation.  Their iron shots hit the green, but left themselves with fairly lengthy putts.  And although Baldwin's just ended short in the cup, a par by Makinson was good enough to half the hole and win the match 4&3.
A great match overall and a deserving Champion Team in Professionals Matt Daniel and Matt Makinson, who become the first team to go back-to-back in the 7 year history of VGT running the BC Match Play event! 
Makinson and Daniel split a $3,000 Winner's Cheque while Baldwin takes home a $900 cheque while Heinrich, being an Amateur wins a $600 gift card.
The top 16 Teams made it into the Money this year, with a total Prize Purse of $10,000 being offered thanks to our title sponsor CANADA BREAD!  Our continued thanks goes to Roger Antoniazzi of Canada Bread for supporting our event and being our Title Sponsor the past 7 years!!  Your support makes this event one of the longest standing premier Golf Championships in Canada!
Special thanks must go out to each and every host golf course on the BC Match Play rotation as well as the countless hours of services provided by our volunteers and VGT Team members over the 4-week event!
We look forward to yet another great Championship in 2014 where we hope to see more fantastic golf played in this exciting Match Play format
For a hole-by-hole account of the Match Play Finals, click here
For the complete Match Play Draw Results, click here