[ez_btn color="blue" url="https://www.facebook.com/media/set/?set=a.428139960608889.1073741831.154059001350321&type=1&l=a82d97b037″ target="_blank"]Click to View Event Photos[/ez_btn]
VGT Tournament in Review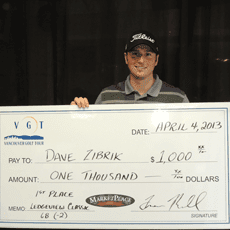 After a great start to the VGT season with sun drenched days for the Opening event and BC Match Play qualifying, VGT players were hit with a sudden realization that April does bring showers in the Lower Mainland.
With greens having firmed up throughout the week and a sudden burst of rain on the day, Ledgeview's greens proved to be more challenging than ever, balls hopping and skipping out of control. 
With rain teaming down, and pin positions becoming harder to access, it took patience and perseverance for two players to separate themselves from the field at the conclusion of the day.  Thirty year old Dave Zibrik of Seymour Creek Golf Academy and 31 year old Ryan Williams of the PGA TOUR Canada were those two, shooting scores of 68 (-2) and would head into a sudden death playoff to decide the Champion.  It would only take one hole to decide the winner as Zibrik smashed a drive over 300 yards down the middle on the 335 yard par 4 first hole and pitched up to 1 feet, tapping in for birdie, while Williams would need to settle for par.  Zibrik took home a $1,000 Winner's Cheque and 2,500 points in the CLEVELAND/SRIXON Order of Merit race while Williams collected $750 for his runner-up cheque and 1,500 CLEVELAND/SRIXON points, his 2nd top 3 performance of the year.
With his win Zibrik shoots out into the front spot of the VGT Order of Merit after 2 events and just 27 points ahead of PGA TOUR Canada member Kevin Stinson.  Stinson finished t5th in this event after winning VGT's Opening event at Morgan Creek on March 25th.
VGT's Amateur field definitely saw the worst of the weather as the rain persisted all day.  It took a gross score of 74 to make it into a playoff on the day and after a par on the 1st hole, Sandpiper's Yves Bisson was declared Amateur Champion after ousting Swaneset Bay Resort's Steven Diack.  Bisson takes an early lead in the Championship Flight Order of Merit with 2,300 points, 800 points ahead of last week's winner Roy Kang.  Bisson took home a $200 VGT credit as well as a VGT Prodigy pullover and towel.
Only 2 shots back from the overall lead was Flight A Gross winner Ryan Combs (Ledgeview member), scoring 76 and good for a two shot victory over Masa Takahashi of Meadow Gardens.  Flight B Gross was taken by Chris Major with a score of 85.  Both Combs and Major were winners of the new Cleveland Hybrid club and a $100 VGT Credit.
Net Winners in Flight A and B were Ian Jarvis (70) and John Mackenzie (70).  Jarvis won a Cleveland 588 wedge and Prodigy Pullover and Mackenzie won a Cleveland carry bag and Prodigy Hoody.
For full results of the VGT Ledgeview Classic, CLICK HERE.
[easyembed field="2013-ledgeview-classic"]