[ez_btn color="blue" url="https://www.facebook.com/vancouvergolftour?ref=hl#!/media/set/?set=a.424262120996673.1073741826.154059001350321&type=1″ target="_blank"]Click to View Event Photos[/ez_btn]
VGT Tournament in Review
For the 2nd straight year the BRAD GARSIDE OPEN at Morgan Creek was a tale of two stories – A sudden death playoff to declare the Overall Champion and a rise of BC junior talent at the top of the leaderboard.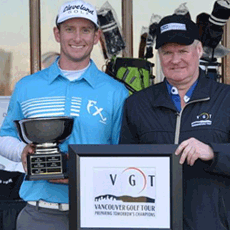 In the overall Championship it took a birdie on the 2nd extra hole for PGA TOUR Canada Pro Kevin Stinson of Mission, BC to win outright over Chilliwack Golf Club Pro Brad Clapp.  Both professionals shot scores of 66 (-6) on the day to oust VGT's largest 'Open' field in its 7 year history (112 players).   Stinson, who has made some steady progress on the PGA TOUR Canada the past two years, earned a $1,200 cheque for first place while Clapp's runner-up cheque was for $850.  Both players will take some much deserved confidence down south next week, as Stinson plans on chasing down some WEB.COM Monday qualifiers while Clapp will tee-it-up at PGA TOUR Q-SCHOOL in California.  Both players will be back to Vancouver to compete in VGT's expansion MAJOR SERIES launching May 1,2nd at Sandpiper Golf Club.
While 30 of BC's top Professionals were battling out for the first place cheque, there was just as great showdown happening in the Amateur field.  At the end of the 18 hole championship, VGT crowned 14-year old Roy Kang of West Vancouver the Amateur Champion with a tremendous score of 68.  For his 2 shot victory over Amateur Chris Moore, Kang took home the new CLEVELAND CLASSIC XL CUSTOM DRIVER and 1500 points on the Cleveland/Srixon Order of Merit.
At 14 years old, Kang not only beat a number of Pros in the field (including 5-time VGT Order of Merit Winner Bryn Parry), but he became the second youngest Amateur winner on the VGT.  Kang is a regular player on the Maple Leaf Junior Tour and CJGA, so this kind of win amongst some of the top PGA TOUR Canada Professionals will really boost his confidence when he comes up against his junior peers this summer.  This is exactly the kind of experience that VGT is able to provide for young junior and amateur golfers.  Congratulations Roy! 
Kang is not the first, or youngest Junior to claim victory on the VGT.  Last summer 13-year old Jae Wook Lee took Low Amateur honors at the LEDGEVIEW OPEN.  And in last year's BRAD GARSIDE OPEN, Surrey Junior Adam Svensson shot a round of 68 to defeat junior Kevin Kwon in a sudden death playoff for Low Amateur honors.
In the Professional field, a group of three Professionals finished two shots back with scores of 68, including PGA TOUR Canada's Ryan Williams and Oliver Tubb and Langley's Pat Ericson (who will head down to the PGA TOUR Canada Q-School next week).
In VGT's Flight A and B Divisions, The Low Gross and Net winners were as follows:
 
Flight A Gross: Hector Aguilar – 78
Flight A Net: Murray Reed – 69
Flight B Gross: Jason Boyd – 81
Flight B Net: Gil Semet – 67
 
Special thanks are extended to one of VGT's most loyal sponsors, Brad Garside of Paine Edmonds Lawyers for his extreme generosity, allowing our Professionals to play for a total purse of over $6,000 cash and for the Amateurs to play for over $4,000 in prizes!
For Full Event Scores in Professional and Amateur Divisions, CLICK HERE!
 
[easyembed field="2013-Garside-Open-Results"]