VGT'S OPENING EVENT A MAJOR SUCCESS!!!
BRAD GARSIDE / PAINE EDMONDS OPEN
Monday, March 26th | Morgan Creek Golf Club
Tournament in Review
The BRAD GARSIDE OPEN at Morgan Creek Golf Club this Monday turned out to be one of VGT's most compelling finishes in its six year history.
In a field of 109 golfers, two of Canada's top Juniors Adam Svensson (17) & Kevin Kwon (16) battled forty-four of BC's top Professionals for the Overall Garside Open Winner's Trophy.  At the end of 18 holes, Svensson and Kwon proved to be as sharp as any of BC's best Pros, as they both turned in rounds of 68 (-4) on a challenging Morgan Creek layout.  Two Professionals proved up to the challenge that Svensson and Kwon laid down, namely Adam Cornelson of the Canadian Tour and John Shin (China PGA Tour and Asian Tour player).
A sudden death playoff ensued with all four players tee-ing off the 1st hole.  After four perfect drives it appeared that someone better make birdie soon or it would be game over!  And sure enough, after a precise iron shot into the green and burying his putt for birdie, John Shin claimed his second Brad Garside Open trophy in just three years!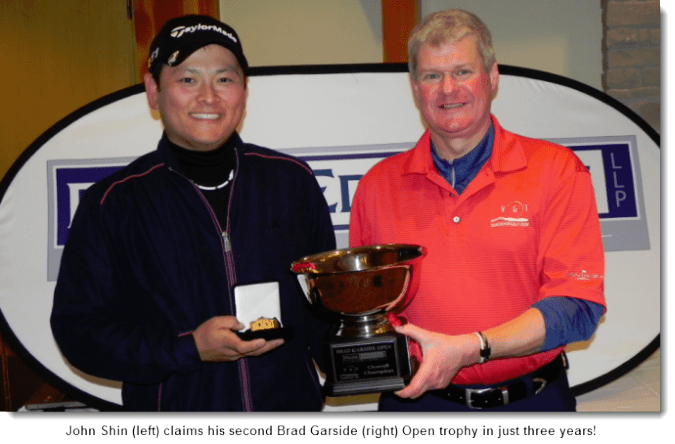 The playoff continued on for Low Amateur honours after both Svensson and Kwon parred #1.  Eventually it would be Svensson who would be crowned Amateur Champion after a birdie on the 2nd playoff hole.  Maybe a small hint of redemption after what Kwon did to Svensson and over 100 top Canadian juniors at last year's Canadian Junior Championship at Morgan Creek.
But what proved to be one of the biggest stories of this day is that both Svensson and Kwon are not scared of tee-ing it up with some of BC's Best Pros.  Their experience playing with and beating a majority of these great Pros would be a great confidence booster for both young golfers.   VGT hopes they will take this confidence forward in all remaining junior and college competitions they will soon face the next few years!
As the Low Professional, Shin earned a handsome sum of $1,600 and a quick lead on the 2012 CLEVELAND/SRIXON Order of Merit and the race for a PGA TOUR Q-School Entry ($5,000) or 2nd Place European Tour School Entry ($2,500).  Cornelson earned $1,100 for his runner-up finish and a group of 4 Professionals finished one shot back with scores of 69, including Mewail Kidane (Fraserview), Darren Griff and Kevin Stinson (Can Tour) and Oliver Tubb (The Players' Academy).  Four-time VGT Order of Merit winner Bryn Parry (The Players' Academy) started his year with a decent round of 70 and only 2 shots out of the playoff.
In VGT's Flight A and B Divisions, Low Gross Titles were won by Murray Reed (Flight A) and Peter Fung (Flight B).
Special thanks are extended to Brad Garside of Paine Edmonds Lawyers for his extreme generosity, allowing our Professionals to play for a total purse of over $8,000 cash and for the Amateurs to play for over $4,000 in prizes!
For Full Event Scores in Professional and Amateur Divisions, CLICK HERE!
To view, download or print Event Results for Professional and Amateurs CLICK HERE
PHOTO GALLERY
(view online)
[easyembed field="photobucket-2012-garside"]