1st ANNUAL CAN-AM DESERT PRO-AM
In Partnership with the All American Tour
March 5th – 8th, 2012
Whirlwind Golf Club – Phoenix, Arizona
www.whirlwindgolf.com
Last week, ten VGT Amateurs took a trip down to Phoenix, Arizona with me for the Inaugural VGT Desert Pro-am (CAN/AM PRO-AM) co-sanctioned with the All American Pro Golf Tour.
The event was a bunch of fun right from the first meet-up point at the airport until we dropped off the last of our amateurs to his doorstep on the way home.  Many great times were shared by the golfers in attendance (see picture gallery here) from the practice rounds and dinners out with the 'boys' to the 36-hole Pro-am with some of Canada's top Touring Professionals and the wind-up SKINS GAME after the tournament!
Our thanks go out to the following people who helped make the 1st ANNUAL CAN/AM DESERT PRO-AM a huge success:
Will Cumberland, Jim Lynard and the All American Tour Staff – Great work guys!!
Whirlwind Golf Club – For providing such a great track for our golfers to compete on!!
Hector Aguilar – Many thanks to your lovely wife and associates for setting us up a great deal at the Fairfield Inn & Suites
FENIX GOLF – For providing our Amateurs with a styling FENIX Golf shirt (http://fenixgolf.com)
Mike West – Thanks for getting the photos of the event up to the website for all to see how much fun we all had!
From the feedback I got from all players at the end of the 54-hole event, everyone was pre-signed up for next year without a doubt!!!
The Whirlwind Golf Club was an amazing 36-hole resort course built for all levels of golfer and was in fabulous shape!  The weather was fantastic all 5 days we were there, and other than a bit of wind (did someone say 'dirt devil'?), we couldn't have asked for better golf conditions.
Congratulations to all winners, including top Professional Brady Schnell who came away with a $5,900 cheque and a $5,000 entry to the PGA Tour Q-School.  And congrats to Abbotsford's Nick Taylor who finished outright 2nd at -10, winning a cheque for $3,250, his second runner-up finish on the All American Tour this winter!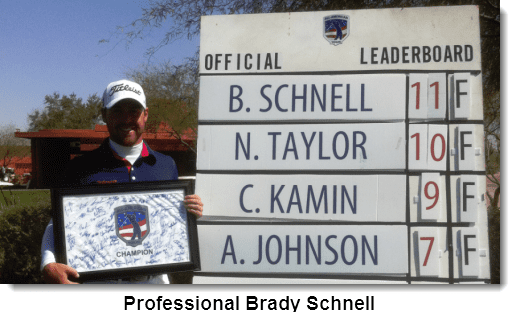 CLICK ON THE FOLLOWING LINKS TO ACCESS:
Pro Results | Amateur Results | Pro-Am Team Results | Event Photos |