Tournament Review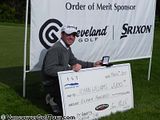 Canadian Tour Professional Ryan Williams prevailed today on the VGT with a great score of 68 (-4), good for a one shot victory over Players' Academy Professional Bryn Parry and Northview Academy Professional Kyle German.  Williams collected $1,100 for first place and Parry and German both collected $775 for a tie for second.
Two young VGT Professionals, Adam Cornelson (Vancouver Golf Club) and Kevin Stinson (Chilliwack Golf & Country Club), both recent graduates to the Canadian Tour, fired 70 for a tie for 4th place with Savage Creek Professional Dave Bolton.  A total of 37 VGT Professionals tee'd it up in today's competition, competing for a total purse of $5,600.  Three-time VGT Order of Merit Winner Parry vaulted himself into a commanding lead in the CLEVELAND/SRIXON Order of Merit with 5,350 points, now 2,500 points clear of 2nd place Ryan Williams.  Williams will continue his season out on the Canadian Tour in Victoria at the end of May, following the remaining Can Tour schedule while stepping back into VGT on week's off.
In the Championship Amateur Field, it took a par on the first playoff hole by Vancouver's Hein Marcus to claim overall Amateur honours over 18 year old Pitt Meadows Golf Club member Andrew Rasmussen.  Both golfers shot a 2-over par 74 in regulation before heading away in the playoff.  Marcus' victory earned him a Cleveland CG15 Zip Groove Wedge and a $50 Marketplace IGA Gift Card, while Rasmussen won a $100 gift card from IGA and a ½ Dozen Srixon Z-Star balls.
Murray Reed took Low Gross honours in Flight A with a score of 78, also good for a $100 Marketplace IGA gift card and some Srixon Z-Star Balls while James Commerford edged out Keith Evans in Flight B for Low Gross honours to win himself a $100 gift card to IGA.
Tournament Results
[easyembed field="scribd-point-roberts-results"]
Photo Gallery