Tournament Review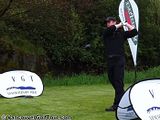 As it often happens on the PGA Tour, after a player's first win soon after comes a second.  Well this can certainly be said for 23-year old Richmond golfer Matt Lister who seemingly has found his stride this year playing the VGT, winning his first ever tournament on May 1st at Northview, then following it with a second straight Amateur Title this Sunday at Swan-e-set.  Lister's round of 73 was good enough to qualify him for a playoff against Northview Golf Club regular Mitchell Stone.  And after his 3rd shot finished within 1 foot of the pin and Stone failed to hole-out from the green-side bunker, Lister tapped in for the birdie and the Championship, his second in as many weeks.  Lister claimed 1,500 points on the CLEVELAND/SRIXON ORDER OF MERIT, launching him into 2nd Place Overall this year as well as winning first prize of a CLEVELAND LAUNCHER 3-WOOD and a $150 Gift Card to Marketplace IGA.  Stone collected 1,100 points and a CLEVELAND TRAVEL SPORTS BAG and a $50 Marketplace IGA gift card.
Some great play from twenty year-old Squamish Golf Club member Wylder Kohne on the first 16 holes left this recent graduate to the Championship Flight at even par with only two holes to go in the tournament.  But with two of the tougher holes coming in on the course and after back-to-back bogeys on the final two holes, Kohne finished one shot out of the playoff and in a tie for 3rd place overall with Xu Zhang.  Both Kohne and Lister will be vying for their next Amateur Title at the VGT Point Roberts Classic this Monday at Point Roberts Golf & Country Club south of the border.
"Mr. Consistency" as we call him, Jim Zalusky was at it again this weekend, shooting a score of 78 to take the overall gross title in Flight A and collect a CLEVELAND PUTTER and $100 Marketplace IGA gift card.  Low Net honors went to Bob Legge with a net score of 72 to win a CLEVELAND CG15 ZIP-GROOVE WEDGE + a $50 gift card to IGA.  Zalusky narrowly jumped ahead of James Peters by less than 100 points on the Flight A Order of Merit.
Flight B saw one of our most die-hard regulars Jason Boyd win the Low Gross Title with a great score of 82 on his way to also winning a Zip Groove Lob Wedge from CLEVELAND and a $50 gift card to Marketplace IGA.  Low Net honours went to Robert Parihar with a score of 70.  Parihar extended his lead in the CLEVELAND/SRIXON Order of Merit for Flight B to 1,000 points over his next competitor Pete Fung.
Tournament Results
[easyembed field="scribd-swaneset-results"]
Photo Gallery