With the 2010 golf season unwinding, I would like to wish all players, sponsors and supporters of Vancouver Golf Tour a very safe and Happy Holidays!!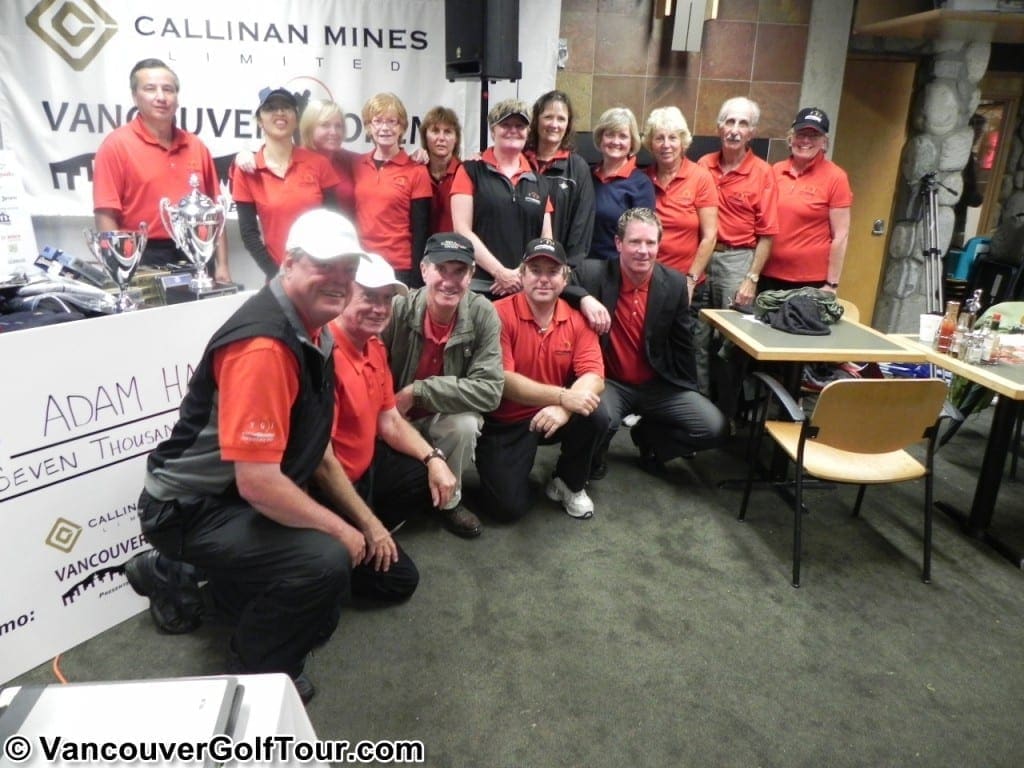 We are very excited about the upcoming season as we have formed some exciting new partnerships for 2011 that will give local golfers many reasons to join membership in VGT. Please look out for a major press release early in the New Year that will include the release of our 2011 Championship Schedule as well as receiving first opportunities to sign-up for our 2011 Membership Program and all the benefits that will come with it!!
Overall, 2010 was a breakthrough year for the Vancouver Golf Tour. Not only has the tour continued to grow in size through tough economic times (10% increase in membership and field sizes), but thanks to added sponsorship support this year, VGT's Professional and Amateur payouts have increased an amazing 22% from 2009 ($222,000 to $270,000).
And not surprisingly, along with this continued growth in membership and purse payouts, VGT had a measurable improvement in the standard of play on its tour, including its top three professionals carrying stroke averages under 69.50. Moreover, VGT is proud to announce that 22 Canadian Tour members either joined or played on the Vancouver Golf Tour this year, some of which have gone on to have exceptional seasons with VGT, the Canadian Tour and beyond.
We had some amazing tournament scores this year which included 13 different winners on the Vancouver Golf Tour (Pro division). Multiple winners on the Professional side of the tour this year included Ryan Williams (2), Dave Zibrik (2), Phil Jonas (2) and our Order of Merit Champion for the 3rd straight year, Bryn Parry (3). Multiple winners on our Amateur side of the Tour included Kris Yardley (5), David Cao (2) and Adam Cornelson (2).
One of the most notable years demonstrated by any Canadian Professional in 2010 came from 23 year old VGT and Can Tour Professional Adam Hadwin of Abbotsford. Adam not only had two second place finishes on the Canadian Tour, but he managed to qualify for and make the cut in the Wayne Gretzky Nationwide Tour event (t27th) as well as finishing Low Canadian (t37th) at the RBC Canadian Open on the PGA Tour. Hadwin capped off his amazing year by winning the 2010 Callinan Mines VANCOUVER OPEN as well as winning the final CAN TOUR event this year, the Desert Dunes Classic in Palm Springs.
Congratulations to all of our VGT Professionals and Amateurs who had exceptional years this year!! Keep knocking on the door to reach the PGA Tour and it will happen!
On that note, we would like to pay tribute to the following players who took home some special honours this year on the Vancouver Golf Tour:
CLEVELAND/SRIXON ORDER OF MERIT WINNERS
Professional: Bryn Parry (won $5,000 entry to PGA Tour Q-School)
Championship Amateur: Kris Yardley
Flight A Amateur: Stewart Halstead
Flight B Amateur: Murray Reid
VGT PLAYER OF THE YEAR – $3,000 AWARD
Sponsored By NICKEL HEATING & VENTILATION
Bryn Parry & Adam Hadwin – (shared)
VGT MOST IMPROVED PROFESSIONAL – $1,500 AWARD
Sponsored By PAINE EDMONDS LAWYERS
Matt Makinson
JOHNSTON MEIER INSURANCE $5,000 HOLE-IN-ONE WINNERS:
Brett Webster – $5,000 Winner @ The Ledgeview Open
Steven Komm – $5,000 Winner @ The Guildford Classic