Amateur Golf Star Nick Taylor Tee's-it-up in VGT Tour Championship as Professional Debut
Vancouver Golf Tour is proud to announce that 23-year old amateur golf sensation Nick Taylor has chosen to make his Professional Debut on the Vancouver Golf Tour at the RUSSELL BREWING VGT TOUR CHAMPIONSHIP on Thursday, Oct.7th at Kings Links by the Sea (www.vancouvergolftour.com).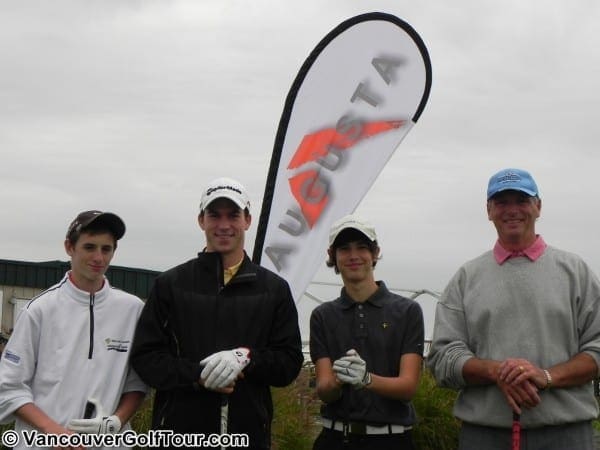 "I'm ecstatic to say the least" states VGT Commissioner Fraser Mulholland of Taylor choosing VGT's Tour Championship as his Professional debut. "This is a huge kudos for VGT Having Nick in the field. It is a phenomenal thing for all of us at VGT and the players in the field. For him to choose VGT's TOUR CHAMPIONSHIP to start his Professional career makes us very proud indeed. His presence will be noted by all of the golfers in the field – and will no doubt make for a fantastic one-day shoot-out for the winner's cheque!"
Taylor, a resident of Abbotsford, BC and member of Ledgeview Golf & Country Club, has had a phenomenal amateur career, including countless successes both as a University of Washington (U of W) team-member and as an amateur in non-collegiate amateur (and Professional) competitions. Taylor's accomplishments while at U of W include being bestowed PAC 10 Player of the Year co-honours in both '09 and '10, and having one of the most consistent strings of NCAA tournament finishes of any golfer in 2009 and 2010, including 4 wins and 18 top 10 finishes out of 24 events played!
Taylor has become a household name to all Canadian Golfers the past 5-6 years of his amateur golf career, regularly amazing us with his presence on the world golf scene. For 21 weeks, Taylor's golf prowess earned him the title of #1 ranked Amateur Golfer in the world, and thanks to his amazing golf performances he was awarded (this May) with Collegiate Golf's highest honour winning the illustrious BEN HOGAN AWARD recognizing the Top Men's NCAA Golfer (considering all collegiate and amateur competitions over the past 12 months). With this distinction also came a sponsor's exemption to play in the 2011 Crowne Plaza Invitational at the COLONIAL on the PGA Tour.
With so much Amateur success, including two appearances and two cuts made at the U.S. Open (including top Amateur distinction in '09), one would think that Taylor was eager to race into the Professional golf scene, but like his character both on and off the golf course, he has been very patient with the process of turning professional. After an extremely busy 4 years of Collegiate and world Amateur Golf circuit, Taylor has taken some time away from the busy tournament and travel scene to be with family and his Coach Rob Houlding to focus on his future in Professional Golf.
After a couple of visits down south to visit the Taylor Made factory in California and to interview/research which Agency he would select to work with in his Professional golf career (he has recently signed with Wasserman Media Group), Taylor is now focused on his main task at hand – to qualify for 2011 membership on the PGA Tour.
This journey to the PGA Tour includes a trip down to first stage of PGA Qualifying School in Dayton, Nevada late next week in preparation for his first qualifying round scheduled for October 19th. "But first-things-first" joked Taylor: "I want one crack at (beating) my brother Josh as a Professional before heading down to Q-School". "We've had a bunch of good hearted competition growing up and playing in Amateur competitions and also playing matches against each other at our home course (Ledgeview). But this will be the first time we meet each other head to head in a Pro event as professionals, so it should be a lot of fun".
"I want to congratulate Nick on an outstanding Amateur career and wish him all the very best in his endeavours in Professional Golf" states VGT Commissioner Fraser Mulholland. "We (VGT) are extremely excited to follow Nick and all of our top VGT Professionals take their amazing golf talent down with them on their quest for the PGA Tour". "The depth of golfers on VGT the past 4 years has impressed me to no end and I honestly wouldn't be surprised to see a few of our players waving the Canadian flag out on the PGA Tour or Nationwide Tour in 2011".
Brother's Taylor will be joined at this Thursday's VGT TOUR CHAMPIONSHIP by a number of prominent VGT Professionals looking for one last competitive round before heading down to the PGA Tour Qualifying School less than two weeks away. Notable players include 2010 CLEVELAND/SRIXON VGT Order of Merit Winner Bryn Parry of North Vancouver and 22-year old Abbotsford Professional Adam Hadwin who has had arguably one of the best golf seasons of any Canadian Professional outside the PGA Tour.
Parry and Hadwin will be in good company down at PGA Tour Qualifying School this fall as a minimum of 6 VGT Professionals will be heading down to first stage of Q-School as early as next week.
Vancouver Golf Tour's 2010 season comes to an official close at the Russell Brewing VGT TOUR CHAMPIONSHIP, presented by Augusta Resources Corp and the Pest Detective. The event wraps up an impressive schedule of 24 Championship events, which will culminates in a Year-end Awards Presentations at the Mad Greek Restaurant in Richmond after the event where a number of awards are given away, including:
2010 CLEVELAND/SRIXON VGT Order of merit – Professional & Amateur Flight Winners. Professional wins a $5,000 entry to PGA Tour Qualifying School. Amateurs win awards and prizes.
2010 NICKEL HEATING – Outstanding VGT Player of the year – $3,000 Awarded to top Professional nominated by peers
2010 PAINE EDMONDS – Most Improved VGT Player – $1,500 Awarded to the most improved VGT Professional from 2009 to 2010
For LIVE SCORING of the 2010 VGT TOUR CHAMPIONSHIP, please click here: http://www.vancouvergolftour.com/2010/live_scoring.htm. To come out and watch the VGT Tour Championship, visit www.kingslinks.ca for directions to the course. Tee-off starts at 1pm for all players!
For more information on the Vancouver Golf Tour, please contact
Fraser Mulholland
Commissioner, VGT
fraser@vancouvergolftour.com
(604) 980-4653
www.vancouvergolftour.com